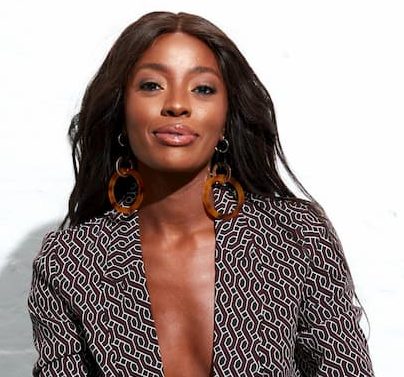 AJ Odudu Biography
AJ Odudu born Onatejiro Odudu is a British television presenter best known for co-presenting on the Channel 5 reality show spin-off Big Brother's Bit on the Side. She is a backstage reporter for The Voice UK.
AJ Odudu Age
She was born on February 12, 1988 in Blackburn, Lancashire, England.
AJ Odudu Height
Odudu stands at a height of 5 feet 7 inches tall.
AJ Odudu Ethnicity
AJ belongs to Nigerian ancestry.
AJ Odudu Education
She attended St Bede's RC High School and St Mary's College and later joined Keele University graduating with a degree in English and politics.
AJ Odudu Parents
AJ was born to Nigerian parents Florence and James Odudu. Her mother was a cleaner at a grammar school, and her father was a bus conductor.
AJ Odudu Siblings
She was brought up alongside her seven siblings: two sisters and five brothers. Her elder sister is an engineer, her oldest brother is a lecturer at Cambridge University, another brother is a kidney specialist, while another sister is training to be a teacher.
AJ Odudu Boyfriend
AJ has not revealed if she is in a relationship or not.
AJ Odudu TV Presenter
Odudu began her career as a reporter for BBC Blast based at Radio Lancashire. In 2009 she had her first presenting role on the BBC Two series The Almost Perfect Guide to Life and on The 5:19 Show, an online show on the BBC website, having previously served as the latter's 'raving reporter'.
She began presenting Big Brother's Bit on the Side in June 2013 and then Celebrity Big Brother's Bit on the Psych from August 2013. She left the show in November 2013. She hosts 4Music programme, Trending Live!, with Jimmy Hill and Vick Hope.
AJ Odudu Fitness
According to her website, she is a qualified personal trainer and sports nutritionist. Her passion for health and fitness has led her to present snowboarding and music show Freeze Festival, surf and music show, Roxy Pro as well as, fronting surf and skateboard competition, Boardmasters, productions all for Channel 4.
AJ Odudu The Voice
Odudu is the backstage reporter for The Voice UK since December 2018. At the time she said; "I'm so happy that I am joining The Voice UK family as their Backstage Reporter", AJ said. "Teaming up with one of my fave host's Emma Willis and iconic coaches Sir Tom Jones, Jennifer Hudson,
I thoroughly love the show and will work with abundant enthusiasm, whilst bringing a healthy dollop of northern charm. I might even kiss a coach. Who knows?! Get ready for music and mayhem!"
AJ Odudu Extra Slice
AJ appears alongside fellow guest Richard Osman and host Jo Brand on Channel 4's Bake Off: An Extra Slice. In the spin-off show, they discuss events that unfolded in the Tuesday episode of Great British Bake Off. She looks back at the contestants' baking efforts and shows viewers' unseen clips from the main show.
AJ Odudu Don't Rock The Boat
Odudu is set to host a reality show 'Don't Rock The Boat' alongside Freddie Flintoff which will air on ITV. The contestants will face the waves and wind of the sea legs and the daunting cliffs and gorges of Britain's spectacular shoreline.
AJ Odudu SAS
In 2019 she was a contestant on Celebrity SAS: Who Dares Wins in aid of charity Stand Up To Cancer. She made to the finals alongside Olympian Victoria Pendleton, TV presenter Jeff Brazier and ex-footballer Wayne Bridge, who went on to win.
She said it was the most positive experience of her entire life although she struggled for the first three months after it ended.
"It was really uplifting, but the interrogation stage really did my nut in. It's called 'escape and evasion' on the show, and they put you in a room and they blindfold you with a bag over your head and you have to stay in these stress positions, and you hear all of these distressing noises for 13 consecutive hours. That honestly gives me nightmares. "So three months after I was affected quite negatively and I couldn't sleep.
However, after coming out of all of that I feel really strong and really proud of myself and also safe in the knowledge that anything I put my mind to I can absolutely do, and I know that I do well under pressure. Moving forward I feel great and I'd actually recommend it to anyone who had the opportunity to do the show to just do it."
AJ Odudu Vogue
On June 24, 2020 in a Vogue article, AJ recounted racism she faced while growing up and how it has continued to affect her life – and how to root it out for good.
"As a Black woman born to Nigerian parents in the UK, the events of recent weeks have been traumatic on a personal level, forcing me to reflect on my own experiences, and dragging up dark memories I had buried.
Memories like: being told by a stranger in the supermarket as a six-year-old to wash my face; the time the friend I'd made at primary school's parents set their dog on me; the time my white boyfriend said his pillow looked like it had been defecated on where my make-up had rubbed off; the time I walked into an expensive shop and extra security was called to "keep an eye on the Black girl"; the time my friend's dad came to our flat and described the "pack of darkies" he'd driven past to get there; the countless times I've been told to go back to where I came from; or the time a concerned resident called the police on my 10-year-old brother, who was then illegally detained for hours without his parents' knowledge. His crime? Doing a paper round in a posh white area. (How ironic that my brother now works as a senior NHS doctor.) This is before taking into account the times I've been physically beaten, spat at, and called disgraceful names."
AJ Odudu Net worth
She has an estimated net worth of $1.7 million.
AJ Odudu Instagram