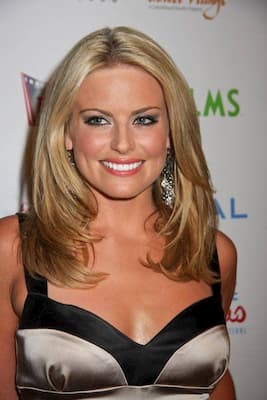 Alex Witt Biography
Alexandra E. Witt is an American media personality working as a host of  Weekends with Alex Witt which airs on Saturdays and Sundays, noon – 2 p.m. ET. on MSNBC and also contributes to "NBC Nightly News'" "Making a Difference" series and "Today." She previously hosted MSNBC Live and Morning Joe First Look on MSNBC and also reported for WNYW-TV in New York City.
Alex Witt Age
Alex was born on 9 April 1961 in Pasadena, California, United States.
Alex Witt Height
She stands at a height of 5 feet 3 inches tall.
Alex Witt Education
Witt attended the Marlborough School for Girls in Los Angeles and then joined the University of Southern California, where she majored in journalism and international relations.
Alex Witt Parents
Alex is the daughter of  Dr. Charles B. Witt, M.D., and  Colette Witt. Her father was  a noted thoracic surgeon in Los Angeles a concert pianist and he  served two terms as President-General of the 'National Society of Washington Family Descendants', as President of the Western Region for the 'Sons of the Revolution' and other historical societies .He was born in Washington, D.C, grew up near Knoxville, Tennessee and graduated from the University of Tennessee Medical School in 1951 at the age of 22. He served his country in the US Army Medical Corps during the Korean Conflict and was the youngest doctor in a M.A.S.H. unit at the time.
Alex Witt Siblings
Alex was brought up alongside her two siblings, Charles Witt  and Walter Witt. She hasn't revealed more details about them.
Alex Witt Husband
Witt is married to  Bill Sorensen a TV producer. Not much is known about their marriage since she has kept her love life off the limelight. The duo was rumored to have separated but they clarified that they were still together .
Alex Witt Children
Alex and her husband have two children together, a daughter Caroline and a son Charlie.
Alex Witt Mrs Robinson
When Alex was 37 she joined a rock band that some of her friends were putting together. The group was made up of Alex Witt, Christie Moran, Pam DeJager, and Lisa Cibelli. They called their group Mrs. Robinson. When Alex was asked why she decided to join the band she said that she loved the fact that being in a rock band defied the stereotype of what the typical Bronxville mother was supposed to be doing. She further stated that it was an excellent release that allowed her to escape from the reality of work-life and home life for a short period of time in a way that did not damage either of her other lives.
Alex Witt Controversy
According to a lawsuit filed by a friend of  Witt's in 2009, Alex had allegedly been in financial struggles during December of 2009 because her contract was up for renewal and her husband was not working. Alex was reported to have borrowed $65,000 from her friend Mrs. Jones. The loan allegedly had terms for Alex to repay the full amount plus a 7.5 percent interest rate. Alex reportedly agreed to repay the loan at a rate of $500 per month but had only managed to repay $1,375.When called to comment upon the lawsuit Witt supposedly answered: "Now I feel sick. Because the last thing I want is to have this hanging over our heads like Damocles sword". The case was believed to have been settled out of court.
Alex Witt NBC News
Alex joined MSNBC in January 1999 and currently hosts the MSNBC show "Weekends with Alex Witt" on Saturdays and Sundays, noon – 2 p.m. ET. and  serves as anchor across both dayside and primetime hours. Witt spent time on the campaign trail across the country during the 2000 and 2004 Presidential elections. She also covered the final week throughout the state of California for the 2003 Gubernatorial Election, following Arnold Schwarzenegger. In the wake of the September 11th terror attacks on America, She broadcast from the World Trade Center and has continued to follow the war on terrorism in the Middle East and the War in Iraq and also broadcast from the World Trade Center on the 10th anniversary of the attacks.
Over the years, Alex hosted the series MSNBC Adventurer, as well as a series of prime time special broadcasts in the wake of the Asian tsunami. She broadcast live from Windsor, England covering the 2005 wedding of Prince Charles to Camilla Parker Bowles, and from London outside Kensington Palace for commemorations marking the 10th anniversary of the death of Princess Diana in 2007. Witt has also contributed to NBC Nightly News reporting for the highly acclaimed "Making a Difference" series.
Prior to joining NBC, she served as a field producer for the Today Show in Burbank, California. Her first on-air job was at KCBA in Salinas, California. She later worked for KCBS-TV, KNBC-TV, and KABC-TV, each of which are located in communities adjacent to Los Angeles. She served as a reporter at KCBA from 1990–1992 and WNYW-TV from 1996–1998.
Alex Witt Salary
She earns an annual salary of $500,000.
Alex Witt Net Worth
She has an estimated net worth of $4million.
 

View this post on Instagram

 
Alex Witt Twitter