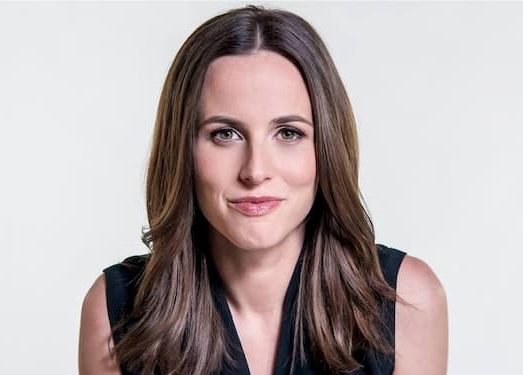 Alicia Menendez Biography
Alicia Menendez is a media personality serving as a weekend news anchor for MSNBC. She is also a contributing editor at Bustle and host of its Latina to Latina podcast. She previously co-hosted Amanpour & Company on PBS.
Alicia Menendez Age
She was born on July 2, 1983 in Union City, New Jersey.
Alicia Menendez Height
She stands at a height of 5 feet 6 inches tall.
Alicia Menendez Ethnicity
She is of Latino ancestry.
Alicia Menendez Parents
She is the daughter of Robert Menendez and Jane Menendez. Her parents divorced in 2005. Her mother is a teacher of the Union City Board of Education and Union City Public Schools.
Her father is a politician serving as the senior United States Senator from New Jersey, a seat he has held since 2006. He was appointed to the U.S. Senate by Governor Jon Corzine, and later served as Chair of the United States Senate Committee on Foreign Relations from 2013 to 2015.
Alicia Menendez Husband
Alicia is married to Carlos Prío Odio since February 15, 2015. Odio is a co-founder of EquisLabs and former executive director of Florida Alliance, a non-profit. He also worked at the White House's Office of Political Affairs as deputy associate director from 2009 to 2011 after working on Obama's 2008 campaign as deputy Latino vote director.
Alicia Menendez Baby
Menendez is a mother of two daughters.
 

View this post on Instagram

 
Alicia Menendez MSNBC
In 2019, Alicia joined MSNBC as a weekend news anchor. She previously served as a correspondent on the PBS show Amanpour & Company and the host of Come Here and Say That on Fusion.
She joined Fusion TV in 2013 as the host of a nightly news and pop culture show, 'Alicia Menendez Tonight'. The show was honored with a Gracie Award for "Outstanding Talk Show" in its first year. In addition, she produced and hosted a one-hour primetime special, Generation in Crisis, for which she traveled to El Salvador, Rwanda and a Syrian refugee camp in Northern Jordan.
During the 2016 Presidential primaries, she co-moderated the Iowa Brown and Black Forum, pressing the Democratic hopefuls on issues of importance to Latino and African-American communities.
She has also contributed reporting to ABC's Nightline and World News Tonight, as well as ABC's Emmy-nominated 2014 Election Night coverage, and shared her spirited take on current events on Good Morning America, This Week and The View.
Before joining Fusion she was one of eight inaugural hosts and producers for HuffPost Live, the Huffington Post's Internet-based video streaming network.
Alicia Menendez Salary
Her actual salary is unknown.
Alicia Menendez Net worth
She has an estimated net worth of $2 million.
Alicia Menendez Instagram
 

View this post on Instagram

 
Alicia Menendez Twitter