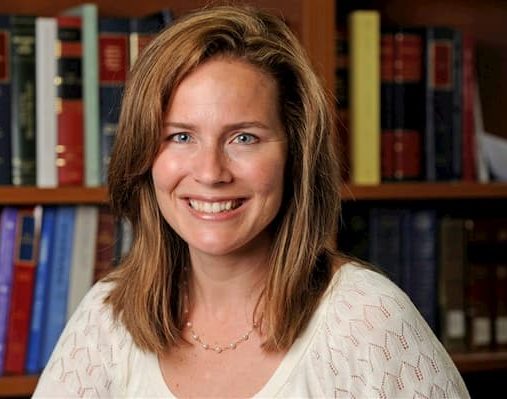 Who Is Amy Coney Barrett
Amy Coney Barrett is an American lawyer, jurist, and academic serving as a circuit judge on the U.S. Court of Appeals for the Seventh Circuit. On September 26, 2020 she was nominated by President Donald Trump as a supreme court justice to replace the late Justice Ruth Bader Ginsburg.
Amy Coney Barrett Age
She is 48 years old; she was born on January 28, 1972 in New Orleans, Louisiana, U.S.
Amy Coney Barrett Education
Barrett attended St. Mary's Dominican High School graduating in 1990. She graduated magna cum laude in 1994 with a Bachelor of Arts in English Literature from Rhodes College and was inducted into Phi Beta Kappa.
In 1997 she graduated with a Juris Doctor summa cum laude from Notre Dame Law School, where she studied on a full-tuition scholarship. She also served as an executive editor of the Notre Dame Law Review.
Amy Coney Barrett Family
Amy is the daughter of Michael Coney and Linda Coney. Her mother Linda was a homemaker while her father Michael, is an Energy attorney who worked as an attorney for Shell Oil Company. His area of practice is: Offshore Oil and Gas Law; Administrative Hearings and Appeals; Offshore Unitization; Offshore Royalty Appeals; Oil and Gas Arbitration; Oil and Gas Contracts; Oil and Gas Conservation; Oil and Gas Exploration; Oil and Gas Leasing; Oil and Gas Regulation; Oil and Gas Transportation; Public Land Law.
Amy Coney Barrett Husband
Coney is married to Jesse M. Barrett since 1999. He is a fellow Notre Dame Law graduate serving as a partner at SouthBank Legal in South Bend, Indiana. He previously worked as an Assistant U.S. Attorney for the Northern District of Indiana for 13 years.
Amy Coney Barrett Children
Amy and Jesse have seven children together, Emma, Vivian, Tess, John Peter, Liam, Juliet and Benjamin. In 2017 during Amy's confirmation, she revealed that two of their children were born in Haiti and their youngest biological child has special needs.
"Emma is 16. The first apple of our eye. Vivian, directly next to Emma, is 13. Vivian is our miracle. Vivian joined our family… She was born in Haiti. She came home when she was 14-months-old, and she weighed 11 pounds and she was so weak we were told she might never walk normally or speak. Today Vivian is a track star, and I assure you she has no trouble talking. Tess, sitting next to Vivian, is also 13-years-old. Both in 8th grade. She's one of the most compassionate and determined people that I know.
Our four children at home are with friends and fearless babysitters. John Peter is 10. He was born in Haiti. He joined our family in 2010 when he was three years old after the devastating earthquake.
Liam is 8. Typically curious 8-year-old. And Juliet is our spunky 6-year-old. Benjamin, our youngest, is five. He has special needs. That presents unique challenges for all of us. But I think all you need to know about Benjamin's place in the family is summed up by the fact the other children unreservedly identify him as their favorite sibling."
Amy Coney Barrett Judge
Amy serves as a judge a circuit judge on the U.S. Court of Appeals for the Seventh Circuit. She was nominated to the Seventh Circuit Court of Appeals by President Donald Trump on May 8, 2017 and confirmed by the Senate on October 31, 2017.
She began her career as a judicial law clerk, first for Judge Laurence Silberman of the U.S. Court of Appeals for the D.C. Circuit from 1997 to 1998, then for Justice Antonin Scalia of the U.S. Supreme Court from 1998 to 1999. She practiced law at Miller, Cassidy, Larroca & Lewin in Washington, D.C. from 1999 to 2002.
Amy Coney Notre Dame
Barrett served as an associate professor at Notre Dame where she taught federal courts, constitutional law, and statutory interpretation. In 2010 she was named a professor of Law and from 2014 to 2017 held the Diane and M.O. Miller Research Chair of Law. Her scholarship focuses on constitutional law, originalism, statutory interpretation, and stare decisis.
Amy Coney Barrett Supreme Court
On September 26, 2020 President Donald Trump nominated Amy to fill the Supreme Court vacancy left by Justice Ruth Bader Ginsburg. Trump called Barrett a woman of "towering intellect" and "unyielding loyalty to the Constitution" who would rule "based solely on the fair reading of the law."
Trump recounted Amy's educational and professional background, noted her seven children and hailed her ties to another late Supreme Court justice, Antonin Scalia, for whom she clerked.
Amy said if confirmed she "would not assume that role for the sake of those in my own circle, and certainly not for my own sake, I would assume this role to serve you."
Amy Coney Barrett Republican or Democrat
Amy has not publicly revealed her political affiliation.
Amy Coney Barrett Religion
Amy is a Roman Catholic. In 2017 during the nomination process for the U.S. Court of Appeals, Senator Diane Feinstein expressed concern that "the dogma lives loudly within" Barrett, meaning, the judge's devout Catholic beliefs could influence her decision-making on the bench.
Amy Coney Barrett Religious Group
Coney is a member of a religious group called 'People of Praise' according to an article published by The New York Times. People of Praise is a South Bend, Ind.–based charismatic community that attracts members from a number of Christian churches, though the vast majority of its members are Catholic. The group was founded in 1971, part of a Catholic charismatic renewal that emerged from the Second Vatican Council. Charismatic communities emphasize the role of the Holy Spirit in the daily lives of believers. Some of their practices appear to have more in common with Pentecostal communities than with traditional Catholicism, such as speaking in tongues, healing services and prophecy.
Is Amy Coney Barrett a Handmaid – Amy Coney Barrett Handmaiden
According to the article on The NewYork Times, the group's members "swear a lifelong oath of loyalty, called a covenant, to one another, and are assigned and are accountable to a personal adviser, called a 'head' for men and a 'handmaid' (now woman leader) for women. The group teaches that husbands are the heads of their wives and should take authority over the family."
Amy Coney Barrett Cult
Amy is not in a cult. After it was revealed that Amy was a member of 'People of Praise' people alleged that she was in a cult which prompted The Catholic League to write an article challenging the depictions of People of Praise as a cult.
"Among other things, it operates interracial schools and camps, and provides for many family outings; members often travel together. Is it a Catholic fringe group? No, for if it were, Pope Francis would not have welcomed it in June: he celebrated with them, and others, the 50th anniversary of the Catholic charismatic renewal; the event drew over 30,000 people from 128 countries."
Amy Coney Barrett Kingdom of God – Amy Coney Barrett Separation of Church and State
In 2016 Barrett gave a commencement speech at Notre Dame Law School. where she made a comment about building the "Kingdom of God". She encouraged the graduating class to "keep in mind that your legal career is but a means to an end, and as Father Jenkins told you this morning, that end is building the kingdom of God." The phrase "Kingdom of God" is a common refrain among Christians throughout history.
Amy Coney Barrett Abortion
Barrett has a personal opinion about abortion but she has said she won't let those beliefs affect her work as a judge. In a 1998 Notre Dame Law School article, she referred to abortion as "always immoral." She concluded in the article that catholic judges should try to keep the Church's teachings and the law separate. "Judges can not—nor should they try to—align our legal system with the Church's moral teaching whenever the two diverge. They should, however, conform their own behavior to the Church's standard."
In 2017 during the nomination process for the U.S. Court of Appeals, she was asked about the article she explained that she and her co-author were recounting "the Catholic Church's teaching that "abortion . . . is always immoral." She added, "If I am confirmed, my views on this or any other question will have no bearing on the discharge of my duties as a judge."
According to HapersBazaar, in 2012 she signed an opposition to the Affordable Care Act's requirement that employers allow contraceptives to be included in health insurance plans.
Part of the statement read, "The reason for the original bipartisan uproar was the administration's insistence that religious employers, be they institutions or individuals, provide insurance that covered services they regard as gravely immoral and unjust."
Amy Coney Barrett LGBT
According to an article on hrc.org, Amy holds anti-LGBTQ ideology. She defended the Supreme Court's dissenters on the landmark marriage equality case of Obergefell v. Hodges, questioning the role of the court in deciding the case:
"[Chief Justice Roberts, in his dissent,] said, those who want same-sex marriage, you have every right to lobby in state legislatures to make that happen, but the dissent's view was that it wasn't for the court to decide…So I think Obergefell, and what we're talking about for the future of the court, it's really a who decides question."
She alleges that Title IX protections do not extend to transgender Americans, claiming it's a "strain on the text" to reach that interpretation: "When Title IX was enacted, it's pretty clear that no one, including the Congress that enacted that statute, would have dreamed of that result, at that time. Maybe things have changed so that we should change Title IX, maybe those arguing in favor of this kind of transgender bathroom access are right. That's a public policy debate to have. But it does seem to strain the text of the statute to say that Title IX demands it."
She also misgendered transgender people, referring to a transgender woman as physiological males: "People will feel passionately on either side about whether physiological males who identify as females should be permitted in bathrooms, especially where there are young girls present."