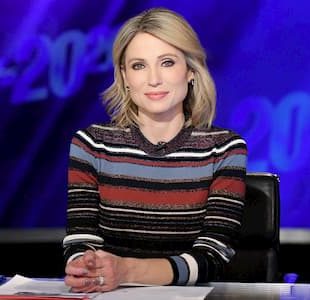 Amy Robach Biography
Amy Robach is an American media personality serving as the co-anchor of ABC's "20/20" and reports for "Good Morning America" and across ABC News. She previously served as a news anchor for ABC's "Good Morning America."
Amy Robach Age
She was born on February 6, 1973
Amy Robach Height
She stands at a height of 5 feet 5 inches tall.
Amy Robach Education
She attended Brookwood High School and later joined the University of Georgia graduating with a Bachelors degree in Broadcast Journalism.
Amy Robach Family
She is the daughter of Joanie Robach but she has not revealed the name of her father. In March 2020 she shared her mother's keto cheesecake pie recipe.
Amy Robach Pageant
Amy participated in the 1995 Miss Georgia pageant finishing in the 5th place. The same year she won the Miss Gwinnett County title.
Amy Robach Husband
Amy is married to actor Andrew Shue. The couple got married on February 6, 2010 at The Lighthouse at Chelsea Piers near the Hudson River. The couple met at a book party in 2009 and started dating after they were set up by a mutual friend.
Andrew Shue is an actor best known for his role as Billy Campbell on FOX's Melrose Place which ran from 1992-1998. He also had small roles in movies like The Karate Kid and Cocktail and was also a featured extra in his sister's classic film Adventures in Babysitting. In 2007 he produced, wrote and acted in the movie 'Gracie'.
He is also a co-founder of the nonprofit foundation Do Something, an organization that encourages volunteerism and motivates young people to make positive change both online and offline through campaigns that make an impact.
Amy was previously married to Tim Mclntosh, a baseball player since 1996 but the couple separated and later divorced in 2008.
Amy Robach Kids
Amy is a mother to two children Ava (born in 2002) and Analise (born in 2006) from her first marriage. She is also a stepmother to Shue's three from his previous marriage: Nathaniel (born in 1996), Aidan (born 1999), and Wyatt (born 2004).
Amy Robach ABC News
Amy joined ABC News in 2012, serving as a correspondent on ABC's Good Morning America program. In 2014 she became a news anchor.
Since joining ABC she has reported on the terrorist attacks in Manchester, UK and in Brussels, Belgium, as well as the mass shootings at the First Baptist Church in Sutherland Springs, TX, Pulse nightclub in Orlando, Florida, Sandy Hook elementary school in Newton, Connecticut, and targeting police officers in Dallas, TX.
She also covered the Election Night 2016 from Trump headquarters and the Washington Mall in Washington, DC for the 2017 Presidential Inauguration.
She also traveled to Iceland where he reported on the climate change, she also reported live from Tanzania on the poaching epidemic and its impact across the globe. In 2014, she traveled to Nigeria to interview Malala Yousafzai, the seventeen-year-old who was campaigning to free hundreds of captive school girls. She also reported live from South Africa just days after the shooting of Oscar Pistorius' girlfriend Reeva Steenkamp.
She has also anchored ABC News' Olympic coverage of the 2018 Winter Games in PyeongChang , South Korea, the 2016 Summer Olympics in Rio de Janeiro, Brazil, and the 2014 Winter Olympics in Sochi, Russia.
Amy Robach 20/20
Amy is a co-anchor of 20/20 alongside David Muir. She has reported on several 20/20 programs. She interviewed the California couple accused of a "Gone Girl" abduction hoax after enduring a real life, terrifying kidnapping. She also spoke exclusively with Leanna Taylor, the woman whose ex-husband was convicted of their toddler death in a hot car. She extensively covered the University of Virginia campus rape case landing the first interview with Dean Nicole Eramo following the retraction of the infamous Rolling Stone article.
Amy Robach NBC News
Prior to joining ABC News Amy worked at NBC News from 2003 to 2012. In 2007 she co-anchored Saturday TODAY and also served as an NBC News National Correspondent. During that time, she also filled in as weekday TODAY co-anchor and newsreader and NBC Nightly News anchor.
She previously served as an anchor for MSNBC from 2003-2007. She also worked as a correspondent for WTTG TV in Washington, DC and WCBD TV in Charleston, SC.
Amy Robach Breast Cancer
Robach was diagnosed with breast cancer after she underwent a televised mammogram on GMA for breast cancer awareness month on October 1, 2013. She underwent a double mastectomy and eight rounds of chemotherapy.
Amy Robach Salary
Amy earns an annual salary of 300,000.
Amy Robach Net worth
She has an estimated net worth of $1.4 million.
Amy Robach Epstein
On November 2, 2019 right-wing activist group Project Veritas leaked a video in which Amy expresses her frustration to a colleague over ABC's failure to broadcast her interview with a key accuser (Virginia Roberts Giuffre) of Epstein.
In the video Amy complains that ABC News "quashed" her interview, suggesting that ABC had yielded to threats from powerful forces, including Buckingham Palace. Prince Andrew is among those men whom the accuser alleges Epstein trafficked her to for sex. The prince's representatives have denied that claim.
In the video Amy says; "I've had the story for three years. We would not put it on the air. Um, first of all, I was told, 'Who was Jeffrey Epstein? No one knows who that is. This is a stupid story.' Then the palace found out that we had her whole allegations about Prince Andrew and threatened us a million different ways."
She adds that Giuffre alludes to others in the interview including former President Bill Clinton, Harvard University law professor emeritus Alan Dershowitz and Epstein's former girlfriend, Ghislaine Maxwell.
Robach adds; "I tried for three years to get it out to no avail, and now these new revelations and — I freaking had all of it. I'm so pissed right now. Like, every day I get more and more pissed, 'cause I'm just like, 'Oh my God! It was — what we had, was unreal.' "
After the video was leaked Amy released a statement which read; "As the Epstein story continued to unfold last summer, I was caught in a private moment of frustration. I was upset that an important interview I had conducted with Virginia Roberts [Giuffre] didn't air because we could not obtain sufficient corroborating evidence to meet ABC's editorial standards about her allegations.
The interview itself, while I was disappointed it didn't air, didn't meet our standards. In the years since no one ever told me or the team to stop reporting on Jeffrey Epstein, and we have continued to aggressively pursue this important story."
ABC News also released a statement saying that the report did not meet the standards to air.
"At the time, not all of our reporting met our standards to air, but we have never stopped investigating the story. Ever since we've had a team on this investigation and substantial resources dedicated to it."
Amy Robach Instagram
 

View this post on Instagram

 
Amy Robach Twitter