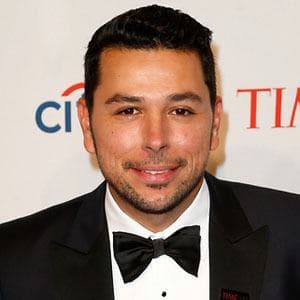 Ayman Mohyeldin Biography
Ayman Mohyeldin is an Arab American media personality working as an anchor for NBC News and MSNBC and based in New York. He anchors "MSNBC Live with Ayman Mohyeldin" weekday afternoons on MSNBC and previously worked as an anchor for Al Jazeera and a foreign news producer with CNN.
Ayman Mohyeldin Age
Ayman was born on 18 April 1979 in Cairo, Egypt.
Ayman Mohyeldin Height
His height is unknown.
Ayman Mohyeldin Education
Mohyeldin attended North Cobb High School in Kennesaw, Georgia, and received his undergraduate education at American University in Washington D.C., earning a BA in International Relations with a focus on the European Union. He then received an MA in International Politics with a focus on Peace and Conflict Resolution. His graduate thesis was entitled, "The News Media Paradigm in the War on Terrorism," and, in 2002, it was accepted by the International Association of Media Researchers Conference in Barcelona, Spain.
Ayman Mohyeldin Parents
Ayman is the son of Medhat Mohyeldin and Abla Awwad. Ayman was born and brought up in Egypt until the age of 5 when his parents emigrated to the U.S. His father, an Egyptian, is a principal partner at Mohyeldin Certified Public Accountant in Marietta, Georgia. He previously served as an Audit Manager at Banks, Finely, White & Co as well as a Controller at Assets General Contractor. He graduated from the University of Detroit with a Bachelor's degree in Accounting and Finance.
Ayman Mohyeldin Siblings
Mohyeldin was brought up alongside his older brother, Ahmed Mohyeldin who is a resident neurosurgeon at the Ohio State University Wexner Medical Center and former professional soccer star for the Atlanta Silverbacks. He attended George Washington University School of Medicine and Health Sciences.
Ayman Mohyeldin Wife
Mohyeldin is married to Tunisian model Kenza Fourati the daughter of Dora Bouchoucha, a Tunisian film producer, and Kamel Fourati, a radiologist in Tunisia. Kenza participated in Tunisia's four-week Jasmine Revolution and she has appeared in numerous international magazines, such as Vogue Paris, Elle, Marie Claire, L'officiel Voyage, Grazia, and GQ. She studied at the Paris-Sorbonne University and graduated with a Bachelor's degree in Literature and Fine Arts in 2008. She then moved to London to study filmmaking at Kingston University London and graduated with a master's degree in Film/Cinema/Video Studies in 2010.
On 26 April 2016, Fourati and Ayman exchanged their marriage vows in an intimate ceremony in his home state of Georgia. She shared photos from her wedding day on social media. Fourati wore an ivory bridal burnous over an ivory Balenciaga mini-dress for the ceremony in Marietta, Georgia, and for the photoshoot in Savannah, Georgia, she wore a custom Houghton "Moss" Gown.
Fourati previously dated the R & B singer Ryan Leslie and appeared on several of Ryan's music videos.
Ayman Mohyeldin Children
Ayman and his wife have a daughter together, Dora Fourati Mohyeldin who was born in New York on March 12, 2017. His wife revealed in a Vogue Arabia interview that the couple was expecting their first child in early 2017.
Ayman Mohyeldin MSNBC
Mohyeldin serves as an anchor for NBC News and MSNBC and based in New York. He anchors "MSNBC Live with Ayman Mohyeldin" weekday afternoons on MSNBC. He has covered major news events in the Arab World and the Middle East include the Iraq War, the first multi-candidate presidential Egyptian elections in 2005, Israel's withdrawal from the Gaza Strip and the 2005 Palestinian elections in the Gaza Strip. He has covered the Sharm al-Sheikh resort bombing (July 2005) and the Jordan Hotel bombings (November 2005).
He became the first journalist to enter one of Libya's nuclear research facilities after producing Col. Muammar al-Gaddafi's first interview announcing Libya would abandon all WMD programs.. He served as an associate producer for the NBC News Special that also received Emmy nominations for "Ship at War: Inside the Carrier Stennis" and "Inside the Real West Wing." Ayman has also covered the annual Muslim Pilgrimage (Hajj) to Mecca and was involved in the production of CNN specials "Islam: The Struggle Within" and "Hajj: A Spiritual Journey."
In 2008–2009, Mohyeldin covered the Israeli attack on Gaza. The coverage of his reporting, along with Sherine Tadros has been released in the documentary " The War Around Us". He reported on the intricate network of tunnels that were once used for the smuggling of weapons and people across the Egyptian-Gaza border and are now a vital route into Gaza for medicine, food and fuel supplies. He extensively covered the second "Arab Uprising" in Egypt in 2013 and also covered the unrest in Ukraine, and the unrest in Iraq.
Prior to joining MSNBC, Ayman previously worked for Al Jazeera English where he covered the 2011 Egyptian Revolution. On January 28, 2011, Ayman broadcast from the Al Jazeera news building in Cairo for several hours straight, reporting on the Egyptian protests as protesters and Egyptian police battled for control of the 6th October Bridge. On January 30, Anis El Fekki of the Egyptian Interior Ministry revoked Al Jazeera's broadcast license and forced the closure of their Cairo bureau, claiming the network was conspiring with opposition groups to overthrow the government. Ayman was one of five Al Jazeera journalists arrested and briefly detained by Egyptian authorities the following day after the network refused to cease broadcasting upon the loss of their accreditation.
Ayman Mohyeldin Salary
He earns an average annual salary ranging between $40,000 – $ 110,500.
Ayman Mohyeldin Net Worth
He has an estimated net worth of $1 million.
Ayman Mohyeldin Instagram
 

View this post on Instagram

 
https://www.instagram.com/embed.js
Ayman Mohyeldin Twitter