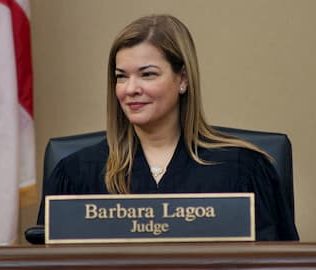 Barbara Lagoa Biography
Barbara Lagoa is an American lawyer and judge serving on the U.S. Eleventh Circuit Court of Appeals based in Atlanta.  She was the first Hispanic woman to serve on the Florida Supreme Court.
Barbara Lagoa Age
She was born on November 2, 1967 in Miami, Florida.
Barbara Lagoa Ethnicity
Lagoa belongs to Hispanic race. She is of Cuban descent.
Barbara Lagoa Religion
She is a catholic by religion.
Barbara Lagoa Education
She attended Catholic elementary and secondary schools. She graduated cum laude with a B.A. degree from Florida International University in 1989 and earned a J.D. from Columbia Law School in 1992. During law school, she worked as associate editor of the Columbia Law Review.
Barbara Lagoa Parents
Barbara has not revealed the name of her parents but she said that they fled Fidel Castro's Cuba in 1966, arriving in the United States via one of the "Freedom Flights"—a refugee program that transported Cubans to the U.S. between 1965 and 1973.
Barbara Lagoa Husband
Barbara is married to Paul C. Huck, Jr., an attorney who focuses on business litigation, regulatory advice, and government investigations. He is the son of United States District Judge Paul Huck.
Barbara Lagoa Children
Together with her husband Barbara has three children although their names are unknown.
Barbara Lagoa Lawyer
Before joining the bench she practiced in both the civil and criminal arenas. Her civil practice at Greenberg Traurig focused on general and complex commercial litigation, particularly the areas of employment discrimination, business torts, securities litigation, construction litigation, and insurance coverage disputes. In 2000, she was one of a dozen mostly pro bono lawyers who represented the Miami family of Elián González.
She joined the United States Attorney's Office for the Southern District of Florida in 2003 as an Assistant United States Attorney, where she worked in the Civil, Major Crimes and Appellate Sections.
While a practicing lawyer, Justice Lagoa was admitted to The Florida Bar, the United States District Courts for the Middle and Southern Districts of Florida, and the United States Court of Appeals for the Eleventh Circuit.
Barbara Lagoa Judicial Services
Lagoa was appointed by Governor Jeb Bush in June 2006 to serve on the Third District Court of Appeal. She became the first Hispanic woman and the first Cuban American woman appointed to serve on the Third District Court of Appeal. She became Chief Judge on January 1, 2019, becoming the first Hispanic female Chief Judge of the Third District Court of Appeal.
On January 9, 2019, she was appointed to the Supreme Court of Florida by Governor Ron DeSantis becoming the first Hispanic woman and the first Cuban American woman appointed to serve on the Florida Supreme Court.
Barbara Lagoa Federal Society
Lagoa received her judicial commission for the United States Court of Appeals for the Eleventh Circuit on December 6, 2019. She was nominated by President Trump and her nomination was sent to the Senate on October 15, 2019. Her nomination was reported out of committee by a vote of 18–4 on November 7, 2019. On November 19, 2019, the Senate invoked cloture on her nomination by a vote of 80–15. Her nomination was confirmed by a vote of 80–15 on November 20.
Barbara Lagoa Political Views – Barbara Lagoa Conservative
Barbara is known for her staunch conservative positions.
Barbara Lagoa Trump – Barbara Lagoa Supreme Court
Barbara was on a list of possible Supreme Court replacements that Trump published on September 9, 2020. After the death of Justice Ruth Bader Ginsburg Judges Amy Coney Barrett, Barbara Lagoa and Amul Thapar became the top contenders for the vacant seat.
On September 19, 2020 while leaving the White House for a political rally in North Carolina, Trump said his pick would "most likely" be a woman. While he said he does not personally know Lagoa, Trump said he knew she was "highly respected" in Miami.
"She's an extraordinary person, I've heard incredible things about her. I don't know her. She's Hispanic and highly respected."
Barbara Lagoa Roe v Wade
Roe v. Wade was a landmark decision of the U.S. Supreme Court in which the Court ruled that the Constitution of the United States protects a pregnant woman's liberty to choose to have an abortion without excessive government restriction. Justice Ruth Bader Ginsburg was an advocate for abortions rights and maintained that the right to an abortion was key to women's autonomy.
According to Vox, if President Trump " is able to appoint Ginsburg's replacement, he will likely give conservatives on the Court the votes they need to overturn Roe, or at least to weaken it beyond recognition.
The result will be an acceleration of what is already happening around the country: a two-tiered system of abortion, in which the procedure is accessible in blue states (and for people who can afford to travel) and out of reach everywhere else."
In Trump's 2016 campaign he promised to appoint Supreme Court justices who would overturn Roe. It is not clear the stand for Barbara when it comes to Roe v Wade.