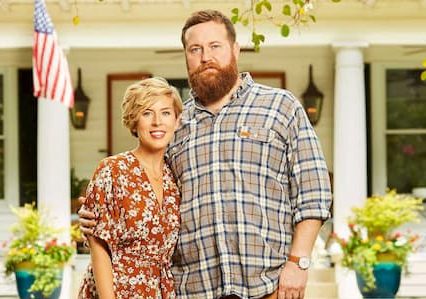 Ben Napier Biography
Ben Napier is an American craftsman, woodworker and a television personality serving as a host of home renovation show 'Home Town', together with his wife Erin Napier on HGTV.
Ben Napier Age
He was born on September 24, 1983 in Mississipi, USA.
Ben Napier Height
Ben stands at a height of 6 feet 6 inches tall.
Ben Napier Education
He has a Bachelor of Arts degree in history from the University of Mississippi.
Ben Napier Parents
He is the son of Bennie Napier although the name of his father is unknown. His father worked as a baptist preacher and is graduated from Duke University. In 2014 a month before his 60th birthday he had an emergency bypass surgery.
Ben Napier Brothers
Napier has three brothers and is the second born in the family; Tom Napier, Sam Napier and Jesse Napier.
Ben Napier and Erin Napier
Ben Napier has been married to Erin Napier since November 22, 2008. The couple met in college although at the time Erin was dating a guy known as Charlie who was a co-worker at the hospital pharmacy.
Erin recalled their meeting in an Instagram post where she wrote; "@scotsman.co and I met in our college yearbook room about the feature story we were writing about him. I was the design editor and for two years had noticed him, always the center of attention, everyone's best friend, my biggest crush. December 8, we took the photos for the yearbook. December 9, we went on our first date and he met my mama. December 10, we looked at the Christmas lights in Mason Park. December 13, we decided we would get married someday. It sounds crazy to you, maybe. But it makes perfect sense to me."
Ben Napier Daughter
Ben and his wife are parents to an adorable daughter known as Helen Napier who was born in 2018.
 

View this post on Instagram

 
Ben Napier Hometown HGTV
Ben and his wife Erin are hosts of Home Town on HGTV, a renovation show where they help people of Laurel, Mississippi, make and remake their houses. They were discovered off Instagram by Lindsey Weidhorn, an HGTV executive who fell in love with Laurel through Erin's photos featuring the hashtag #ILiveInLaurel.
After they got married Erin suggested they settle in Laurel, Erin's hometown. Erin said in a blogpost on Guideposts, "…so he didn't really have a hometown. I did: Laurel, a sleepy old place that had seen better days. Founded in the 1880s, it had flourished when lumber mills were harvesting the area's yellow pines. But industry moved on, and people moved out. Others might have hurried past the shuttered storefronts, but I kept seeing the myriad possibilities amid architecture that was worth preserving. What if there could be a bookstore on the corner or an Italian restaurant or a shop that sold sweet-smelling candles and soaps?"
They fixed up a second-floor loft in a flatiron building in the historic district together. "The floorboards had nickel-size gaps, the nine-foot-tall single-pane windows were a century old and too expensive to replace, so we learned to love how the wind whispered through them in all seasons."
Ben discovered his gift for woodworking; restoring old pieces of furniture, making an armoire from reclaimed material. His hobby grew into a hop making his own furniture, beautiful hand-finished works of art. He later studied joinery and picked oil-based stains that gave the wood a rich depth.
The show premiered in January 2016 and on November 13, 2019 it was announced they will be starring in the spin-off show 'Home Town Rescue' which will premiere in 2021.
Ben Napier and Erin Napier Furniture
In 2019 Erin and Ben partnered with Vaughan-Bassett Furniture Company to develop collections of both solid wood and veneered furniture. During an interview with CountryLiving.com Erin said they will design the furniture. "The furniture will be designed by Ben and I and have classic American, Shaker, and English-inspired design."
Ben Napier Net worth
Ben's net worth is unknown but his net worth combined with Erin's is estimated to be $5 million.
Ben Napier City Council
In 2013 Be ran for Laurel City Council Ward 5 but he lost to Manuel Jones who garnered 397 votes while Ben garnered 281 votes.
Ben Napier Weight Loss
In 2019 Ben revealed that he had lost 55 pounds since 2018. "I've lost 55 pounds since last year. Over the course of season 3, I dropped about 35 pounds, so you'll see it happening."
He revealed during an interview with CountryLiving.com that he had started exercising fairly regularly about eight years ago but he got serious in 2018 after the birth of his daughter.
While he was a guest blogger on Laurel Mercantile he revealed that his family is composed of big people. He added that his maternal grandfather died of stroke while his mother was in high school and his paternal grandfather had multiple open-heart surgeries. His father also had an emergency bypass surgery in 2014.
Ben Napier Political Affiliation
Napier has not made his political affiliation public.
Ben Napier Football Career
Due to his physique, Ben seems suited to play football but he has never had a career in football.
Ben Napier Instagram
Ben Napier Twitter