Ten years after winning the 71st running of the 24 Hours of Le Mans with its Speed 8 prototype, Bentley returned to the racetrack with a new car, the Continental GT3, at the Gulf 12 Hours of Abu Dhabi on 13 December. The race – actually a pair of six-hour sessions – served as a development opportunity for the brawny Bentley before entering the 2014 Blancpain Endurance Series.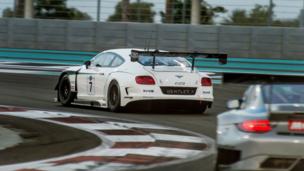 Bentley Continental GT3. (Bentley Motors)
Since its first race in 2011, the series – sponsored by the Swiss watchmaker Blancpain – has packed its grids with an array of supercars worthy of the Gran Turismo video game franchise. When the five-race series kicks off at Italy's Monza circuit on 12 April, the freshman from Crewe will share the track with some very accomplished players, including the McLaren 12C GT3, the Mercedes-Benz SLS AMG GT3 and the Aston Martin Vantage GT3.
The Continental GT3 – development of which was guided by motorsport and engineering director Brian Gush– is well more than a year in the making. Gush, who led the automaker's Le Mans campaign a decade ago, enlisted the technical assistance of M-Sport Ltd, which has run Ford's World Rally Championship programme since 1997 (a relationship that has yielded two manufacturer's championships).
Mechanically, the Continental GT3 bears only a passing resemblance to its street-legal inspiration, although it does pack a race-tuned version of the Continental GT's twin-turbo 4-litre V8 producing up to 600 horsepower. The GT's eight-speed automatic has been ditched for a six-speed sequential manual gearbox, and all-wheel drive gives way to a rear-wheel setup, per FIA rules for the GT3 class.
The biggest difference, however, is weight. The standard Continental GT V8 coupe tips the scales at 5,060lbs, but FIA rules mandate a curb weight below 1,300kg (2,867lbs). So the M-Sport team refashioned the car's voluptuous body in feather-light carbon fibre composite, and stripped out the wood, leather, chrome and other super-premium bits that appear in the road-going GT.
For a new racecar on its maiden run, the GT3 fared surprisingly well in Abu Dhabi, finishing the first six-hour session in third place and, after a back-and-forth with the Ferrari 458 GT3 of Kessell Racing, completed the second session in fourth. Each of Bentley's British racers – Guy Smith, Steven Kane and Andy Meyrick – ran the sessions by completing four one-hour stints behind the wheel.