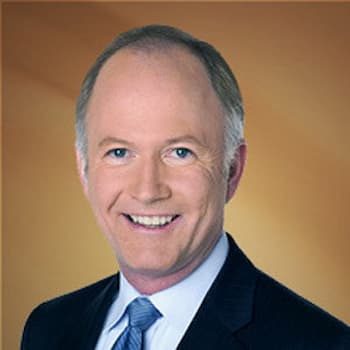 Bill Griffeth Biography
William Curtis Griffeth is an American media personality serving as an Anchor at Large for CNBC and based in Englewood Cliffs, N.J. He also serves as a fill-in anchor, develops special reports, and contributes to CNBC's breaking news coverage. He previously served as a Financial News Network (FNN).
Bill Griffeth Age
Bill was born on 7 August 1956 in Los Angeles, California, United States.
Bill Griffeth Height
His height is not available.
Bill Griffeth Education
Griffeth received his bachelor's degree in journalism in 1980 from California State University, Northridge where he co-hosted a weekly interview show, "Straight talk," with Rick Holicker, on KCSN, the university's then-NPR-affiliated radio station. In 2000, CSUN honored him with its Distinguished Alumnus Award. In 2017, he received an honorary doctorate.
Bill Griffeth Parents
Bill is the son of Charles Griffeth and Frances Griffeth. His mother was a nonagenarian and a "quiet, pious Christian woman," who now lives in an assisted living facility. Bill is passionate about genealogy and after undergoing Genetic testing in 2012, found out that the person he considered his father was not his biological father. He wrote a book chronicling how his life changed after the DNA test. After researching, he learned that his biological father was a man he pseudonymously calls "Gene Wyman" in the book ("I do have his genes, and he was, after all, my 'Y man.'"), a builder for whom his mom had once worked for. They'd had a brief affair. His mom wasn't sure of Bill's paternity until those DNA test results, he writes, and Bill doesn't think that his dad, who died in 1988 did either. His research also revealed that Wyman moved in the late 1950s with his family to Arizona, where he died 40 years later.
Bill Griffeth Siblings
Bill was brought up alongside his four siblings him being the youngest. He hasn't revealed any further information regarding them but one of his brothers is named Chunk.
Bill Griffeth Wife
Bill is married to Cindy Griffeth a Los Angeles native and a member of The Hillside Methodist Church where she is a treasurer and teaches Bible Study. The couple exchanged their marriage vows in 1982. After their nuptial, the married pair lived in their hometown, California, but after ten years, they moved to Park Ridge, New Jersey, in 1992. The duo has traveled across Europe visiting the places of their ancestors.
Bill Griffeth Children
Bill and his wife have two children together, a son Chad and a daughter Carlee.
Bill Griffeth CNBC
On January 1, 2020, Bill assumed the title, Anchor at Large, serving as a contributor for the network, based in Englewood Cliffs, N.J. He serves as a fill-in anchor, develops special reports and contributes to CNBC's breaking news coverage. He retired from day-to-day anchoring duties on CNBC on December 31, 2019.  During his 38 years in business television, he became one of the most respected financial journalists in the country. Best known for his quick wit and ability to think on his feet, he still brings an extensive knowledge of the markets and market history to CNBC's programming.
He previously anchored a number of programs for the network through the years, including "Market Wrap," "Mutual Fund Investor," "The Money Club," "Power Lunch," "Closing Bell," and "Nightly Business Report," the award-winning evening business news program which CNBC produced for Public Television.
Prior to joining CNBC, Griffeth was part of the production team that, in 1981, started Financial News Network (FNN), the first cable channel devoted to business news. During his 10 years at FNN, he was nominated for a CableACE award as best news anchor for his work anchoring coverage of the stock market crash of 1987.
Bill Griffeth Awards
He received 6 CableACE nominations at CNBC and  California State University honored him with its "Distinguished Alumnus Award." In 2017, his alma mater awarded him an honorary doctor of humane letters degree.
Bill Griffeth Books
Griffeth has written four books, "The Stranger in My Genes," in 2016; "By Faith Alone: One Family's Epic Journey Through 400 Years of American Protestantism," in 2007; "Bill Griffeth's Ten Steps to Financial Prosperity," published in 1994; and "The Mutual Fund Masters," in 1995.
Bill Griffeth Salary
His salary is unknown.
Bill Griffeth Net Worth
He has an estimated net worth of $10 million.
Bill Griffeth Twitter