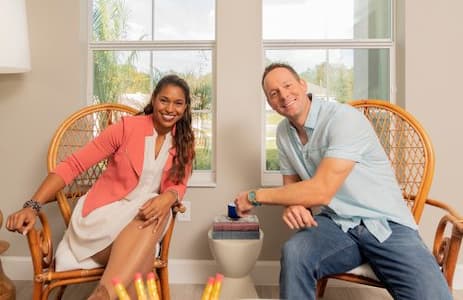 Brian Kleinschmidt Biography
Brian Kleinschmidt is an American reality television personality who together with his wife Mika McGee hosts '100 Day Dream Home' on HGTV.  He also appeared on  'The Amazing Race' season 15 with his then-wife Erica Dunlap. He is also a gym owner of Anytime Fitness gym.
Brian Kleinschmidt Age
Brian is 38 years old as of 2020.
Brian Kleinschmidt Height
Brian's height is unknown.
Brian Kleinschmidt Education
Brian attended Riverview High School and later joined the University of Central Florida where he studied radio and television programming and also did some post-graduation work in sports entertainment marketing
Brian Kleinschmidt Family
Brian is the son of Ellen Kleinschmidt, a retired music teacher who was named Hillsborough County Teacher of the Year in 2005. The name of his father is unknown but during his appearance on The Shark Tank he said his father worked as a janitor. He also has a brother who he said he used to go with around his neighborhood washing cars.
Brian Kleinschmidt First Wife
Brian married his first wife Ericka Dunlap in 2007 but they divorced in 2011. The couple first met at a leadership seminar at the University of Central Florida in 2002. They competed in The Amazing Race season 15 as a couple.
Erica is a beauty pageant who was named Miss Florida 2003, becoming the first African American woman to hold the title. In 2004 she was crowned Miss America 2004.
Brian Kleinschmidt Wife
Brian married his wife Mika McGee Kleinschmidt in October 2015. He had proposed to her in 2013. The couple first met in Riverview High School when school administrators mistakenly assigned Brian to a girls chorus class. After high school, they drifted apart but reconnected in 2011. At the time Mika was a manager at a gym which was a competitor for Brian's gym. He asked her to manage his gym instead to which she agreed.
Brian Kleinschmidt Daughter
Brian has a daughter known as Jade, she is around 13 years old as of 2020.
Brian Kleinschmidt Superbowl
Brian was a contestant on the 2015 Doritos Super Bowl commercial contest. He fell one sport short of a national game day broadcast, earning him $25,000 for an amateur production he said cost $500 to produce.
Brian Kleinschmidt Gym
Brian opened his first Anytime Fitness gym in 2011 at 10875 Bloomingdale Ave., Riverview. In 2013 he opened his next two gyms a week apart at 501 W. S.R. 60, Brandon, and 11252 Boyette Road, Riverview. He also owned another in Boca Raton but sold it after 18 months as it was too far to manage.
In 2016 he sold the Bloomingdale location and now has two remaining gyms. The Boyette Road location is ranked 18th out of 3,500 Anytime Fitness franchises in the country.
Brian says that he knows most of the clients names and stories as he is a hands-on owner. "We're very hands-on owners. We know most clients by name and story. That's why coming here is a totally different kind of experience. We provide a safe, pleasant and positive place to work out 24/7. If people don't walk in with a smile, they're definitely going to walk out with one."
Brian Kleinschmidt HGTV
Brian and his wife Mika hosts a reality show known as '100 Day Dream Home' on HGTV. The show premiered in February 2020 and follows them build up a new house from scratch for clients within 100 days. Producers also add a surprise for the homeowners, such as a backyard or kitchen addition they didn't have in their original plans. It gets thrown in as a gift that matches the personality of the family.
Brian has always had a thing for building. During his college days he would spend spring breaks volunteering with Habitat for Humanity, a nonprofit that works with families to build and improve homes.
He also began his career flipping homes but this led to him loosing "every penny I had" during the Great Recession.
Brian Kleinschmidt Shark Tank
In 2015 Brian appeared on Shark Tank seeking an investment of $50,000 in exchange for 15% of his company, Ez-Pee-Z. Ez-Pee-Z, is a way to easily train a child to use the toilet. It operates as a normal, adult-sized toilet seat, but with a simple flip of the lid. The flip allows the child to sit comfortably on the toilet. Brian, however, didn't get the investment.
"My company/product is EZPeeZ. It is a revolutionary way to potty train children. It appears and operates as a normal, adult-size toilet seat, but with a simple flip of the lid it converts to a child-size seat. Making potty training as EZ as 1…2…Pee! The idea came to me when I was potty training my daughter, and I couldn't find a good solution on the market, outside of those disgusting foam donuts that my brother and I were potty trained on 30 years ago!"
Ez-PEE-Z made it to the market. You can check it out on Amazon.com.
Brian Kleinschmidt Amazing Race
Brian and his ex-wife Ericka Dunlap competed in The Amazing Race 15 in 2009. They were the first married interracial team on the show. They reached the finale, finishing third. During an interview with Reality Wanted Brian said that he was motivated to try out as he had been watching the show since it started.
"I've been watching The Amazing Race since the show started. Ericka started watching it when she met me. One day she said to me, 'Do you wanna do this?' We got our stuff together in two days and sent it off to CBS."
Brian Kleinschmidt Net worth
Brian's net worth is under review.
Brian Kleinschmidt Instagram
Brian Kleinschmidt Twitter