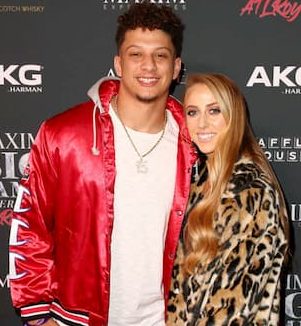 Brittany Matthews Biography
Brittany Matthews is a former soccer player and a certified personal trainer with a bachelor's degree in kinesiology. She is the fiance of Kansas City Chiefs quarterback, Patrick Mahomes.
Brittany Matthews Age
She was born on September 1, 1995 in Tyler, Texas.
Brittany Matthews Height
Brittany stands at a height of 5 feet 9 inches tall.
Brittany Matthews Parents
Brittany is the daughter of Martin Scott Matthews and Diana Massey. She has a brother named Devin.
Brittany Matthews Stepfather
Brittany's stepfather, Paul Massey died on November 11, 2018 while attending a Chiefs-Cardinals game. He was the general manager at DCD Warehouse in Tyler, Texas for more than 35 years. He was a soccer coach for more than 20 years. Paul collapsed outside Arrowhead Stadium in pregame. Paramedics were quick to arrive.
Brittany posted on her Instagram page announcing that her stepfather died after collapsing.
Brittany Matthews Soccer
Brittany played soccer at the University of Texas campus in Tyler. She played 5-5 forward, completing a stellar four-year career with the Patriots with 31 goals, 16 assists and helped the team to a 56-13-5 record. She earned all-region honors after her senior season and is second all-time in program history with 78 points and her 31 goals.
She said she didn't even plan on playing soccer but ended joining UT Tyler to play soccer as it was close to her home and she knew a few girls that played there.
"I didn't even see myself playing college soccer when I graduated high school. However, I ended up coming to UT Tyler to play soccer because it was close to home and I knew a few girls that played here that loved it and told me I need to join the family. So I did, and these last four years have made me fall in love with soccer all over again and want to go on and play professional soccer."
After graduating she signed a professional soccer contract with Iceland pro team of UMF Afturelding/Fram. She later quit soccer and moved to Kansas City.
Brittany Matthews Fitness
Brittany is a certified personal trainer with a bachelor's degree in kinesiology. She sells workout programs on her website, Brittany Lynne Fitness.
The website bio reads; "Brittany Lynne Fitness was created out of my love for fitness and how it makes me feel. My programs are guided workouts that can be completed by anyone. They include options for working out at home or in the gym, allowing you to choose where you feel comfortable and how to best accomplish the goals you set for yourself."
Brittany Matthews Job
Brittany is a certified personal trainer with a degree in kinesiology.
Brittany Matthews Patrick Mahomes
Brittany is in a relationship with Patrick Mahomes. The couple met in high school, Whitehouse High School where they both attended. They even attended prom together.
Mahomes is the Kansas City Chiefs quarterback who signed to the NFL in 2017 after he was the first-round draft pick for the Midwestern team. In 2018 he became the starting quarterback for the Chiefs before going on to become the league's MVP that season.
Brittany Matthews and Patrick Mahomes Got Engaged
On September 1, 2020 Patrick Mahomes proposed to Brittany.
This happened after Mahomes received a jewel-studded ring for leading the Chiefs to their Super Bowl win in February. He received the ring at a ceremony on the field at Arrowhead Stadium.
Find someone that looks at you the way @PatrickMahomes looks at his Super Bowl ring 😍 pic.twitter.com/0Ew0aMKqtG

— Kansas City Chiefs (@Chiefs) September 1, 2020
Brittany Matthews Net worth
Brittany's net worth is under review but her fiance Patrick Mahomes has an estimated net worth of $10 million.
Brittany Matthews Instagram
Brittany Matthews Twitter