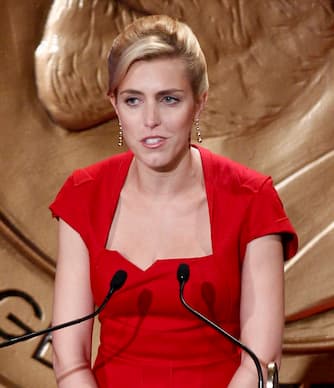 Clarissa Ward Biography
Clarissa Ward is an American media personality working as the  chief international correspondent for CNN. She previously worked  as a foreign news correspondent for CBS News based in London and was also a Moscow-based news correspondent for  ABC News.
Clarissa Ward Age
Ward was born on 30 January 1980 in  New York, United States.
Clarissa Ward Height
Clarissa stands  at a height of 5 feet 11 inches tall.
Clarissa Ward Education
Ward  graduated with distinction from Yale University and in 2013 received an Honorary Doctor of Letters degree from Middlebury College in Vermont .
Clarissa Ward Parents
Clarissa is the daughter of Rodney Ward and Donna Ward. Her father  is an investment banker who worked in Hong Kong beginning when she was 14.  Her mother, , is an interior designer and their previous home on South Ocean Boulevard was awarded the Schuler Award from the Preservation Foundation of Palm Beach.
Clarissa Ward Siblings
She hasn't revealed any information regarding her siblings.
Clarissa Ward Husband
Ward is married to Philipp von Bernstorff, a German Count whom she met at a  dinner party in Moscow in 2007.It was love at first sight and the duo started dating before exchanging their marriage vows  in November 2016  in London. Instead of a grand party, the pair opted for a simple ceremony at Chelsea Old Town hall followed by lunch at their Notting Hill home for just 46 guests.  Ward  bought her wedding  dress just six days ­beforehand (at a ­Harvey Nichols department store), and she was set to do her own hair and makeup—until her CNN makeup artist staged an intervention.
Clarissa Ward Children
Clarissa and her husband has two kids,  Ezra Albrecht Nikolas Nour who was born on 2 March 2018 and
Caspar Hugo Augustus Idris Von Bernstorff born  in June 29 2020.
Clarissa Ward CNN
Clarissa Ward is CNN's chief international correspondent based in London. She joined the network in 2015. Here she has covered major stories including, She investigated Russian trolls operating in  Ghana and Nigeria to stoke racial tensions and stir up social unrest in the US.  She traveled to one of the operation's headquarters in Ghana, where she interviewed one of the trolls and tracked down the person running the operation, a Ghanaian who lives in Russia.
She has also contributed to CNN's breaking news coverage of the Covid-19 pandemic, the crisis between the US and Iran earlier this year, tracking the story from the US, Iraq — including the site of an Iranian missile attack — and Ukraine with every major development. When Turkey launched a military operation targeting America's Kurdish partners in northern Syria last fall, Ward was on the ground in Syria covering the chaos of civilians fleeing their homes amid military strikes. Her reporting on the Turkish incursion helped earn the network an Emmy Award in the Outstanding Breaking News Coverage category this year.
In 2019 Ward investigated Russia's use of mercenaries in a two-part series for CNN, 'Putin's Private Army.' For this months-long, Emmy Award-winning investigation, Ward secured the first on-camera interview with a former fighter for Wagner — Russia's most notorious private military contractor. She traveled to the Central African Republic, to look at growing Russian mercenary activity on the continent. After visiting a diamond mine with ties to a Russian oligarch, Ward and her team were followed and intimidated by a car full of Russians. After their reports came out, they were targeted by a Russian media propaganda campaign trying to discredit their reporting.
This followed Ward gaining unprecedented access to Taliban-controlled territory in Afghanistan for an exclusive report, '36 Hours with the Taliban.' Ward and CNN field producer Salma Abdelaziz spent time at a local madrasa, where dozens of children — boys and girls — pored over their Qurans, and a Taliban-run clinic in the village of Pashma Qala.
In 2018 she reported extensively on the murder of Washington Post columnist Jamal Khashoggi, even obtaining exclusive footage that showed a Saudi operative posing as Khashoggi in an attempt to cover up the killing. That report on Khashoggi's body double was recognized with a Golden Nymph from the Monte Carlo Television Festival in 2019 and CNN's overall coverage of Khashoggi's murder was recognized with a prestigious 2020 Alfred I. duPont-Columbia Award.
Ward also fronted 'Shadow Over Europe,' a CNN investigation into the rise of anti-Semitism in Europe in 2018, traveling to Poland, Germany and France to see how these countries were tackling this rise of anti-Semitic incidents and stereotypes. 'Shadow Over Europe' was recognized with a 2019 Edward R. Murrow Award in the News Series category for Television Networks.
Clarissa Ward Fox News
Prior to working for CNN, Ward also for Fox News, first as an overnight desk assistant in 2003 before she became an assignment editor for the network.  Here she worked on the international desk coordinating coverage for stories such as the capture of Saddam Hussein, the Indian Ocean tsunami in 2004 and the deaths of Yasir Arafat and Pope John Paul II. In 2006, Ward worked as a field producer for Fox News. She produced coverage of the Israeli-Lebanese war, the kidnapping of Gilad Shalit and subsequent Israeli military action in the Gaza Strip, the trial of Saddam Hussein and the 2005 Iraqi constitutional referendum.
She was also  based in Beirut and worked as a correspondent where covered the execution of Saddam Hussein, the Iraq War troop surge of 2007, the Beirut Arab University riots and the 2007 Bikfaya bombings. She conducted interviews with notable figures such as Gen. David Petraeus, Iraqi Deputy Prime Minister Barham Salih and Lebanese President Emile Lahoud. She also spent time embedded with the U.S. military in Iraq, most notably in Baqubah
Prior to joining CNN and Fox News, Ward also worked as an  ABC News correspondent based in Moscow. She reported from Russia for all ABC News broadcasts and platforms, including World News with Charles Gibson, Nightline and Good Morning America, as well as ABC News Radio, and ABC News Now. On assignment in Russia, Ward covered the Russian Presidential elections. She was in Georgia at the time of the Russian intervention into Georgian territory. Ward was transferred to Beijing to serve as the ABC News Asian Correspondent, where she covered the 2011 Tōhoku earthquake and tsunami in Japan. She has also covered the war in Afghanistan.
Ward was also a  CBS News  foreign news correspondent . Here, she was a contributor for 60 Minutes and served as a fill-in anchor on CBS This Morning. She covered many foreign news stories including the Syrian Uprising, Chinese civil rights activist Chen Guangcheng's stay at the U.S. Embassy in Beijing and subsequent United States – China negotiations, and the 2014 Ukrainian revolution.
Clarissa Ward Book
Ward is  the author of 'On All Fronts: The Education of a Journalist' (Penguin Press), a new memoir that details her singular career as a conflict reporter and how she has documented the violent remaking of the world from close range.
Clarissa Ward Awards
Ward received a George Foster Peabody Award on May 21, 2012, in New York City for her journalistic coverage inside Syria during the Syrian uprising. In October 2014, Washington State University announced that Ward would receive the 2015 Murrow Award for International Reporting in April 2015. She has also received two Emmy Awards, an Alfred I. duPont-Columbia Silver Baton, and honors from the Radio and Television Correspondents' Association. She was named 2019 Reporter/Correspondent of the Year by the Gracies
Clarissa Ward Salary
Ward earns a salary of $200,000 annually.
Clarissa Ward Net Worth
She has an estimated net worth of $1 million
Clarissa Ward Instagram
 

View this post on Instagram