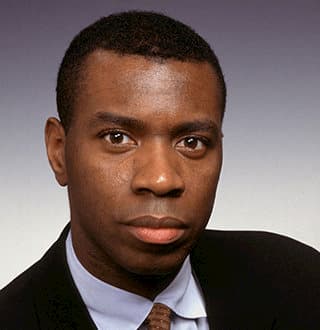 Clive Myrie Biography
Clive Myrie is an English media personality  working  for BBC News. He has presented  the BBC News at Six and BBC News at Ten and  previously worked  as London World Affairs Correspondent.
Clive Myrie Age
Clive was born on 25 August 1964 in Bolton, Lancashire, England.
Clive Myrie Nationality
He belongs to the English nationality
Clive Myrie Height
His height is not known.
Clive Myrie Education
Myrie attended  Hayward Grammar School in Bolton, followed by Bolton Sixth Form College, where he completed his A-levels. He then joined  the University of Sussex, graduating in 1985 with a law degree.
Clive Myrie Parents
Myrie is the son of Lynne Myrie who was a qualified teacher in Jamaica. However, her  Jamaican teaching qualification wasn't accepted in Britain. She  began dressmaking. She made dresses for Mary Quant, Marks and Spencer, and worked for the same company that made Harold Wilson's signature macs. She also made her daughter's wedding dress. His father  was a factory worker and labourer. When he arrived from Jamaica, it was difficult getting a job .In the end he worked for a plastics company for more than a decade before retiring.
Clive Myrie Sibling
Clive was brought up alongside his sister and brother but he hasn't revealed much about his siblings .
Clive Myrie Wife
Clive is married to Catherine Myrie . In a question and answer interview, he said his wife is his greatest influencer because she gives him   the courage and space to pursue his dream .It's not known if the duo has any kids.
Clive Myrie BBC News
Myrie joined the BBC on the corporation's graduate journalism programme. His first assignment was as a reporter for Radio Bristol in 1988, returning to the BBC after a year with Independent Radio News. He then reported for Points West, and latterly BBC Television and Radio News. In 1996, he became a BBC foreign correspondent, and has since reported from more than 80 countries. He initially became the BBC's Tokyo correspondent, and was then the Los Angeles correspondent from 1997 to 1999. He was appointed a BBC Asia Correspondent in 2002 and was Paris correspondent from 2006 to 2007.
He has covered  major stories such as the impeachment of U.S. President Bill Clinton, and wars in Kosovo, Afghanistan and Iraq. During the invasion of Iraq by coalition forces in March 2003, Myrie was an embedded correspondent with 40 Commando Royal Marines. Initially joining them on HMS Ocean, and subsequently during operations on the Al-Faw Peninsula.
Myrie has won several nominations for his work, most significantly for his role in the Bafta-nominated team behind coverage of the Mozambique floods. He was awarded the Bayeux-Calvados Award for war correspondents for his reporting of ethnic violence on the island of Borneo.
He also served  as Europe correspondent based in Brussels before being appointed a presenter on the BBC News Channel in April 2009. Since joining BBC News, Myrie has presented the BBC Weekend News and weekend editions of BBC News at Ten and BBC Breakfast, both on BBC One. In June 2014, he began presenting weekday bulletins on BBC One. In September 2010, Myrie broke the story that ETA had declared a unilateral ceasefire after he met an ETA operative in Paris, who handed over a tape of the organization's leaders making the declaration.
He has presented the 18:30-to-midnight slot, Monday to Thursday, on the BBC News Channel. During the 2015 general election, he was the main presenter of Election Tonight at 19:30 and 21:30. Since 2019, Myrie has focused on BBC One network bulletins with the evening shift presented by a set of relief presenters.
Myrie reported extensively from Kathmandu on the earthquake that struck the city on 25 April 2015, including the rescues of two Nepali citizens who were found alive under two collapsed buildings on 30 April 2015. In October 2017, he visited Bangladesh to report on the Rohingya refugee crisis. He has occasionally presented on BBC World News, including World News Today, World News America and the 2016 US election. He appeared as a guest on BBC One's Have I Got News for You on 15 April 2016. In September 2017, Myrie appeared as a panellist on Richard Osman's House of Games gameshow.
In 2019, Myrie began presenting the BBC News at Six and BBC News at Ten on alternate Fridays with Sophie Raworth following the departure of Fiona Bruce to Question Time. He now presents the BBC News at Ten on Fridays and in the absence of Huw Edwards.
Clive Myrie Salary
He earns an annual salary of £215,000-£219,999.
Clive Myrie Net Worth
His net worth is unknown.
Clive Myrie Twitter