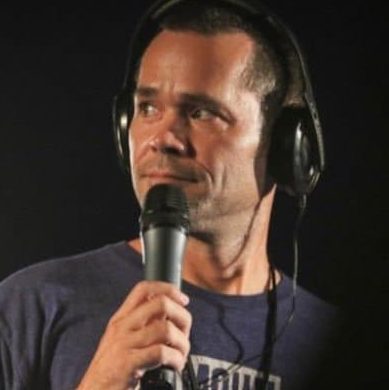 Corby Davidson Biography
Corby Davidson is a radio personality serving as a host on Sports Radio 1310 The Ticket's "Hardline" during afternoon drive time, 3 pm-7 pm.
Corby Davidson Age
He was born on September 15, 1969 in Arlington, Texas.
Corby Davidson Education
Davidson is an Arlington Lamar grad who went to college at TCU and North Texas.
Corby Davidson Parents
Corry has not revealed the name of his parents but during an interview, he revealed that his mother was a good golfer and she'd always wanted him to play golf. His mother died in April 2020.
Thanks to everyone who reached out today about my mom. Mucho love to you all. Totally made my day. Here's mom and dad 60 years ago. pic.twitter.com/mVBOkrAnIx

— Corby Davidson (@corbydavidson) April 29, 2020
Corby Davidson Sister
Happy 50th BIrthday to the greatest sister ever. Love you Whit. pic.twitter.com/d7Vw2eL175

— Corby Davidson (@corbydavidson) December 17, 2017
Corby Davidson Wife
Davidson married Julie Davidson in 2000.
Corby Davidson Children
He is a father of two sons, Ike (Born 2006) and Van (Born 2009).
Corby Davidson The Ticket
Corby joined "The Ticket" KTCK-AM (1310) as an intern in October 1994, a little more than eight months after it debuted as Dallas-Fort Worth's first all-sports radio station. Three months later she landed a fulltime job as the station's weekend board operator.
In 1996 he became a producer of Arnold's weekday 10 a.m.-noon show. Three years later he became a co-host on fledgling BaD Radio alongside Bob Sturm and Dan McDowell.
Corby Davidson Hardline
Corby joined the afternoon-drive Hardline in 2000. In 2020 he serves as the host with Bob Sturm as the co-host. The two give hot sports opinions on the Cowboys, the NFL, College Football, the Mavericks, and whatever else they find interesting.
Corby Davidson Golf
Corby began playing golf at the age of 12. He went to his first Colonial in 1982.
"My mom was a good golfer and she'd always wanted me to play So I picked up clubs at the age of 12 and I loved it, was really hooked early on. My dad asked if I'd like to go to Colonial and I was like, "Yeah, sure" while not knowing much about it. My first Colonial was 1982 when Jack Nicklaus won. I thought it was really cool and at the time, he was really the only golfer I knew. I didn't know the sport very much, but everybody knew who Jack Nicklaus was, so I figured he must win every single week. I remember the crowd of people on 18 and it was more people than I could have ever imagined being on a golf course and that was just really cool.
Then I started taking the game more seriously as far as my own game and I ended up taking lessons from a teaching pro over at Colonial named Bobby Morris. He was great, an older guy probably in his 70s, he was a contemporary of Ben Hogan's and had some stories from playing with him back in the day. So I ended up going to Colonial a ton, not only every year as a fan, but I was taking lessons out there and got to play it a couple of times in the Fort Worth Star-Telegram junior tournament.
Then when I was in college at TCU, I went out there to work the tournament and they hired me to work the range. I'd get out there at 6:00 in the morning and watch these guys just beat balls for hours and hours on end, then I'd go pick up the range and do it all over again all day long and I loved it. One time the caddies had a fish fry down by the far end of the range and I got to hang out with them and know a bunch of them and that was REALLY fun. I've always loved Colonial. I love the trees, the history, the Hogan angle of it. It was all super cool. I just have nothing but really, really fond memories of being out there. Love it, love it all."
Corby Davidson Salary
His actual salary is unknown.
Corby Davidson Net worth
He has an estimated net worth of$14 million.
Corby Davidson Twitter