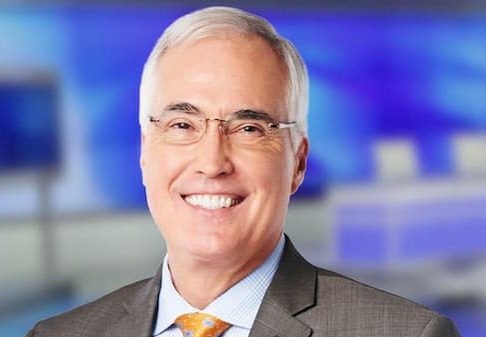 David Johnson Biography
David Johnson is a media personality serving as the co-anchor of Channel 11 News at 5 with Peggy Finnegan and co-anchor of Channel News at 6 and 11@11 with Lisa Sylvester. He also anchors the News on PCNC at 7 p.m.
David Johnson Age
He was born on July 3, 1957 in Jacksonville, Florida, United States.
David Johnson Education
He earned an associate degree from Daytona Beach Community College (Now Daytona State) in 1977. He later transferred to the University of Florida in Gainesville graduating with a Bachelor of Science Degree in Broadcasting.
David Johnson WPXI Parents
David has not revealed the names of his parents but they are both dead.
 

View this post on Instagram

 
In April 2020 he revealed that his parents-in-law Gerald and Arline Polinsky, who he regarded as his 'mom and dad', died of coronavirus within hours of each other in a Florida hospital.
He made the announcement on a Facebook post; "My wonderful in-laws, Nancy's parents Gerald and Arline Polinsky, passed away peacefully last night in a hospital in Florida. He contracted the virus almost two weeks ago — she got it only two days ago. Hospital staff was able to put them in the same room — their beds, side by side. He succumbed before midnight, then only a couple of hours later, she left us. As his body was being moved out of their room, the nurses told us that she noticed and said, 'Together, Jerry!' "
David Johnson WPXI Wife
David is married to Nancy Polinsky Johnson, the couple first began dating in Atlanta in 1984. Nancy is the owner of Shady Ave magazine since 2009 where she also serves as a publisher and editor. She previously served as an editor.
 

View this post on Instagram

 
David Johnson Children
David is a father of two sons, Michael and Eric.
 

View this post on Instagram

 
David Johnson WPXI Channel 11
David joined WPXI in January 1985 as the noon news anchor and reporter for the evening news. In 1989 he began anchoring the evening newscasts. He currently serves as the co-anchor of Channel 11 News at 5:00 with Peggy Finnegan, and co-anchor for Channel 11 News at 6:00, Ch11 News on Fox 53 at Ten and "11 at 11" with Lisa Sylvester, as well as the 7:00 News on PCNC.
David and Peggy are the longest-running anchor team in Pittsburgh TV history and one of the longest-running currently in the United States, having just celebrated 30 years together. Peggy is set to retire in December 2020. The two were named the 2016 Broadcasters of the Year by the Pennsylvania Association of Broadcasters, the first anchor team to be so honored. They also won the Press Club of Western Pennsylvania President's Award—for outstanding career achievement.
David has covered major national stories, including the Democratic National Convention in 1988, space shuttle launches, the 1989 San Francisco earthquake, the Oklahoma City bombing, and 9/11, among others.
He began his career at WUFT-TV where he worked as a reporter before joining Channel 11, WPXI-TV.
David Johnson WPXI Salary
His actual salary is unknown.
David Johnson WPXI Net worth
David's net worth is under review.
David Johnson Instagram
 

View this post on Instagram

 
David Johnson Twitter