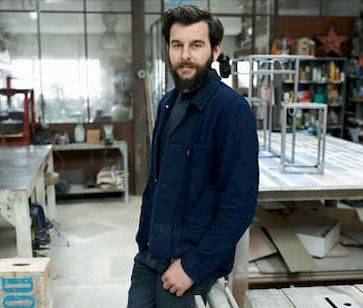 Dominic Chinea Biography
Dominic Chinea is a set designer and metal work restoration expert and a television personality on BBC reality show, The Repair Shop. He has a background in art and graphic design, but his passion for cars and metalwork led to jobs in car restoration.
Dominic Chinea Age
He has not made his age public. He celebrates his birthday on May 4.
Dominic Chinea Education
He graduated from South East Essex Colege where he studied Graphic Design.
Dominic Chinea Parents
There is no available information regarding his parents.
Dominic Chinea Wife
Dominic is married to Maria Domican. The couple got married on October 21, 2017. They live in Kent.
Dominic Chinea Set Designer
Chinea is a set and production designer having begun his career as a production designer with Rankin Photography where he worked for five years before leaving in May 2014. He later joined Hunger Magazine as a set designer. While serving as a set decorator and production designer he worked on Rita Ora's song Facemelt and Iggy Azalea, Slo.
Dominic Chinea Metal Worker
Dominic is a metalworker who restores metallic objects. His passion includes restoring anything with wheels: classic cars, motorbikes and pushbikes, signwriting, anything with a history or story.
Dominic Chinea The Repair Shop
Dominic is one of the experts on BBC reality show, The Repair shop alongside Jay Blades, Steve Fletcher, Suzie Fletch, Will Kirk and Lucia Scalia. During an interview with BBC, he revealed that he joined the show after he was asked to design and make the repair shop light up sign, on the outside of the barn alongside the interior set pieces. At the time he was working as a set designer. After they were pleased with his work and realized he had an interest in antiques and a variety of skills that would prove useful for the team, they asked him to join the show.
Dominic Chinea Instagram
Dominic Chinea Twitter