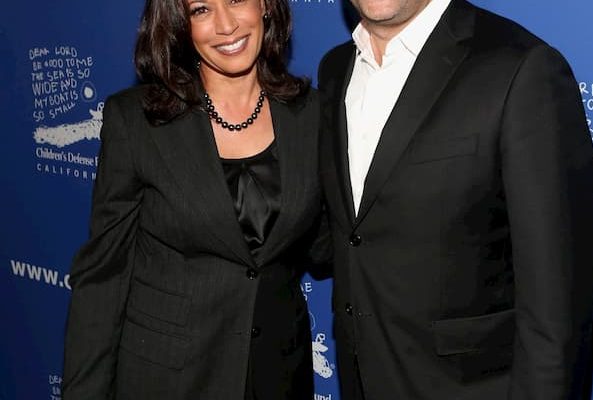 Douglas Emhoff Biography
Douglas Emhoff is an entertainment lawyer working at DLA Piper, working at their Washington, D.C. and California offices. He is the husband of senator Kamala Harris who has been selected by Joe Biden as his running mate in the 2020 presidential election, becoming the first Black woman and first Asian American to run for vice president.
Douglas Emhoff Age
He was born on October 13, 1964 in New York City, New York, U.S.
Douglas Emhoff Height
Douglas stands at a height of 6 feet tall.
Douglas Emhoff Nationality
He is an American national.
Douglas Emhoff Race
Emhoff belongs to white ethnicity.
Douglas Emhoff Religion
He is Jewish.
Douglas Emhoff Parents
Emhoff is the son of Michael and Barbara Emhoff.
Douglas Emhoff Wife
Emhoff is married to Kamala Harris, an American politician and lawyer serving as the junior United States senator from California since 2017. She has been selected by Joe Biden as his vice president for the 2020 election, becoming the first African American and the first Asian American to be chosen as the running mate of a major party's presidential candidate.
The couple met through a blind date which was set up by Kamala's friend, Chrisette Hudlin. The couple got engaged on March 27, 2014 after a year of dating. Four months later on August 22, the couple got married at a private ceremony at the Santa Barbara Courthouse. They wrote their own vows, and to recognize Emhoff's faith, the two honored a time-tested Jewish tradition and broke a glass.
Who Was Douglas Emhoff First Wife – Douglas Emhoff Ex-Wife
Douglas was married to Kerstin Emhoff, a filmmaker and head of Prettybird, a production company that she co-founded that works to elevate a diversity of voices. She also founded a non-profit called Pipelines which is a "mobile discovery app and Foundation" that aims to help people from underrepresented communities break through social barriers to success.
She is a supporter of Kamala Harris. She showed her support after Biden announced that Harris is his pick for Vice President.
Douglas Emhoff Children
Douglas has two children from his first marriage. A son known as Cole who graduated from Colorado College and a daughter known as Ella who studies at Parsons School of Design.
What Does Douglas Emhoff Do for a Living
Douglas is an entertainment lawyer who began his career at Pillsbury Winthrop's litigation group. He later moved to Belin Rawlings & Badal, a boutique firm, in the late 1990s. He opened his own firm with Ben Whitwell in 2000. The firm was acquired by Venable in 2006.
He works as a partner at DLA Piper Law Firm. According to the company's website he, "Represents large domestic and international corporations and some of today's highest-profile individuals and influencers in complex business, real estate and intellectual property litigation disputes."
Douglas Emhoff Networth
His net worth is under review. Together with his wife they have an estimated net worth of $5.8 million.
Douglas Emhoff Twitter