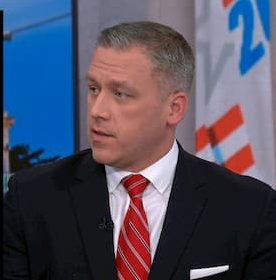 Dr. Joseph Fair Biography
Dr. Joseph Fair is a virologist and epidemiologist who serves as the special advisor for Ebola to USAID in the Democratic Republic of the Congo and also an NBC News medical contributor. He is a former  Vice President and Director of Research and Development for Metabiota, Inc. He is a specialist in surveillance, diagnostics, pathogenesis, and infectious disease spillover event management, overseas.
Dr. Joseph Fair Age
Dr. Joseph is 43 years old as of 2020.
Dr. Joseph Fair Education
Dr.Joseph attended Loyola University New Orleans, graduating with a Bachelors degree in Biological Sciences. In 2005 he joined Tulane University graduating in 2006 with a Master of Public Health, Tropical Medicine. He has a Ph.D. in Molecular Biology from Tulane University.
Dr. Joseph Fair Family
Fair is the son of a nurse and a college professor.
Dr. Joseph Fair Married – Dr. Joseph Fair Wife
Joseph manages to keep a low profile about his personal life, it is not clear whether he is married or not although an article on The Washington Post indicates that in 2014 he had a girlfriend. "He sent his girlfriend home to California months ago." This article was written when he traveled to West Africa after an outbreak of Ebola.
Dr. Joseph Fair Virologist
While Joseph was in college at Loyola University New Orleans, he read 'Virus Hunter' which is about a famed virologist C.J. Peters's career chasing Ebola and other pathogens. This made him develop a passion in virology. He later began working at the University of Texas Medical Branch in Galveston where he volunteered to work with hot viruses.
In April 2008 he became the Corporate Vice President of Metabiota (Formerly Global Viral Forecasting, Inc.). He managed a specialized, multi-disciplinary research and public health response team dedicated to developing and implementing high impact infectious disease research, capacity building, and outbreak response in the Developing World. He also conducted a research on viral hemorrhagic fever viruses.
He served as a consulting advisor for Foundation Mérieux, USA from June 2014 to December 2015. In May 2014 he joined the American Society for Microbiology as the Chair of Global Engagement for the International Board. He also served as Chief Advisor for Global Health Surveillance & Diagnostics for MRIGlobal.
In August 2015 he became a senior fellow in Global Health Security at Penn State University. He is the chairperson of VIRION HLTH. He is a Special Advisor for Ebola to USAID in the Democratic Republic of the Congo.
Dr. Joseph Fair NBC News
Dr. Joseph joined NBC News in February 2020 as a medical contributor. He is a subject matter expert in infectious disease, analyst and a voice for science.
Dr. Joseph Fair Hospitalized
On May 14, 2020 Dr. Fair revealed on The Today show that he was hospitalized. He said he suspects he caught coronavirus during a flight to Louisiana on April 24. He, however, said he suspects he contracted the virus through his eye.
"I had a mask on. I had gloves on. I did my normal wipes routine, everything like that. But, you know, obviously you can still get it through your eyes. You know, that's one of the three known routes of getting this infection that we don't pay a lot of attention to. We tend to focus on the nose and mouth because that's the most common route. Droplets landing on your eyes are just as infectious and of course I wasn't wearing goggles on the flight."
He said that three to four days later he developed symptoms. For the first week it felt like a moderately severe flu but after four days he realized he had developed 'kind of a walking pneumonia' which is a secondary infection as a result of the virus.
He added that he got worse and was only able to breathe about 25% of the air he was trying to take in. When he was taken to the hospital he declined to be intubated and chose to have a high volume of oxygen. He added that he was responding well to oxygen and drug treatment, and has been taken off the critical list.
Dr. Joseph Fair Coronavirus
On May 13, 2020 Dr. Fair announced on his Twitter account that he had contacted Coronavirus.
My friends wondering where I've been: I came down with #COVID19 & am hospitalized. I'm on the other end of it, but not out of the woods yet. Please continue to social distance. I used max precautions, but still managed to contract it. Back as soon as I'm able, friends. #StaySafe pic.twitter.com/Ck75sKLOU3

— Dr. Joseph Fair (@curefinder) May 13, 2020
During an interview on The Today Show with Hoda Kotb he said he was tested four times for the coronavirus and every time it came back negative despite having all the symptoms. He however said that he believes he did have coronavirus but by the time he was tested it may have exited his system. He also said tests are not completely accurate and the country is missing a lot of cases because of it.
'Well, there's a couple things that might be, you know, I waited a week because I was taking care of myself. And virus kind of naturally drops off in your system after some time so your body is still going to be dealing with the after effects of what it did when it was there. We call it the storm, the second bacterial infections.
It's a possibility that what we call the amount of virus in my blood was undetectable. That being said I did learn that these tests are by far and away not 100% accurate. My local caregivers told me they were getting about a 50% false negative with that. I tried the two PCR test the White House mentioned several months ago. Both negative.
I tried the biofire, which we've been using in New York and around the country, it's a really excellent device, but negative there too. And so my only explanation is — well, I think it's a combo. I think our tests are still very imperfect. And we're missing a lot of cases because of that. And I think also, you know, I waited a bit of time. So it was a good possibility that there's just no detectable virus still in my blood system."
Dr. Joseph Fair Twitter