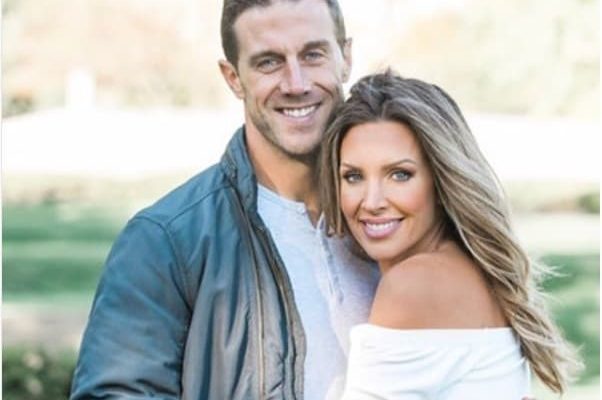 Elizabeth Barry Biography
Elizabeth Barry is a former Oakland Raiders cheerleader and the wife of NFL player, Alex Smith playing as a quarterback for the Washington Redskins.
Elizabeth Barry Age
Elizabeth was born on April 2, 1984 in the United States.
Elizabeth Barry Husband
Elizabeth married her husband Alex Smith in 2009 at the Palace Hotel in San Francisco. The couple met while Elizabeth was a cheerleader for Oakland Raiders and Alex was playing for the San Francisco 49ers.
ESPN reported that the couple's first date was at a St. Patrick's Day Festival in San Jose, California. They were joined by Alex's best friend, Andre Dabagghian who committed suicide in 2008. During their wedding they honored Dabagghian.
Who Is Alex Smith
Alex Smith is an American football quarter for the Washington Redskins of the National Football League. He previously played for the Kansas City Chiefs. He was the first overall pick by the San Francisco 49ers in the 2005 NFL Draft.
He played college football for the Utah Utes. He led the Utes to a Fiesta Bowl victory and a national top-five finish.
Alex Smith Injury
Alex suffered a severe injury on November 18, 2018, in the third quarter of a Week 11 game against the Houston Texans. According to an interview ESPN did, Elizabeth said that after he was taken to the hospital the doctors said he had a blood clot, a pulmonary embolism. The doctors later realized that he had an infection but they didn't know which type it was.
"The doctors are telling me,' He's septic. It's in his blood. But we don't know what type of infection it is.'"
The doctors later realized that he had a flesh eating bacteria, Aeromonas hydrophila, in his bloodstream. The bacteria is typically found in freshwater or brackish water.
Elizabeth Barry Children
Barry together with her husband are parents to three children; two sons Hudson Smith (born in 2011) and Hayes Smith (born in 2013) and one daughter known as Sloan Smith who was born in 2016.
Elizabeth Barry Oakland Raiders Cheerleader
Elizabeth was a cheerleader for the Oakland Raiders in the early 200s until the late 2000s when she got married to Alex Smith and dedicated her life to philanthropy and family.
Elizabeth Barry Philanthropy
Elizabeth is part of Alex Smith Foundation which provides 'foster teens with the tools and resources needed to transition to successful adulthood by developing and promoting Mentoring, Education, Housing, Internship, Job and Advocacy programs.'
She also supports the Hope House, which is an organization that works in domestic violence prevention. The organization's mission is 'to break the cycle of domestic violence by providing safe refuge and supportive services that educate and empower those impacted by domestic violence. Hope House will advocate social change that protects and engenders a person's right to live a life free of abuse.'
Elizabeth Barry Instagram
Elizabeth Barry Twitter