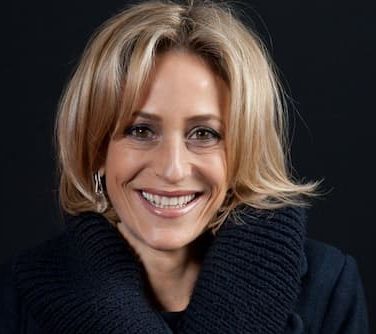 Emily Maitlis Biography
Emily Maitlis is a British media personality serving as the lead anchor of BBC Two's news and current affairs programme Newsnight, and also covers elections for the BBC in the UK, US and Europe. She previously worked for Sky News in the UK as a business correspondent as well as a presenter for the NBC network and was based in Hong Kong.
Emily Maitlis Age
Maitlis was born on 6 September 1970  in Canada.
Emily Maitlis Height
She stands at a height of 5 feet 7 inches tall.
Emily Maitlis Nationality
She is British.
Emily Maitlis Education
Emily attended King Edward VII School, Sheffield, and then studied English at Queens' College, Cambridge.
Emily Maitlis Parents
Maitlis is the daughter of Peter Maitlis and Marion Maitlis. Her mother is a Psychoanalytical psychotherapist while her father is a retired organometallic chemist and the former President of the Dalton Division of the Royal Society of Chemistry and also worked as an Assistant Lecturer at the University of London. He undertook postdoctoral study at Cornell University as a Fulbright Fellow and was a professor of chemistry at the University of Sheffield for 30 years until his appointment as an emeritus professor in 2002.
Emily Maitlis Siblings
Emily grew up in Sheffield alongside her two older sisters, Nicky and Sally.
Emily Maitlis Husband
Emily is married to Mark Gwynne, an investment banker working at Polygon Investment Management as a Portfolio Manager and previously worked as an MD for Equity Capital Markets Company, Merrill Lynch. He graduated from the University of Cambridge with a Master's degree in History. The duo met while she was working in Hong Kong. She proposed to her husband while on holiday in Mauritius in 2000. In an interview, Emily revealed that asking Mark to marry her was 'the best question she ever asked.
Emily Maitlis Children
Maitlis and her husband have two children, Milo and Max.
Emily Maitlis Prince Andrew
Emily was named network presenter of the year at the Royal Television Society Awards, for her interview with the Duke of York in November 2019. She quizzed the prince at Buckingham Palace over his relationship with the now-deceased sex offender Jeffrey Epstein. The broadcast also won interview and scoop of the year and the prince withdrew from public duties in the wake of the broadcast.  Maitlis revealed in an interview that she only realized the significance of her interview with the Duke of York after watching the footage.
Emily Maitlis BBC News
Emily joined the BBC in 2001 as a presenter for the BBC London News and currently hosts the network's current affairs programme Newsnight. She was a regular presenter on BBC News Channel and also presented BBC Breakfast and from May 2006 until July 2007, she presented STORYFix on BBC News, a light-hearted look at the week's news set to upbeat music.
In July 2007, Maitlis was appointed as a contributing editor to The Spectator magazine, an unpaid post. This had been approved by her immediate manager, the head of BBC Television News Peter Horrocks, but the decision was subsequently overturned by his superior, the BBC News director Helen Boaden. In 2012, she presented the US 2012 election coverage on BBC One and the BBC News Channel alongside David Dimbleby, when incumbent US President Barack Obama and Mitt Romney were fighting for the presidency of the US. In 2016, she presented a news discussion programme called This Week's World on BBC Two, late afternoon on Saturdays.
Emily Maitlis Newsnight
Maitlis is one of the main presenters of Newsnight on BBC Two, alongside Kirsty Wark and Emma Barnett. She first joined the programme as a relief presenter in 2006, working her way up to be the lead anchor of the programme following the departure of Evan Davis in 2018. In 2020, Maitlis began presenting the BBC podcast, Americast, alongside the BBC's North America Editor Jon Sopel and Chief North America Reporter Anthony Zurcher. The podcasts originally focused on the 2020 election and content analysis as well as an array of interviews from across the political scene. Americast received positive reviews and performed well on the iTunes chart, at points becoming the UK's most listened to a podcast of any genre. The podcast was originally due to end after the election, however, it continued due to its popularity.
Prior to joining the BBC, she worked for the NBC network and was based in Hong Kong and spent six years in Hong Kong with TVB News and NBC Asia, initially as a business reporter creating documentaries, and then as a presenter in Hong Kong covering the collapse of the tiger economies in 1997. She also covered the transfer of sovereignty over Hong Kong with Jon Snow for Channel 4. She then moved to Sky News in the UK as a business correspondent and also worked as a documentary maker in Cambodia and China.
Emily Maitlis Book
in April 2019 published the book Airhead: The Imperfect Art of Making News, describing how television news is produced.
Emily Maitlis Salary
She earns an average annual salary of £370,000-£374,999.
Emily Maitlis Net Worth
She has an estimated net worth of $4.5 million.
Emily Maitlis Instagram
 

View this post on Instagram

 
https://www.instagram.com/embed.js
Emily Maitlis Twitter