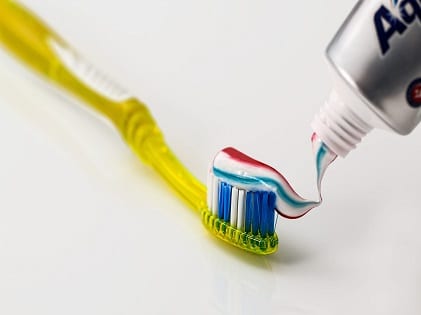 Well, cleaning is a chore that most of us do not enjoy doing. However, there is not much we can do about it. So, as you go around doing the chores and clean your home, here are a few tips to make it fun and easy. All these tips use just one main ingredient.
And that's something you already have at home, so wouldn't have to rush to the store to buy cleaning supplies this time around. Yes, we are taking away the excuse of not having cleaning supplies away from you!
No points for guessing the secret ingredient that can work wonders around your home and make cleaning fun. Because we guess you know by now that we are talking about the toothpaste. It comes handy in cleaning more than just your teeth. Here are five cleaning tips using a toothpaste that you cannot miss!
Sparkle The Fixtures In Your Kitchen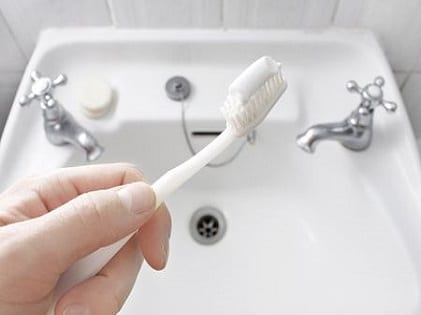 Remember the first time you moved into your new home and found the fixtures around the place all shiny and sparkly? Well, would you believe us if we told you that you could get your kitchen and washroom fixtures to look like they did on day one? And the best part is you will not have to shell out a bomb or spend hours trying to scrub off the stains from it.
Here's what you need to do. Take a generous amount of toothpaste in your hands and rub it along the fixtures. While it dries, treat yourself to a refreshing drink and let the toothpaste dry. Once it dries out, wipe it out with a cleaning sponge. Yes, that's all the work it takes. You can use a wet cloth to finish cleaning up if you wish too for that extra shine!
Clean The Toilet!
Yes, you can also scrub your toilet of all the dirt and stains with some good old toothpaste. Just squirt some toothpaste into the toilet and start scrubbing with a cleaning brush. The stains will vanish within no time.
Yes, even the tough ones that you thought will need a professional to clean up. However, make sure to follow this up with a  disinfectant as the toothpaste only cleans the stains and leaves a pleasant odor but does not disinfect the toilet.
Get Rid of the Soap Scums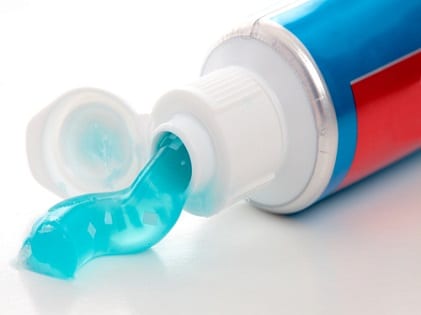 Shower doors and fiberglass enclosures in your shower might be full of soap stains from over the years. No amount of water and scrubbing helps you eliminate it without leaving behind some scratches on the glass. However, with some toothpaste, you can get rid of it seamlessly.
You should take some toothpaste on a cleaning sponge, apply it all over the glass and leave it on for a while. Use a wet cloth to wipe away the traces of the toothpaste along with it. The soap scums will go away too!
Remove Crayon Marks
If the house has little kids around, this is one stain that you are way too familiar with. It isn't fair to interfere with the fine and gross motor skill development of your little one. However, the way your house looks at the end of it isn't something you would be happy about.
So, why not clean out your child's canvas, i.e., the walls with some toothpaste? Yes, you can use toothpaste to remove crayon marks. All you need to do is apply some toothpaste on a damp sponge and rub it against the crayon marks, leave it on for a few minutes before wiping it away with a damp cloth.
 Polish Silverware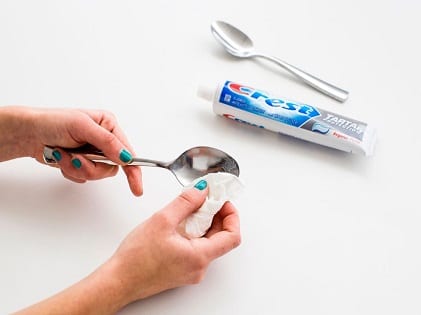 Well, it's not just for the dirty drains and clogged toilets. A dollop of toothpaste can restore your old china and silverware to its original sheen. All you need to do is apply some toothpaste on your silverware and brush it with a  scrub.
You can wash it away in a few minutes, but don't forget to dab the silverware dry with a clean and dry cloth. For polishing your copper ware, you could leave the toothpaste on for a few minutes or even overnight before you scrub it off. This will remove the old stains that are otherwise impossible to get rid of!
Make sure you use a regular toothpaste instead of a gel-based toothpaste. It would help you get better results with your cleaning efforts! We hope these things come in handy while you are cleaning your home! And while using these fun tips to clean, we are sure tidying up your home will no longer seem like a chore!