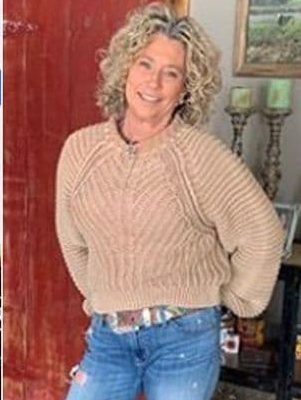 Francie Frane Biography
Francie Frane is a rancher from Colorado and the fiance to American reality star Dog the Bounty Hunter. They were both married but they spouses both died in 2019.
Francie Frane Age
Francie is 51 years old as of 2020.
Francie Frane Husband
Frane was married to  Bob who died in 2019.
Francie Frane Dog the Bounty Hunter
Francie is in a relationship with reality star Dog the Bounty Hunter. The couple met after Dog tried to reach out to Francie's husband Bob to do some work at his Colorado home. Francie responded and broke the news to Dog that Bob had died several months before Beth. Grief brought them together and they began dating soon after.
When the relationship was made public Dog's daughter, Lyssa Chapman tweeted, "Love is in the air"
Love is in the air 💕 https://t.co/FMMpeiYhoT

— Lyssa Chapman (@BabyLyssaC) March 22, 2020
During an interview, she said the family approves of his father's romance with Frane.
"Francie has been very respectful to all the kids — and to Beth's memory — and my dad is the same way with Bob and their children. They go to church three times a week and dad is trying to give up smoking — she is a good woman for my dad. He's the happiest I've seen him in a long time — he's so in love and wants to spend the rest of his life with Francie."
Dog's daughter Bonnie Chapman posted on her Instagram alleging that people's opinion about her father's relationship was invalid.
"Everyone who's judging my father should sure pray that they never have to lose their loved one and get judged for trying to fill the void. Your opinion is invalid. My mother would've wanted him to be happy."
Francie Frane Engagement
Francie broke the news of their engagement on April 11, 2020 on her Instagram page.
 

View this post on Instagram

 
Francie is engaged to Dog the Bounty Hunter, The Sun exclusively broke the news. Describing how the proposal happened she said; "I wasn't expecting it at all. I think I had gone to pick up some food and then when I came back he had all the lights turned down with just a few lights on and a bunch of candles lit. So when I came in I was like, 'Wow, this is awesome'. Then he said, 'Come in, sit down because I need to talk to you'.
So I put all the food in the kitchen and I came in and he said, 'I know that God brought you into my life and I don't want to spend one moment of it without you'."
Francie Frane Net worth
Francie's net worth is unknown
Francie Frane Instagram