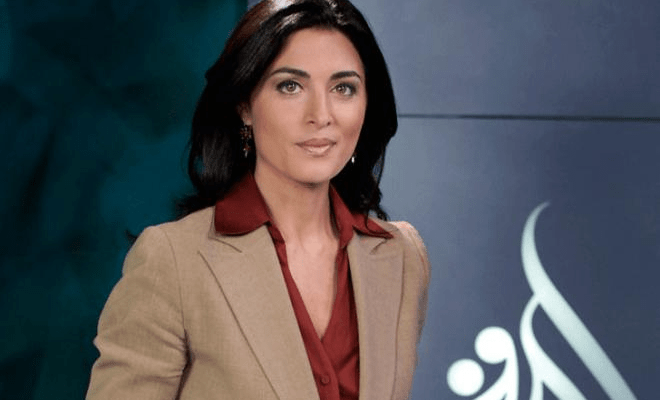 Ghida Fakhry Biography
Ghida Fakhry is a Lebanese media personality serving as the current affairs program presenter with TRT World, a moderator for Doha Debates based in Washington, DC. and a contributor to the Huffington Post. She was a lead anchor for Al Jazeera English at its launch in Washington DC. and a primary anchor at the network's headquarters in Doha.
Ghida Fakhry Age
She was born on January 1, 1970 in Ghana.
Ghida Fakhry Height
She has an average height that perfectly suit her body though her exact height is unknown.
Ghida Fakhry Nationality
Fakhry is a Lebanese national.
Ghida Fakhry Languages
She is fluent in English, Arabic and French and is conversational in Spanish.
Ghida Fakhry Education
Fakhry studied bilingual education, French and English from which she received a French baccalaureate degree. She then joined Richmond University, London for her undergraduate degree.
Ghida holds a master's degree in Near and Middle Eastern Studies from the School of Oriental and African Studies (SOAS), University of London with distinction in 1996. She also received a Master of Arts degree in International Relations from the Boston University.
Ghida Fakhry Parents
Her father had a successful pipe and plastics factory in Ghana. During the Israeli invasion of Lebanon in 1982 her family was forced to move from West Beirut.
Her mother's name is unknown and so is her father's.
Ghida Fakhry Siblings
There is no information about her siblings.
Ghida Fakhry Husband
She is married, during an interview with Shumon Basar which was originally published in thumb nail Interviews, Summer 2009, she mentioned her husband though his identity is unknown.
Shumon Basar: We are very privileged, then! Speaking of being off air, the daily media and news, by definition, never stops. Can you escape from it? Is it important to you to switch it off, or is that a luxury you don't have — or don't want?

 

Ghida Fakhry: You can ask my husband! He will complain that I can never switch off, it's either the Blackberry or the Internet… Some friends used to tell me that journalism is almost like a drug — now I understand. I still find it difficult to switch off, even when I am on holiday.
Ghida Fakhry Kids
She does not have kids.
Ghida Fakhry TRT World
Ghida is a TRT World Presenter and Host of the global affairs program 'Bigger than Five' based in Washington DC.
She previously served as a Lead Anchor for Aljazeera English where she presented the network's main news and current affairs programs, and the award-winning documentary program, Witness.
She has moderated high-level panel discussions around the world for the UN, the World Bank, and leading NGOs, facilitating debates on global political and economic issues.
Ghida Fakhry Awards
2007: Voted as one of four US-based news anchors in Esquire Magazine's annual 'Women We Love'.
2012: George Foster Peabody Award for Aljazeera's coverage of the Arab Awakening.
2013: Named among the World's Most Influential Arabs by Arabian Business Power 500.
Ghida Fakhry Salary
Her annual salary is above $55k.
Ghida Fakhry Net Worth
Her estimated net worth is $2 million.
Ghida Fakhry Instagram
 

View this post on Instagram

 
https://www.instagram.com/embed.js
Ghida Fakhry Twitter