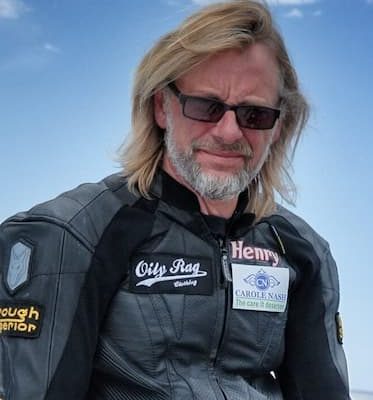 Henry Cole Biography
Henry Cole is a motorcycle enthusiast and TV presenter best known for World's Greatest Motorcycle Rides, The Motorbike Show and Find It, Fix It, Flog It. He is also the CEO of Gladstone Motorcycles.
Henry Cole Age
He was born on February 16, 1965.
Henry Cole Education
He was educated at Eton College.
Henry Cole Family
During an interview with Telegraph UK, he revealed that he was born into a fairly privileged, upper middle-class family. His father was a former Army major who left the army in 1964  to become an MP but failed dismally because his radical political views didn't go down well with his local Conservative association.  His mother was a housewife. His maternal great-great-great-great-uncle was William Ewart Gladstone, the Victorian prime minister.
"I was born into a fairly privileged, upper middle-class family and grew up in a remote 14-bedroom Victorian rectory in Norfolk. The only thing my father, an eccentric former Army major, knew how to do was kill someone; all my mother knew was how to be his unpaid servant. She spoke like a divinely stoic Fifties BBC radio announcer."
Henry Cole Wife
Cole is married to Jane Cole, there is no public information available about her. The couple has two sons Charlie and Tom and resides in the Cotswolds.
Henry Cole Motorcycle
Henry is a motorbike enthusiast. He is the founder and CEO of Gladstone Motorcycles, a British motorcycle brand. (The company is named after his great uncle Dick 'Red­beard' Gladstone, a true British eccentric who instigated Henry's passion for classic British motorcycles at the tender age of eight).
As a biker he set a world land speed record for a pre-1955 750cc motorcycle, riding a Brough Superior on the Bonneville Salt Flats in 2013.
He has traveled the world and ridden hundreds of unique bikes, and his aim is to share his enthusiasm for riding in general, wiping away any cultural clichés about motorcyclists.
"I wanted to tell as many people as possible that motorcycling is NOT a subculture, that people who ride aren't going to come round your house and burn it down, that we're actually pretty decent guys and girls… hopefully, like me."
Henry Cole Motorcycle Show
Henry is the presenter of World's Greatest Motorcycle Rides (Travel Channel Worldwide), The Motorbike Show (ITV4 and Discovery Networks), Shed and Buried (ITV and Travel Channel Worldwide) and The Motorbike Show Special: Steve McQueen's Motorcycles.
Henry Cole Find It, Fix It, Flog It
Henry presents Find It, Fix It, Flog It alongside Simon O'Brien. They travel across the UK to find unique items lost in people's homes and fix them up for profit.
Henry Cole TV Production
Henry runs a production company known as HCA Entertainment. The company has produced and Henry has directed countless factual series for broadcasters including ITV, Channel 4, Sky 1, Channel 5, UKTV, Travel Channel, Discovery Networks, NBC and BBC. These include Grimefighters, Kensington Wives, Men Brewing Badly, London's Greatest Hits, Supersize Grime, The Skulls of Sanctuary, Frontline Stories, Discovering Gardens and The Real Filth Fighters!
He has also directed over 70 TV commercials for brands like Flora, Mastercard, Top Up TV, Dixons, TFL, Amstrad among others.
He has also produced and directed TV and Theatrical movies, including Mad Dogs and Englishmen (starring Elizabeth Hurley, C Thomas Howell and Joss Ackland), Dead Funny (starring Elizabeth Pena and Andrew McCarthy) and Princess in Love starring Christopher Villiers and Julia Cox.
Henry Cole Addiction
Henry was a heroin addict for five years (between ages 19 and 24) but has since been clean. He is involved in trying to help other addicts and share his experience in battling addiction.
During an interview with Telegraph UK he said his lowest point was "in the late Eighties I became a virtual recluse. I couldn't even face going out to get drugs and had them delivered by dispatch riders at a cost of £7,000 a year. Weirdly, the only people I ever saw were Luke and Matt Goss from the pop band Bros, who lived in the flat upstairs.
I went into a serious mental decline and stopped paying the mortgage on the flat I shared with my then girlfriend, who left me. Not long after several failed suicide attempts, my belongings were repossessed.
The final nail in the coffin was when a tabloid newspaper ran a front-page story about me under the headline, "Heroin Henry, peddler of death, deals drugs in Bros house". Thankfully, my parents stood by me. The other thing that helped me get clean was my burning ambition to get back into television.
Narcotics Anonymous is the most expensive club you can join. I spent half a million pounds getting in."
Henry Cole Book
A Biker's Life: Misadventures On (and Off) Two Wheels by Henry Cole is published by Quercus at £20
He wrote his memoir "A Biker's Life: Misadventures on (and off) Two Wheels". He said he "felt I had a story to tell of people who have lost their way in life and didn't really know what they were rebelling against but demanded in some way, however small, to be an individual. Motorcycling is an intrinsic part of that ethos."
Henry Cole Net worth
His actual net worth is unknown.
Henry Cole Instagram
 

View this post on Instagram

 
https://www.instagram.com/embed.js
Henry Cole Twitter