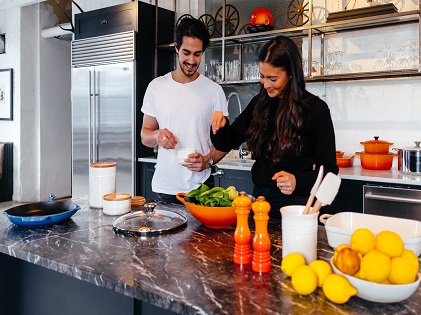 The lockdown doesn't necessarily have to be a bad one. If we start by counting our blessings that we have a place to stay, food to eat, and have our loved ones around, we will know how much we need to be thankful for! However, we do not deny that this situation is causing a lot of discomfort to our everyday lives and pushing us away from what we thought was "regular."
But that doesn't mean that we should stop living our lives or celebrating it. If you are in the lockdown with your partner and want to have a  romantic date night, here's how you can do it without having to step out of your home. Try these out, and thank us later 😉
Cook Together
Well, going out for a romantic dinner is not on the cards, so here's what you could do. Walk into the kitchen and cook your spouse's favorite meal and surprise them to a romantic candlelight dinner in your living room. On the other hand, you can plan and cook a meal together.
Looking together helps you bond and makes the preparation all the more romantic than the dinner date itself. If you're a natural in the kitchen, you can try to cook the dish you two had on the first date.
Have a Game Night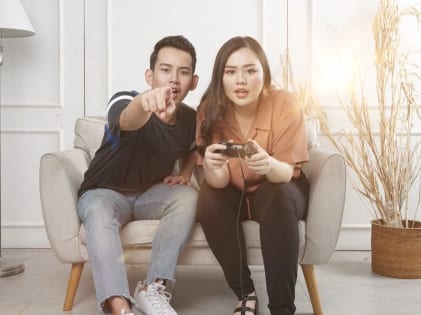 This could be anything from a competitive game of FIFA on your Playstation or just a simple game of 21 questions. Pick one that both of you would enjoy. If you're calling it a date night, it is important to make sure that both of you have fun. So, pick activities or games both of you would love. This way, it will not be just one of you having all the fun. Or you could also use this time to teach your partner a game that you enjoy playing. You might end up finding a shared passion.
Write Love Notes Inviting for the Date
Remember the first time you asked each other out for a date? Well, now that you're in the same house and planning on doing something romantic, how about inviting your partner for a date with a cute love note. You could leave it on their bedside for them to wake up to the sweet message of you asking them out. That's a great way to kickstart a romantic day, isn't it?
And if you're at home all day long, why wait until night to have a romantic time. Plan out the whole day and spend the time doing all that you've always wanted to do with your partner. You could probably recreate your relationship milestones like the proposal, first date, etc.
Plan a Movie Night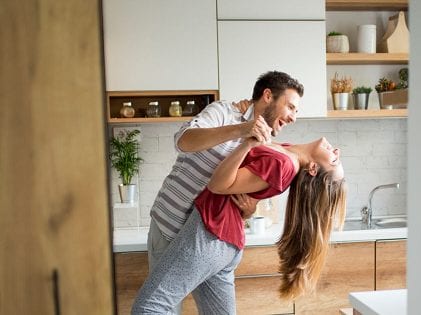 You could Netflix and chill or pick a series of romantic movies you love watching together. You could make this look like a movie date night by setting up the couch in front of the television with some popcorn and soda ready. Or, you could snuggle up with a blanket and get comfortable as the movie starts playing. After all, there are no rules, and your imagination is the limit.
Dress up for the Date!
If you're working during the lockdown, try not to meet during the whole day. And in the evening, dress up like you would for a date. It will be a refreshing change for both of you to dress up after a long time. This will boost your mood and make you feel alive after spending all these days in PJs. Not to mention how it will woo your partner.
We hope these ideas help you keep the romance and spark alive in your relationship. Remember, the lockdown is tough for everyone, so support each other and celebrate every moment of togetherness. If none of these seem like your idea of a perfect date, you could try a few low-key activities. For instance, you can do something like reading a book together, taking a virtual tour of a place you've wanted to visit, etc. Use this time to work on your relationship, talk out any challenges you have, and ways to make your bond grow stronger. After all, we might not have to go through another lockdown in the lifetime. So spend as much time as you can with your loved one without interference from the rest of the world. So, let's celebrate love. Let's celebrate the togetherness!