Finding a great eye mask can be hard without breaking the bank, and forget spending under $30 if you're planning on shopping at Sephora. Instead, you can make your own homemade DIY eye masks with these ten simple projects to spice up your skincare routine.
With plenty of ingredients that can be easily found at the grocery store, these masks are easy to make and even easier to incorporate into your skincare routine. Your skin and wallet will thank you later.
1. Cucumber and Rose Mask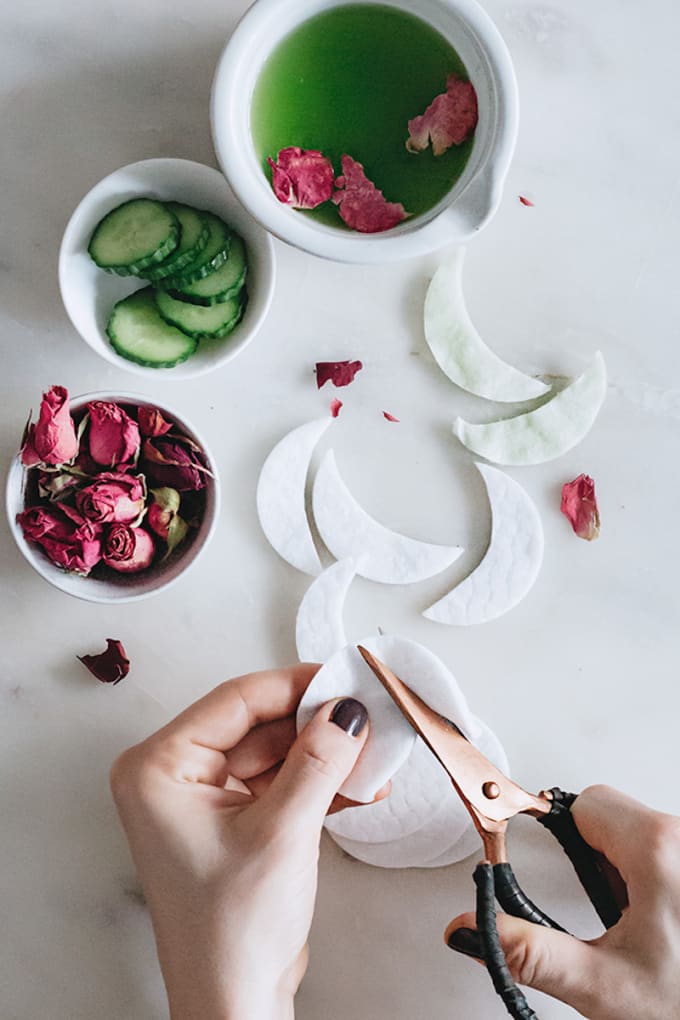 Not only one of the best DIY eye masks for under eye circles, but to reduce puffiness as well, this cucumber and rose mask is the ultimate skin reliever. With a recipe by helloglow, you'll only need half of a cucumber, one ounce of rose water, a blender, and some cotton rounds.
Cucumbers have been known to be great for the eye area for what seems like forever. As a great way to tighten and smooth the skin, you will blend the cucumber into a mask, in collaboration with the rose water.
The two ingredients will blend together to diminish any undereye circles, as well as leave the skin feeling gentle and soft.
2. Milk and Baking Soda Mask
Next on our list of the best DIY eye masks comes from NDTV Food. In what might seem like an extremely odd pairing, this mask is one that beauty lovers rave over. The milk is used to aid in alleviating tired eyes while the baking soda is used to help the eyes look healthy and smooth.
You will simply blend four tablespoons of milk and two tablespoons of baking soda together to create your mask, which will have a creamy consistency.
Then, you will allow it to refrigerate, this way it will cool your under eyes while you use it. Allow the mask to sit on the skin for around 20 minutes, and be sure to remove it with cold water.
3. Pineapple Mask
Another mask recipe that is brought to you by NDTV Food, a pineapple mask is one of the most simple skin care products to create. To diminish eye bags and dark circles, you will simply combine turmeric powder and pineapple juice together to create the mask, two natural ingredients that are easy to obtain.
You will allow this mask to absorb into your skin for a half an hour, and it is suggested to be used every day for two weeks for the best results. Sound too good to be true? Give it a shot yourself.
4. Potato and Mint Mask
Next, on our list of the best DIY eye masks, this infinitelash recipe calls for a few mint leaves (five to six,) one potatoes, and a couple cotton pads.
Blend the potato and the mint after you have removed the potato skins, and add a bit of water to thin the mixture. Next, you will dip the cotton pads into the mixture and place them in a bag to freeze them.
When you go to use the pads, place them over your eyes, and allow them to sit for about 25 minutes.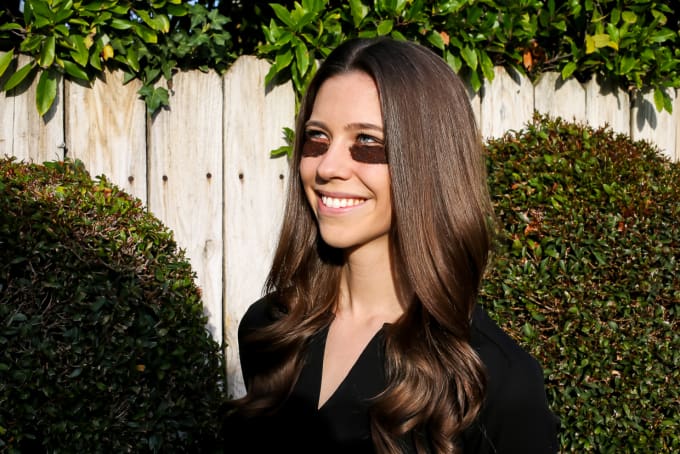 Yet another recipe by infinite lash, and one worth trying is a coffee mask. With only three ingredients, you'll need one tablespoon of coffee, one tablespoon of honey, and one teaspoon of vitamin E oil, which is great for the skin. First, you have to create your coffee, but make sure to allow it to cool.
Then, you will add both the honey and the vitamin E oil to the coffee, and finally, you will dip the cotton pads into the mixture.
Do the same process with these pads and freeze them in a bag until your desired time to use. And these only take about 10 to 15 minutes to wear.
6. Tea Bags Mask
A mask recipe by NDTV Food, using tea bags as a DIY eye mask is one of the most interesting ways to spice up your skincare routine. As one of the best DIY eye masks, you can use either green tea, black tea, or even herbal tea for dark circles.
First, you will store the tea bags in your refrigerator for about 10 minutes, or until they feel properly cooled. Then you will slightly dampen the tea bags, and place them on your under eyes.
Though this isn't specifically a mask, it has the same healing properties of one. As a way to reduce swelling and darkness, your eyes will thank you for this process.
7. Turmeric and Lemon Mask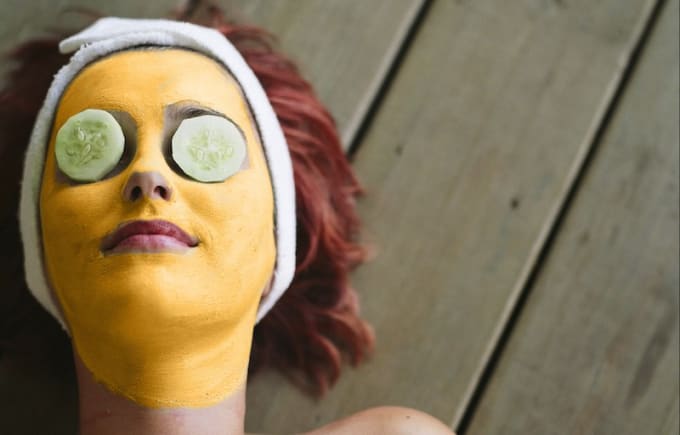 Turmeric powder and lemon juice are two ingredients that will help brighten your under eyes after just a few applications. Turmeric is known for its healing as well as its brightening properties. Plus, lemon juice is used to lighten your dark circles as well as cool the skin.
You will simply mix the two ingredients, two teaspoons of turmeric powder and two tablespoons of lemon juice, and apply the mask to your eyes for around 30 minutes.
Wash the product off, and discover the immediate healing properties of the natural ingredients.
8. Almond Oil Mask
With one simple ingredient, this is one of the best DIY eye masks who can't be bothered to go out and buy a bunch of ingredients for your homemade skincare. Instead, almond oil is used as a great hydrator, and when placed on the under eyes, it will help to rejuvenate and diminish darkness.
If you do want to switch it up a little, NDTV Food suggests combining honey with the oil, as a nightly application for eye bags. The two ingredients will act together to fight against dull looking skin.
9. Kiwi and Yogurt Mask
Kiwi and yogurt almost sounds appetizing, but this mixture isn't going in your stomach. With only the need for one kiwi and two tablespoons of yogurt, this mask is very easy to make.
Created by InfiniteLash, you'll simply blend the kiwi and the yogurt together and refrigerate the mixture in a small jar for about 10 minutes. And even easier to remember, you'll leave the mask on for about 10 minutes as well.
Just be sure to rinse off with some cool water, and your skin will be left looking bright, smooth, and rejuvenated.
10. Aloe Vera and Carrot Mask
To complete our list of the best DIY eye masks, an aloe vera and carrot mask is one that you need to give a shot if you struggle with dark circles.
Another unlikely pair, but one that will create miracles for your face, you'll need one egg white, one tablespoon of shredded carrot, and one teaspoon of aloe vera.
A recipe by infinitelash, you will simply combine the three ingredients in a bowl and use a brush to apply the mixture for about 20 minutes. A mask full of Vitamin A, your skin will never look more rejuvenated.