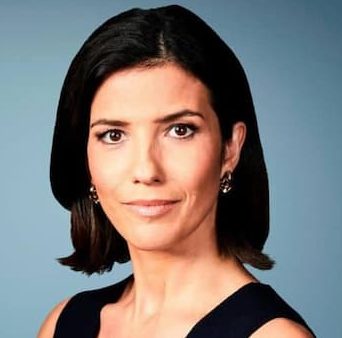 Isa Soares Biography
Isa Soares is an American media personality serving as an international correspondent and anchor for CNN and based in its London bureau. She is also the co-anchor of Your World Today with Isa Soares and Cyril Vanier and previously served as a presenter and roving reporter for CNN Marketplace Europe.
Isa Soares Age
Isa was born in Lisbon, Portugal on 6 January but she hasn't revealed the exact year of her birth.
Isa Soares Height
She stands at a height of 5 feet 8 inches tall.
Isa Soares Nationality
She holds a Portuguese nationality.
Isa Soares Education
Soares completed her higher education at Kings College London from where she graduated with a Bachelor's degree in Hispanic and Lusophone studies before joining the University of Bristol where she graduated with a Master's degree in International Relations and Economics.
Isa Soares Parents
Isa was born and brought up by her parents but she hasn't revealed any information regarding them , However, she grew up in Lisbon for the first eleven years and then moved to London with her family. She has not also revealed any information on whether she has any siblings.
Isa Soares Husband
Soares is married to Daniel Quintero, a caterham racer as Isa recently congratulated him for winning a race on her Instagram in a post dated 4 December 2016. In July 20, 2018, she also posted photo of herself and her husband on her Instagram page with a caption," Happy anniversary to the best man a girl could ask for! My rock @danielquintero2621 🥂🎉 #5yearanniversary #weddinganniversary". Details about their marriage date and where they met remain unknown.
Isa Soares Children
Isa and her husband are proud parents to two sons, the firstborn named Tomas who was born in 2016 and the second born Nicolas and born on 18 June 2018 weighing about 3.92 kg. Sharing the happy news, Isa took to her Instagram and apploaded a photo of her newly born baby.
Isa Soares CNN
Isa serves as an international correspondent and anchor based in CNN's London bureau. She also served as a presenter and roving reporter for CNN Marketplace Europe, covering a range of business-focused stories from across the continent.
In her role as correspondent Soares has extensively covered the Eurozone debt crisis – filing reports from Portugal and Spain on unemployment and from Greece on the country's IMF bailout. Latterly she has also covered the economic impact of conflict in Ukraine, the resurgence of anti-Semitism in France, the spread of Ebola from West Africa and the Scottish independence referendum. Additionally, for the past two years she has been part of the network's team reporting from the World Economic Forum in Davos, Switzerland.
During the 2014 World Cup Soares reported for CNN, CNN International and CNN Espanol from locations in Brazil and Argentina. She was also part of the network's team reporting from the Royal wedding in 2011. She has interviewed such leading political and economic figures as Estonian President Toomas Hendrik Ilves, British foreign secretary Philip Hammond and Vice-President of the European Commission Antonio Tajani. She has also spoken to a raft of business leaders including the CEOs Avio Group, Pirelli and Lufthansa and had a rare sit-down with LVMH CEO Bernard Arnault.
Prior to her becoming a correspondent for CNN International, Soares reported for CNN Espanol, covering major European business stories from London. She also worked as a Senior Producer on primetime business programme Quest Means Business, leading production on show content and writing packages for CNN's leading business correspondent Richard Quest, as well as taking up frequent reporting duties. In this role she also oversaw the popular The Boss and Millenials segments
Isa Soares Awards
Isa has won many awards including  an AIB award for her coverage of the migrant crisis in the Mediterranean.
Isa Soares Salary
Her annual salary is not known.
Isa Soares Net Worth
Her estimated net worth is not available.
Isa Soares Instagram
 

View this post on Instagram

 
https://www.instagram.com/embed.js
Isa Soares Twitter