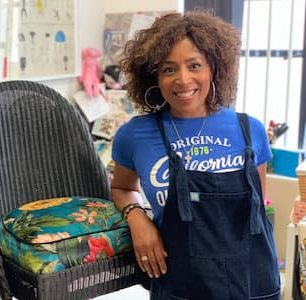 Jacqui Joseph Biography
Jacqui Joseph is a British TV presenter, producer and interior stylist. She is a presenter on BBC 1 Money for Nothing and a regular presenter on Homes Under the Hammer. She is also the founder and creative director of Jacqui Joseph Designs.
Jacqui Joseph Age
Her actual age is unknown.
Jacqui Joseph Parents
She has not revealed the name of her parents but her father was a decorator & plasterer and my Mother was a seamstress. According to her website, her mother taught her to sew and her father taught her wallpapering, tiling and painting.
Jacqui Joseph Siblings
She has five siblings, four sisters, Arabella Spinola, Joycelyn Cupid-Phillips, Glenda Clarke and Corona Joseph and a brother, Paterson Joseph.
Jacqui Joseph Actor Brother
She has a brother known as Paterson Joseph. He is an actor who appeared in the Royal Shakespeare Company productions of King Lear and Love's Labour's Lost in 1990. He is known for his work on Æon Flux, The Beach, The Other Man, Boy Meets Girl among others.
Jacqui Joseph Husband
According to a tweet dated back to January 30, 2018 Jacqui revealed that her husband Andrew died on January 1 after an 8 month battle with cancer.
Sorry for the radio silence. My husband Andrew passed away peacefully at home on 1st Jan after an 8-month battle with cancer. I miss him so much…I've set up a Macmillan page so please donate to this worthwhile service if you can & feel free to share xx https://t.co/K46dNRxhjO

— jacqui joseph (@jacquijdesigns) January 30, 2018
Jacqui Joseph Home Under The Hammer
She made her debut as a presenter on BBC's Home Under The Hammer on January 12, 2020.
Jacqui Joseph Designs
Jacqui is a fashion designer who studied fashion design, pattern cutting & Women's and Men light clothing. She then worked in the fashion design industry for 5 years before starting her 'mini' label, selling ladies and children's fashion to local boutiques and London markets including Portobello and Camden.
Jacqui Joseph TV Presenter
Jacqui is a TV presenter and producer who has worked on a variety of Entertainment & Lifestyle shows including ITV's GMTV, Daybreak & Lorraine, This morning, E4's Wife Swap the Aftermath, Hollywood Gossip, Bet Honours Awards, Alan Titchmarsh show, Michael Ball show, BIG Strong Boys for BBC and Nightlife for LWT among others.
She was an associate producer and presenter for the 15 part interior/makeover series for Discovery Home called Room 2 B You. She also produced and presented BET Style for Viacom's US Channel BET.
Jacqui Joseph Money for Nothing
Jacqui is a presenter for BBC 1 show 'Money for Nothing'. The premise of the programme is to take items that other people have disposed of and which the presenter rescues from council refuse collection sites. With the help of a designer they are turned into desirable items, which are then sold. Any profit made is then returned to the individual(s) who disposed of the item originally.
Jacqui Joseph Homes Under The Hammer
She is one of the presenters of BBC 1 series 'Homes Under Hammer'.She presents the show alongside Dion Dublin, Martel Maxwell, Martin Roberts and Tommy Walsh. The show follows new and experienced buyers at auctions bidding on usually run-down properties. Subsequently, it follows them on their renovation project for either a rental or resale profit or loss.
Jacqui Joseph Instagram
 

View this post on Instagram

 
https://www.instagram.com/embed.js
Jacqui Joseph Twitter