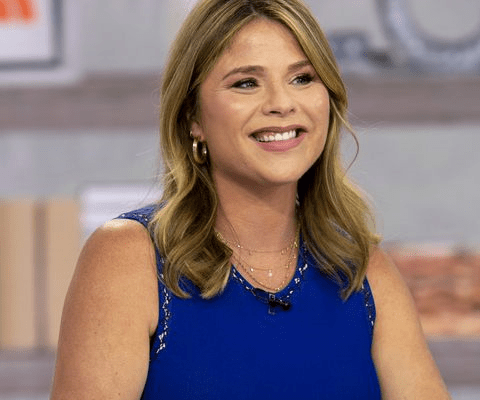 Jenna Bush Hager Biography
Jenna Bush Hager is an American television personality and author serving as a correspondent, contributor and co-host of The Today Show.
Jenna Bush Hager Age
She was born on November 25, 1981 in Dallas, Texas, U.S.
Jenna Bush Hager Height
She stands at a height of 1.73m tall.
Jenna Bush Hager Education
Jenna attended Preston Hollow Elementary School and then The Hockaday School. In 1994, after her father was elected Governor of Texas and the family moved to Austin, Texas, she was a student at St. Andrew's Episcopal School, and attended Austin High School from 1996 until her graduation in 2000.
With her father becoming President in 2001, she attended the University of Texas at Austin and took summer classes at New York University. She was a legacy member of Kappa Alpha Theta, her mother's sorority. While there, Jenna made national headlines when she was arrested for alcohol-related charges twice within 5 weeks: on April 29, 2001, she was charged with a misdemeanor for possession of alcohol under the age of 21 in Austin. On May 29, 2001, she was charged with another misdemeanor, attempting to use a fake ID with the name "Barbara Pierce," her paternal grandmother's maiden name to purchase alcohol. She pleaded no contest to both charges. Jenna graduated from the University of Texas at Austin with a degree in English in 2004.
Jenna Bush Hager Parents
Hager is the daughters of the 43rd U.S. President George W. Bush and former First Lady Laura Bush.
Her father, George W. Bush is an American politician, businessman, and artist who served as the 43rd president of the United States from 2001 to 2009. A member of the Republican Party, he had previously served as the 46th governor of Texas from 1995 to 2000. Born into the Bush family, his father, George H. W. Bush, served as the 41st president of the United States from 1989 to 1993.
Her mother, Laura Bush is an American educator who was First Lady of the United States from 2001 to 2009. Laura also served as First Lady of Texas from 1995 to 2000.
Jenna Bush Hager Siblings
She has a fraternal twin sister, Barbara Pierce Bush. Barbara is an American activist and she co-founded and is the chair of the board of the non-profit organization Global Health Corps.
Jenna Bush Hager Husband
Jenna met Henry Chase Hager (born May 9, 1978) during the 2004 presidential campaign. They became engaged in August 2007. Before proposing, Hager asked President Bush for permission to marry his daughter. Their relationship became public when the two appeared together at a White House dinner for The Prince of Wales and The Duchess of Cornwall in November 2005.
Henry Hager attended St. Christopher's School in Richmond, Virginia, and holds an MBA from the Darden Graduate School of Business Administration at the University of Virginia. He worked as a U.S. Department of Commerce aide for Carlos Gutierrez and as a White House aide for Karl Rove. He is the son of former Virginia Republican Party Chairman John H. Hager, who previously served as Lieutenant Governor of Virginia and as the U.S. Department of Education Assistant Secretary under George W. Bush.
The wedding took place during a private ceremony on May 10, 2008, at her parents' Prairie Chapel Ranch near Crawford, Texas.
Jenna Bush Hager Kids
She has three children. Her first daughter, Margaret Laura "Mila" Hager was born on April 13, 2013. A second daughter, Poppy Louise Hager was born on August 13, 2015 and her third child and first son, Henry Harold "Hal" Hager was born on August 2, 2019.
Jenna Bush Hager NBC
In August 2009, NBC hired Hager as a correspondent and contributor for The Today Show.
As time has progressed, Hager's profile has increased on Today including filling in as the orange room anchor during the 7AM-9AM hours and substituting for Kathie Lee Gifford or Hoda Kotb during the 4th hour.
In March 2019, she started Read with Jenna, a monthly book club on Today Show. In April 2019, Hager began co-anchoring the fourth hour of Today with Hoda Kotb following Kathie Lee Gifford's departure.
She previously, worked at Elsie Whitlow Stokes Community Freedom Public Charter School for a year and a half as a teacher's aide. She took a leave of absence from the charter school position to work at a shelter as part of an internship for UNICEF's Educational Policy Department in Latin America, specifically Panama. After her internship for UNICEF, Hager returned to her position at the charter school in Washington, D.C. She currently works as a part-time reading coordinator at the SEED Public Charter School in Baltimore, Maryland, and contributes a monthly news story about education for the Today show.
Jenna Bush Hager Books
Hager is the author of The New York Times bestseller Ana's Story: A Journey of Hope, which she wrote after traveling to Latin America in 2006 as an intern with UNICEF. Ana's Story is based on the life of a 17-year-old single mother with HIV, who struggles to shield her child from the life she had of abuse and neglect.
She's the co-author with her mother, Laura Bush, of the children's book Read All About It! Hager and Mrs. Bush also released a second children's book, Our Great Big Backyard, which celebrates the Centennial of the National Park Service, and encourages children to go outside and explore America's parks.
Most recently, she co-wrote a book with her sister, Barbara Pierce Bush titled Sisters First, which released in October, 2017 and became a New York Times best-seller. In November 2019, Hager and Barbara Bush released the illustrated children's version of Sisters First, also a New York Times best-seller.
Jenna Bush Hager Salary
Her yearly salary is an estimated $4 million.
Jenna Bush Hager Net Worth
She has a net worth of $10 million.
Jenna Bush Hager Instagram
 

View this post on Instagram

 
https://www.instagram.com/embed.js
Jenna Bush Hager Twitter