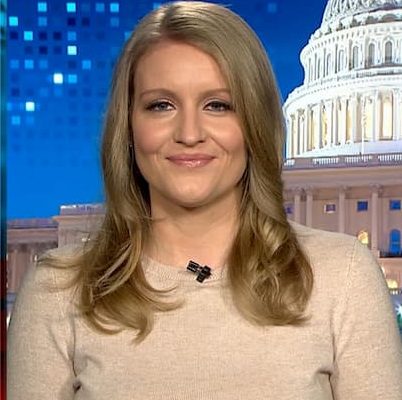 Jenna Ellis Biography – Who is Jenna Ellis
Jenna Ellis is a constitutional law attorney and the Senior Legal Adviser to the Trump 2020 campaign. She is also an author and an on-air legal analyst for Moody Bible Institute Radio and a contributor to Beltway Confidential Blog on Washington Examiner.
Jenna Ellis Age
Ellis' actual age is unknown.
Jenna Ellis Religion
She is a Christian. She has endeavored to contribute to the biblical worldview of law, specifically Constitutional law. In Dec. 2015, she published "The Legal Basis for a Moral Constitution: A Guide for Christians to Understand America's Constitutional Crisis" (WestBow Press 2015). Her book provides a biblically centered argument that discusses why all law is inherently moral and the legal reasons that Christians can advocate for biblical morals within Constitutional law.
Jenna Ellis Education
She has a Bachelor of Arts degree in Technical Journalism, Criminal Justice from Colorado State University. She received her J.D. from the University of Richmond School of Law in 2011.
Jenna Ellis Husband
Ellis is married to David Rives, he runs an online broadcast network devoted to promoting Creationism and frequently contributes video segments to the far-right conspiracy website WorldNetDaily. He is also a Trump supporter.
Jenna Ellis Lawyer
Jenna Ellis is a constitutional law attorney and the Senior Legal Adviser to the Trump 2020 campaign. She is a former prosecutor and criminal defense attorney. She is licensed in federal practice and has appeared in litigation on behalf of the U.S. Department of State and the Department of the Navy.
She began her career at Colorado Attorney General's office as a law clerk. She later became a contract attorney for U.S. Department of State. In 2013 she became a deputy district attorney for Colorado where she served for a year.
Jenna Ellis Trump Legal Advisor
In November 2019 she was appointed by President Donald Trump as his Senior Legal Advisor at Trump 2020 Campaign.
It is alleged that Trump began seeking her legal counsel regarding his impeachment after seeing her defend him on cable news shows. She even counseled him on drafting anti-impeachment missive to Nancy Pelosi, Speaker of the House.
After the letter was released she told PJ Media; "I reviewed it last night but it's 100% him. It's perfect. It's everything Americans are feeling and thinking about this unconstitutional impeachment scam. It's so important, as the president said, to get the truth on the record since he was denied meaningful input and due process in the House."
Prior to becoming a senior legal adviser for the president, she was a member of Trump's 2020 media advisory board, a collection of TV and radio surrogates for the president and campaign that had been overseen by Trump campaign communications hand Mark Serrano.
Jenna Ellis Fox News
She is a regular on Fox News and Fox Business, a contributor to Newsmax, and writes for Fox News, Washington Examiner, and Daily Wire.
Jenna Ellis Washington Examiner
Ellis is a contributor to the Beltway Confidential Blog on Washington Examiner.
Jenna Ellis LGBT
Jenna is Anti-LGBT community, her book "The Legal Basis for a Moral Constitution" complains that the Supreme Court "told the LGBT community that their homosexual lifestyle was not just legal privately, but morally validated openly through government recognition and social celebration and therefore equally as valued as heterosexual unions." This is a response to the 2015 Supreme Court decision in Obergefell v. Hodges that legalized same-sex marriage nationwide.
In 2016 after the mass shooting that left 49 dead and 53 injured at Pulse, a gay nightclub in Orlando she wrote a column that condemned the massacre, but bemoaned that it was being used to dignify homosexuality.
"I'm disappointed conservatives are acquiescing to the LGBT agenda. Let me be clear—the Orlando shooting was absolutely terrible and tragic. But the response to this tragedy should not be embracing and advocating for gay rights." The article was titled "Two Wrongs Do Not Make an LGBT Right."
Brian Stelter Jenna Ellis – Jenna Ellis CNN
On June 14, 2020 while appearing on CNN for an interview with Brian Brian Stelter, she was asked about the Trump campaign's lawsuit against CNN, a cease-and-desist letter Ellis signed demanding CNN retract and apologize for a SSRS poll showing Trump trailing Democrat Joe Biden by 14 points, and Trump's tweet Saturday urging Comcast ("Concast") subscribers to switch providers because it owns MSNBC and NBC News.
Ellis argued that Trump's Comcast tweet was "an opinion". "He is also a citizen. No, he is the first one to actually use, to use his platform as an American citizen to be able to call out the fake news media." Stelter cut in: "You understand that someday you're going to regret this, right? Someday you're going to regret this, when your kids and grandkids look back at this time, and you use slurs and smears like 'fake news' to hurt news outlets."
Ellis said she wouldn't regret her comments, adding, "You're not trying to do your job — you're not a journalist, Brian. You're an activist. That's the problem. You have an agenda, and your agenda is anti-Trump. The American people see through that, and they are very grateful that this president is finally holding the fake news media accountable because you're activists. You're not reporting fact and truth."
"You understand that someday you're gonna regret this, right?" — Brian Stelter to Trump campaign legal adviser Jenna Ellis pic.twitter.com/IRcKke3Qqu

— Aaron Rupar (@atrupar) June 14, 2020
When conservative Trump critic Tom Nichols cited the part of the interview where Stelter said Ellis will regret this, she accused him of endorsing "sexist rhetoric," a curious charge repeated in a statement from the Trump campaign. She also tried to rebut CNN's survey by linking to another poll.
There is spin and then there is trying to refute a national poll showing your boss down 14 points by pointing to a poll of your boss and Biden being statistically tied in Arkansas. pic.twitter.com/9t2g4Y7g13

— Sam Stein (@samstein) June 14, 2020
Hey @brianstelter … still wanna stand by CNN's junk science? None of the polls except yours show such false numbers.

NOTE: Earlier I tweeted a different poll than what I cited today on CNN. Updated. Because I actually correct things, unlike CNN. 😉 https://t.co/p7ks4zrqj8

— Jenna Ellis (@JennaEllisEsq) June 14, 2020
Jenna Ellis Twitter