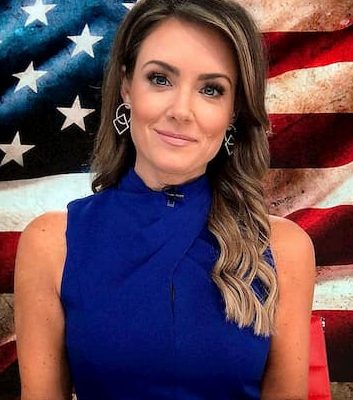 Jillian Mele Biography
Jillian Mele is an American Emmy award-winning media personality serving as a co-host on the Fox & Friends First show on Fox News Channel.
Jillian Mele Age
She was born on 17th  September 1982 in Philadelphia, USA.
Jillian Mele Height
Jillian stands at a height of 5 feet 8 inches tall.
Jillian Mele Education
She holds a Bachelor of Arts degree in Arts and Communication from La Salle University. She also did communication at the University of Scranton.
Jillian Mele Parents
Mele is the daughter of Thomas Mele and Roseanna Mele who is a registered nurse. She was brought up alongside two brothers.
Jillian Mele Husband
Mele is not married, but according to a 2016 tweet she is in a relationship although she has not revealed with who.
I have a boyfriend, but thank you

— Jillian Mele (@jillianmele) May 26, 2016
Jillian Mele Children
Jillian has no children as of 2020.
Jillian Mele Fox News
Jillian joined Fox News in March 2017 where she co-hosts FOX & Friends First (weekdays 5-6 AM/ET) alongside Rob Schmitt. She also serves as a member of FNC's morning show franchise, FOX & Friends (weekdays6-9 AM/ET) where she reports on the latest news headlines and contributes to daily segments.
She previously served as a co-host on Comcast Sports Net Philadelphia's (CSN Philly) local morning news program, Breakfast on Broad where she earned an Emmy Award for her work.
Jillian Mele NBC
She worked with WCAU-TV (NBC 10) in Philadelphia, PA for seven years where she reported in various capacities, including news, sports and traffic reporter. She began her career as a local news anchor for stations in Presque Isle, Maine, and Binghamton, New York.
Jillian Mele Dancing
Mele revealed that while in high school she was fond of dancing. She said she grew up a ballerina and that she danced for 13 years. She however gave up dancing to persue other sports.
"I grew up a ballerina. I danced for 13 years and it was my favorite thing to do as a kid. Tap, jazz, ballet – you name it, I did it all! Hindsight is always 20/20, but if I could go back, I would have continued with ballet. I stopped dancing when I wanted to pursue other sports, which leads me to the next thing you may not know… Sports have always been huge in my life. I grew up going to every Philadelphia Flyers home game with my dad, and every year we went to the Flyers Wives Fight for Lives Carnival with my family… Three years ago, in Aruba, where we vacation, I played golf for the first time with my dad. Since then, I've been hooked. My love of ballet as a kid is equivalent to my love of golf as an adult."
Jillian Mele Golf
Jillian is a golf fanatic, she revealed she played golf for the first time with her dad and since then she has been hooked.
Jillian Mele Salary
Her annual salary from Fox News Channel is $83,000.
Jillian Mele Net Worth
She has an estimated net worth of $1 million.
Jillian Mele Instagram
Jillian Mele Twitter