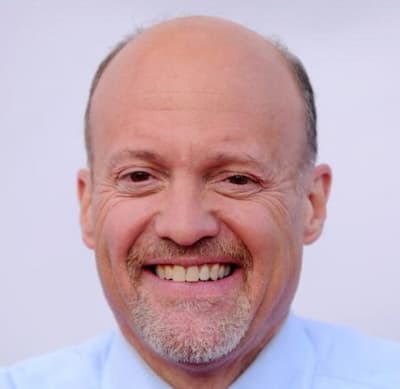 Jim Cramer Biography
James Joseph Cramer is an American media personality working as a host of Mad Money on CNBC and also co-anchors  "Squawk on the Street". He previously served as a reporter for the Tallahassee Democrat and later worked for the Los Angeles Herald-Examiner writing obituaries.
Jim Cramer Age
Cramer was born on February 10, 1955, in Wyndmoor, Pennsylvania, U.S.
Jim Cramer Height
Jim stands at a height of 5 feet 5 inches tall.
Jim Cramer Education
Cramer attended Springfield Township High School in Montgomery County, Pennsylvania, and later graduated magna cum laude from Harvard College with a Bachelor of Arts in government. While at Harvard, he was the President and Editor-in-Chief of The Harvard Crimson. He received a Juris Doctor degree from Harvard Law School.
Jim Cramer Parents
Jim is the son of Louise A. Cramer and Ken Cramer. His mother was an artist and passed on in 1985. His father owed National Gift Wrap & Box Company which was later named International Packaging Products. He changed the name because it encompassed more products and sounded bigger. He sold gift wrap, tape, stretch bands, boxes, mostly 5-by-9-inch, and ribbon. He got an MBA from Temple University after the war. He died in 2014 at a hospital in Philadelphia. Jim revealed that his dad loved seven things, his business, the stock market, his independence, his workouts, his country, the Eagles, and his family. He also revealed that he learnt valuable money lessons from his dad over the years.
"People always ask me about how I know so much about money," he said. "I have to say, some of the best lessons I learned about money were from my father."
Jim Cramer Siblings
Cramer was brought up alongside his sister Nan Cramer Mason who is married to Todd Mason. In a tribute to his late father, Jim revealed that he and his sister spent the last day beside their father in the hospital.
"My sister and I slept on couches next to Pop at the hospital. He said he was glad he had his pals around him and that he loved us. We said the same. It was the last thing we said other than, "See you in the mernin'," which is how he always pronounced it. But we didn't see him. We went to sleep and when we awoke he was no longer alive. Our last day together was our best one. That's how it should be. Strong to the end. Most of all, he loved me and my sister and his grandkids"
Jim Cramer Wife
Jim is married to Lisa Cadette Detwiler a real estate broker for Corcoran Group Real Estate in Brooklyn Heights and general manager of The Longshoreman, an Italian bistro/restaurant in the borough of Brooklyn in New York City. She graduated from Trinity College in Hartford and she is the daughter of Joan B. Cadette and Walter M. Cadette. Her father retired as an economist for J.P. Morgan in Manhattan while her mother retired as an English teacher at Dominican Commercial High School in Jamaica, Queens. The couple first met in January 2006 at a bar in Manhattan through a setup date by a mutual acquaintance. They started dating before exchanging their marriage vows On April 18, 2015, at the Liberty Warehouse, an event space in Brooklyn. Aran Yardeni, an archeologist and friend of the couple who became a Universal Life Minister for the event, officiated.
Cramer was previously married to Karen Backfisch from 1988 to 2009 and Lisa on the other hand was previously married but she hasn't revealed the name of her ex-husband.
Jim Cramer Children
Jim has two daughters Emma and Cece from his previous marriage while his wife has three children from her previous marriage.
Jim Cramer Health
Cramer is one of the more than 37 million Americans living with migraines. Starting in October of 2016, he would get a migraine attack almost daily, disabling him and impacting every aspect of his life.
"My life developed a miserable rhythm," says Cramer. "There are headaches and then there is migraine. And the latter is nothing like the former. Unless you have a migraine, you don't know what it's like to fear an attack."
Despite meeting with dozens of the top physicians in the country, it took years before he was diagnosed with migraines. Finally, he met with a neurologist who specializes in headache medicine. After years of searching for answers, he was placed on a treatment plan that, over time, dramatically reduced the frequency of his migraine attacks.
Jim Cramer CNBC
Jim is the host of CNBC's "Mad Money," (M-F, 6 PM ET) featuring lively guest interviews and viewer calls. He serves as the viewer's personal guide through the confusing jungle of Wall Street investing—navigating through both opportunities and pitfalls with one goal in mind—to help them make money. Cramer is also co-anchor of the 9 a.m. ET hour of CNBC's "Squawk on the Street" (M-F, 9 AM-11 AM ET) and the founder of TheStreet, a multimedia provider of financial commentary. He was a frequent guest commentator on CNBC in the late 1990s and from 2002 to 2005, Cramer co-hosted Kudlow & Cramer (first called America Now) with Larry Kudlow.
Prior to joining CBNC, Cramer served as a reporter for the Tallahassee Democrat and later for the Los Angeles Herald-Examiner, where he covered stories ranging from homicides to sporting events. He is a former hedge fund manager and founder/owner and senior partner of Cramer Berkowitz. His compounded rate of return was 24 percent after all fees for 14 years at Cramer Berkowitz. He retired from his hedge fund in 2001, where he finished with one of the best records in the business, including having 36 percent-plus years in 2000.
He helped Steve Brill launch American Lawyer magazine before attending Harvard Law School and earning a law degree. Upon graduating and passing the New York State Bar Examination and being admitted to N.Y. State Bar, Cramer joined Goldman Sachs in sales and trading. While at Goldman, Cramer wrote for The New Republic about stock market issues.
Jim Cramer Books
In December 2013, he published the book, "Jim Cramer's Get Rich Carefully," in which he creates a guide to high-yield, low-risk investing. Cramer is also the author of "Jim Cramer's Getting Back to Even," "Stay Mad for Life: Get Rich, Stay Rich," "Mad Money: Watch TV, Get Rich," "Jim Cramer's RealMoney" and "Confessions of a Street Addict."
Jim Cramer Salary
He earns an annual salary of $5 million.
Jim Cramer Net Worth
He has an estimated net worth of $100 million.
Jim Cramer Instagram
 

View this post on Instagram

 
https://www.instagram.com/embed.js
Jim Cramer Twitter