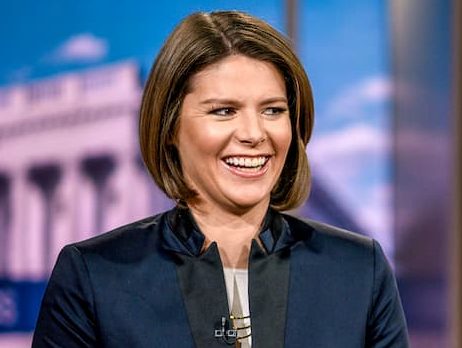 Kasie Hunt Biography
Kasie Hunt is a media personality serving as an NBC News Capitol Hill correspondent, covering Congress across all NBC News and MSNBC. She hosts MSNBC's  "Way Too Early with Kasie Hunt" on weekday mornings from 5 a.m. to 6 a.m. ET. She previously hosted  "Kasie DC" at 7 p.m. to 9 p.m. on Sundays.
Kasie Hunt Age
She was born on May 24, 1985 in Wayne, Pennsylvania, USA.
Kasie Hunt Height
She stands at a height of 5 feet 8 inches tall.
Kasie Hunt Education
She holds a Bachelor of Arts degree in International Affairs from George Washington University in Washington D.C. She earned her Master's degree in Sociology from the University of Cambridge in the UK.
Kasie Hunt Parents
She is the daughter of Krista and Bruce Hunt. Her mother is a yoga teacher while her father is a real estate design and construction manager working for Penn Medicine, University of Pennsylvania Health System in Philadelphia.
Kasie Hunt Sister
Kasie has a younger sister known as Carly, who is a former golf player famous for being a member of Georgetown University's Hoyas and University of Maryland's Terrapins athletic teams.
Kasie Hunt Husband
Hunt is married to Matt Rivera since May 2017. The couple met in 2012 while working at 'NBC News' in Washington, and soon began dating. They got engaged on August 13, 2016.
Matt is a producer, reporter and adjunct professor at 'New York University' (NYU). He serves as the senior digital producer of 'Meet the Press with Chuck Todd,' an 'NBC' morning public affairs program. He joined NBC News in September 2010 where he served as the head of production of several 'Original Video' news series and established himself as a senior producer.
Kasie Hunt Baby
Kasie gave birth to her son Mars Hunt Rivera in September 2019.
 

View this post on Instagram

 
Kasie Hunt MSNBC
Hunt joined NBC News in January 2013 as an off-air reporter and producer covering Congress and politics. She started appearing regularly on MSNBC as a political reporter and in November 2014 became a political correspondent.
As an NBC News Capitol Hill correspondent she covers Congress across all NBC News and MSNBC platforms including "Nightly News with Lester Holt," "TODAY," and NBCNews.com. She also hosts MSNBC's "Kasie DC" at 7 p.m. to 9 p.m. on Sundays.
While working as a political correspondent for MSNBC she covered the 2016 election and reported on several candidates, including Donald Trump, former Gov. Jeb Bush (R-Fla.), Sen. Bernie Sanders (I-Vt.) and former State Sec. Hillary Clinton.
Prior to joining NBC News, she was a health policy reporter for National Journal's CongressDaily, writing about the passage of the Affordable Care Act. She wrote for Politico, covering the 2010 midterm elections. She started working as a national political reporter for the Associated Press in August 2011 and covered Mitt Romney's 2012 presidential campaign.
Kasie Hunt 'Kasie DC'
Kasie began hosting Kasie DC on MSNBC in October 2017. The show aired its final episode on September 23, 2020. The show covered news and politics and offered viewers a chance to get a head start on the week's headlines.
Kasie Hunt Way Too Early
Hunt hosts 'Way Too Early' since September 2020. It airs at 5 AM, as the lead-in program to Morning Joe. She said the goal of the show is to "make people smarter."
"I think a lot of people who are decision-makers—lawmakers, people who are focused and at the top of their game—need a place to get the news at 5 AM because that's when they're starting their days. The goal is to be a place where they can get it in a quick, straightforward, and illuminating, smart way. That's been my goal, to make people smarter, and bring what I can to bear in terms of what my understanding is from my sources and being a correspondent on the Hill. Bringing a perspective you won't be able to get anywhere else."
Some personal news! Can't wait to see you all Way Too Early starting 5 am ET Sept. 21 @MSNBC!! Just beyond thrilled to join the @Morning_Joe family @JoeNBC @morningmika @WillieGeist https://t.co/IAGBPgFwXk

— Kasie Hunt (@kasie) September 10, 2020
Kasie Hunt Salary
Her annual salary is around $250,000.
Kasie Hunt Net worth
She has an estimated net worth of $3 million.
Kasie Hunt Instagram
 

View this post on Instagram

 
Kasie Hunt Twitter