Even if you didn't race out and buy a new iPhone 6 on Friday, you can still feel like you have a new phone by downloading Apple's new mobile operating system. Anyone with an iPhone 4S or later models, can download iOS 8 and experience all its cool features. We flagged some for you already. And here are some more nifty things iOS 8 can do:
1. Text Faster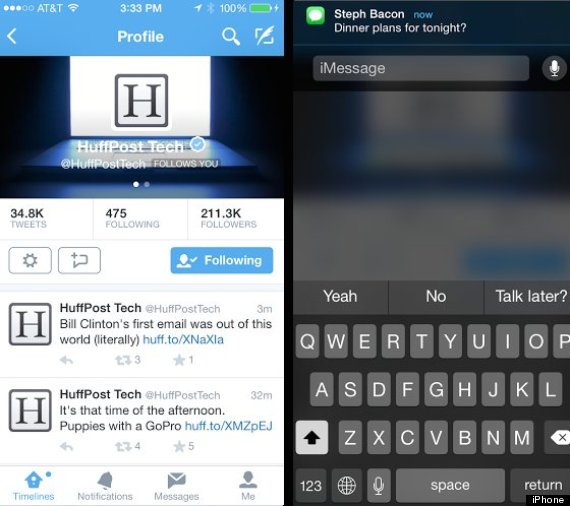 You no longer have to leave your other apps to respond to a text. With iOS8, you'll see a notification atop your screen. You can click and go straight to Messages, swipe up to dismiss or swipe down to respond immediately.
2. Find Contacts More Easily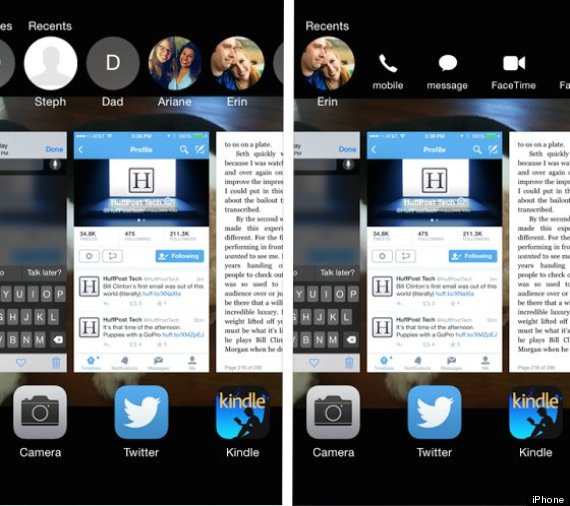 When you double-tap on the Home button, you still see your most recent windows, but above that there's a row of circles of your "Recent Contacts." Swipe right and you'll see your "Favorites." Tap on a contact and you'll be able to quickly call or text them.
3. Send More Photos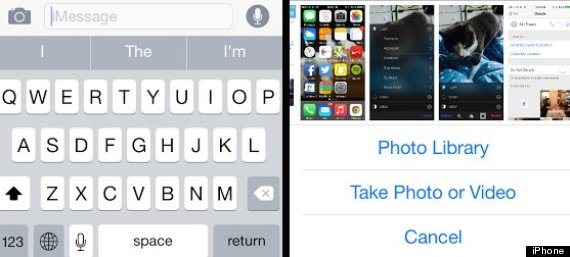 You can quickly share multiple photos at once without having to leave the Messages window and go back to your Photo Stream. Tap the Camera icon, and you're shown 20 of your most recent pictures. From there just select which ones you'd like to send.
4. Send Photos, Videos Instantly

Press and hold the camera icon, and you'll see a new Radial wheel. That lets you snap and instantly send a photo or video, without having to go to your Photo Stream and load and send. It's instantaneous, no time to fix-up the photo — if you're trying to take the perfect selfie, don't use this!
5. Find Old Attachments
The "Details" section of Messages, found in the upper right corner of each thread, now gives you plenty of new ways to navigate and adjust messaging. Now you can see all previously sent attachments instead of having to scan through the thread.
6. Share Your Location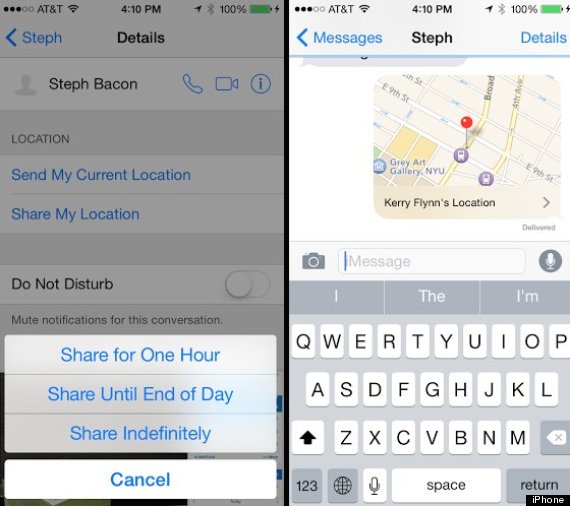 Sharing your location was possible with the Google Maps app before, but now it's gotten quicker, easier and more advanced. Go to "Details" in an iMessage thread and then tap "Send My Current Location" to send a pinned map of where you are. If you plan on changing locations, you can keep your friend updated by choosing "Share My Location," which you can send for an hour or until you turn it off and can be accessed continuously through the Messages app.
7. Mute An iMessage Thread
Also in "Details," you'll see a "Do Not Disturb" option. Toggle that switch and you can put specific conversations on mute. You'll stop getting notifications until you go back into "Details" and change the setting. Perfect for those group-messaging threads.
8. Reply To Emails Faster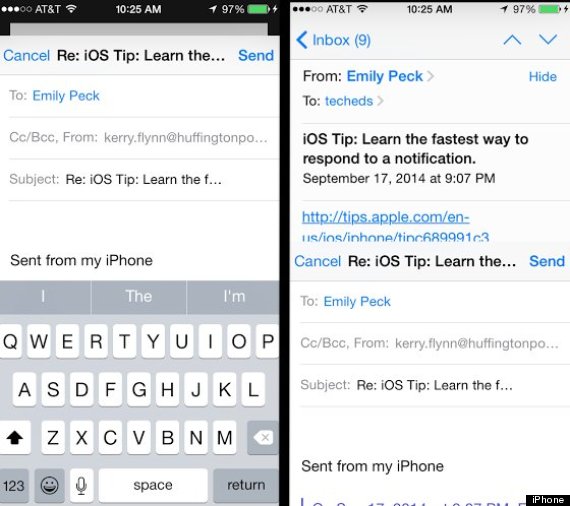 Apple has finally updated its email app. In addition to a great new "swipe to delete" feature, drafting and replying to emails is now easier. When tapping to reply you'll be typing in the same window as the old message. Swipe down to the hide the draft and then tap the top bar to continue.
9. Share Apps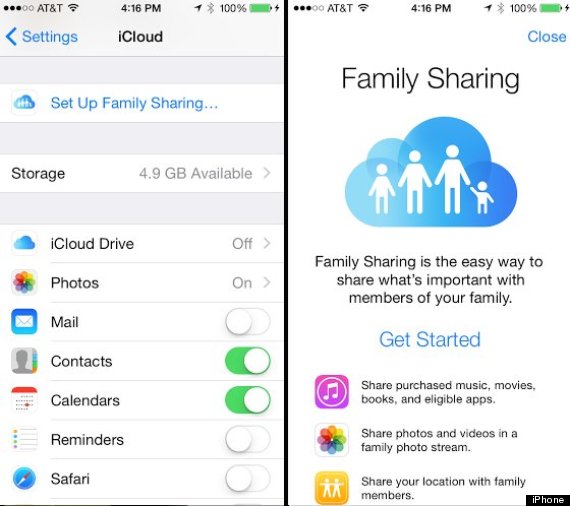 Buy an app, and the rest of your family can use it too. Go to Settings > iCloud > Set Up Family Sharing to share with up to six members of your family. There's one master account, but downside is every member will need to have the same credit card info as that account. Not ideal for friend groups but perfect for families.
10. Edit Photos Better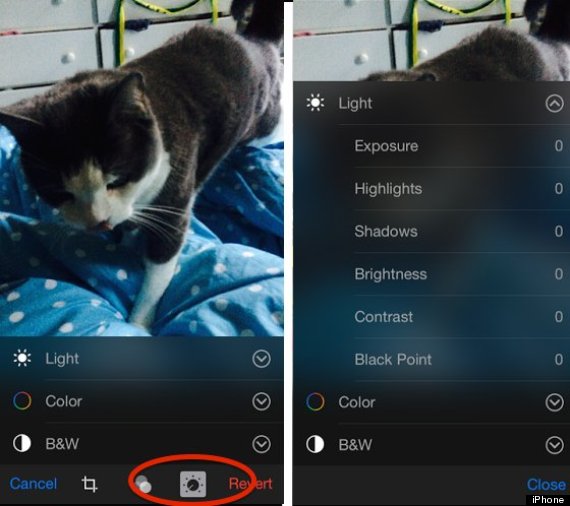 Photo editing on your phone just got more intense. It's not just filters or brightness anymore. Click Edit in your image and then select the last tool on the bottom bar to see sliders for Exposure, Brightness, Contrast, and Composition.
11. Maximize Your Battery Life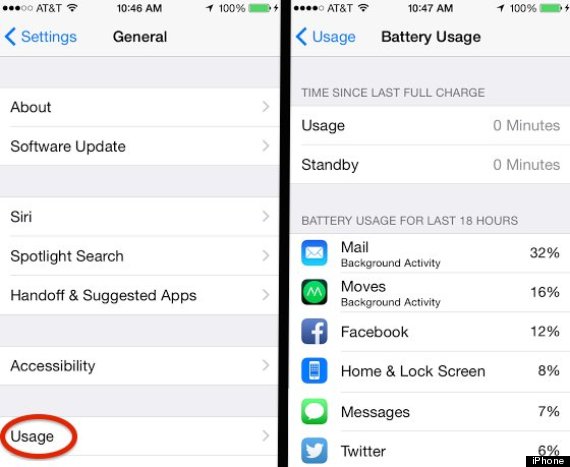 The iPhone's poor battery is one of its biggest drawbacks. iOS8 has made it possible to maximize the battery life you have. Go to Settings > General > Usage to see which apps are draining your battery the most.
12. Search More Easily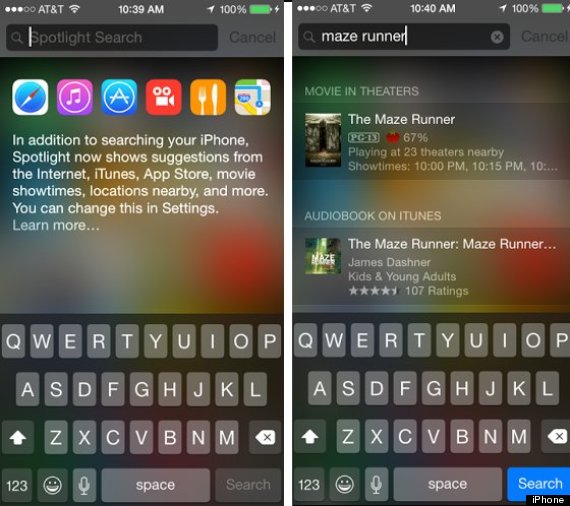 The iPhone's internal search system just got so much better. Swipe down on the home screen to get Spotlight. Now in addition to searching in the phone itself, it also draws the most relevant information from online. You can adjust what Spotlight generates by going to Settings > General > Spotlight Search.
13. Prepare For The Weather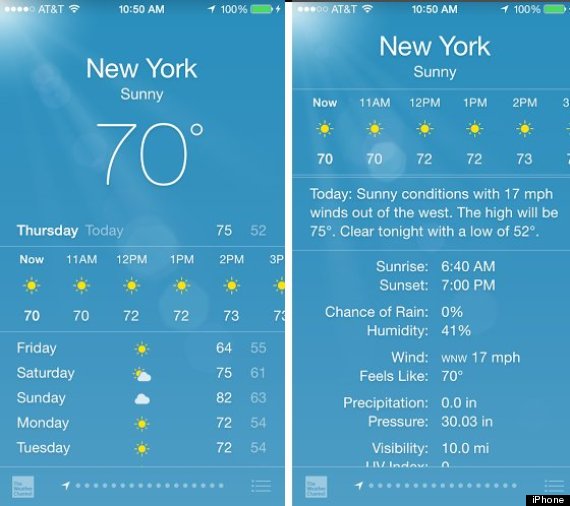 There's more forecasting in the updated weather app. It may look at the same at first but swipe up, and you'll see more information on the day's outlook. There's even a plain-language summary and other updates courtesy of The Weather Channel.
14. Go Black And White
In case you're getting tired of color or want to experience the world of "The Giver," you can change your phone to Grayscale. Go to Settings > General > Accessibility. All your apps will be in black and white, but your screenshots will all still be in color.
15. Emoji For Newbies
If for some reason you didn't have Emoji before, you may have noticed the new Smile face on your keyboard. Before you had to download it as an app and add as a foreign language keyboard, but now they're automatically there. Newcomers, welcome.