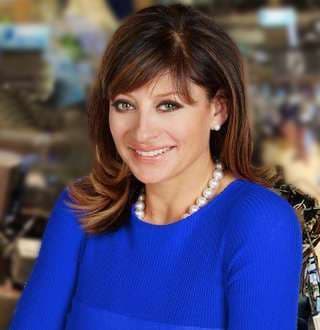 Maria Bartiromo Biography
Maria Sara Bartiromo is an American media personality working for Fox News as the anchor of" Mornings with Maria "and" Maria Bartiromo's Wall Street" on the Fox Business network, as well as" Sunday Morning Futures". She  previously worked at CNN as a producer and at  CNBC where she hosted" Closing Bell" and "On the Money with Maria Bartiromo".
Maria Bartiromo Age
She was born in September 11, 1967 in Brooklyn, New York City, U.S.
Maria Bartiromo Height
She stands at a height of 5 feet 5 inches.
Maria Bartiromo Education
Maria  attended Fontbonne Hall Academy in Bay Ridge . She later graduated from New York University with a Bachelor of Arts in Journalism and Economics.
Maria Bartiromo Parents
Maria is the daughter of  Vincent and Josephine Bartiromo, She grew up in the Bay Ridge section of Brooklyn in New York City. Her father was the owner of the Rex Manor restaurant in Brooklyn and her mother served as the hostess seating guests and she also worked as a clerk at an off-track betting parlor. Her mother's family was from Agrigento, Sicily and arrived in the U.S. in 1898. Her grandfather, Carmine Bartiromo, arrived in New York from Nocera in Naples in 1933 and served in the U.S. armed forces.
Maria Bartiromo Siblings
She was brought up alongside her brother and sister Theresa Santoro the CEO of RVNA Center for Exceptional Care .
Maria Bartiromo Husband
In 1999, Bartiromo  married  Jonathan Steinberg  the founder, president and chief executive officer of WisdomTree Investments, and son of billionaire financier Saul Steinberg. He was also  founded and served as Chairman and CEO of Individual Investor Group, Inc. From 1998 to 2004, he held the role of Editor-in-Chief of Individual Investor and Ticker magazines. Jonathan was an Analyst in the Mergers & Acquisitions division at Bear Stearns & Co. He attended The Wharton School at the University of Pennsylvania and is the author of Midas Investing, published by Random House in 1996.
Maria Bartiromo Children
She and her husband has no children as of 2020.
Maria Bartiromo Fox News
Maria joined FOX Business Network (FBN) as Global Markets Editor in January 2014. She is the anchor of Mornings with Maria on FBN (6-9 AM/ET) and anchors Sunday Morning Futures, the most watched Sunday morning program on cable (10 AM/ET) on FOX News Channel (FNC). In April 2017, she  was also named the new anchor for FBN's weekly primetime investing program Maria Bartiromo's Wall Street (Fridays at 8 PM/ET).
In November 2015, Maria along with FBN's Neil Cavuto, moderated the network's inaugural Republican presidential primary debate. According to Nielsen data, the debate delivered 13.5 million total viewers and 3.7 million in the key 25-54 demo, making it the highest-rated program in network history. In January 2016, both Bartiromo and Cavuto reprised their role as debate moderators, delivering 11 million total viewers with 3 million in the key 25-54 demo, making it the second highest-rated program in network history according to Nielsen Media Research.
During the Trump administration, her interviews with Trump have been characterized as friendly and non-confrontational. In her Trump interviews, she expressed agreement to what Trump was saying, and did not question many of Trump's claims, when some of those claims were considered by some observers to be possibly false or unsubstantiated. Making reference to allegations of Obama spying on Trump, in May 2020, Bartiromo said that 2016 requests by Obama administration officials to unmask the identity of an American who was the subject of a counterintelligence operation (which turned out to be Trump associate Michael Flynn) was "the biggest political scandal we've ever seen." In late November 2020, the president praised her as "brave" for her approach to discussing the disputes surrounding the 2020 United States presidential election results.
Maria Bartiromo CBNC
She joined CBNC In 1993 and  replaced analyst Roy Blumberg  when she began reporting live from the floor of the New York Stock Exchange and began hosting and contributing to the Market Watch and Squawk Box segments. She  became the first journalist to deliver live TV reports from the floor of New York Stock Exchange.
Maria was the anchor and managing editor of the CNBC business interview show On the Money with Maria Bartiromo.  Beginning in 2007, she hosted The Business of Innovation. She hosted several other programs, including Closing Bell (2002–2013), Market Wrap (1998–2000), and Business Center (1997–1999). She became known for ability to book CEOs of companies in the news to come on her show for an interview.
Bartiromo appeared on television shows such as NBC Universal's The Tonight Show with Jay Leno and Late Night with Conan O'Brien, CBS Television Distribution's The Oprah Winfrey Show, Real Time with Bill Maher, Warner Bros. Television's short lived The Caroline Rhea Show, McEnroe, and The Colbert Report, as well as guest-hosting on Live with Regis and Kelly.  In January 2007, Bartiromo filed trademark applications to use the term "Money Honey" as a brand name for a line of children's products including toys, puzzles and coloring books to teach kids about money. She  anchored the television coverage of New York City's Columbus Day parade beginning in 1995 and was the Grand Marshal in 2010 . Maria  signed a new five-year contract with CNBC in late 2008.
Prior to joining CBNC, Maria also worked for CNN as an executive producer and assignment editor with CNN Business.
Maria Bartiromo Books
She  is the author of three books. Her first, Use the News: How to Separate the Noise from the Investment Nuggets and Make Money in Any Economy (2001), appeared on The New York Times, The Wall Street Journal and USA Today bestseller lists. Her other books are The 10 Laws of Endure ring Success (2010) and The Weekend That Changed Wall Street (2011). A fourth book, of which she held the status of co-author along with James Freeman, r, was betitled The Cost: T, China, and American Renewal, and was published by Simon & Schuster in October r 2020. She also  writes a monthly column for USA Today called "One-On-One."
Maria Bartiromo Awards
She has won numerous awards including, Excellence in Broadcast Journalism Award (1997), Lincoln Statue Award presented by the Union League of Philadelphia (2004), Gracie Award, for Outstanding Documentary (2008), Emmy Award for Outstanding Coverage of A Breaking News Story (2008}, Emmy Award for Outstanding Business and Economic Reporting (2009)
In 2009, the newspaper Financial Times listed Bartiromo as one of "50 Faces That Shaped the Decade.  In 2011, she was the third journalist to be inducted into the Cable Hall of Fame.  In 2019 she received a Luferimw Achievement Award from the National Italian American Foundation. In 2020 she received a lifetime award from the Fund for American Studies has name of the form the Thomas L. Phillips Career Achievement Award and the Barbara K. Olson Woman of Valor Award from the Independent Women's Forum. And finally in 2020 she was named a Business News Visionary.
Maria Bartiromo Salary
She earns an annual salary of $10million.
Maria Bartiromo Net Worth
She has an estimated net worth of $50 million.
Maria Bartiromo Instagram
 

View this post on Instagram

 
Maria Bartiromo Twitter