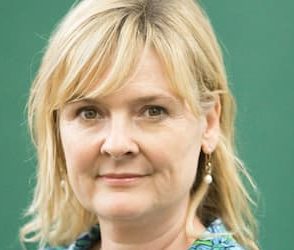 Martha Kearney Biography
Martha Catherine Kearney is a British-Irish media personality working for BBC as a presenter of the early morning Today programme and was the main presenter of BBC Radio 4's lunchtime news programme. She previously worked for A Week in Politics on Channel 4 as a reporter as well as a reporter and correspondent on the AM programme.
Martha Kearney Age
Martha was born on 8 October 1957 in Dublin, Ireland.
Martha Kearney Height
She stands at a height of 5 feet 5 inches tall.
Martha Kearney Education
Martha attended St Joseph's (later St Wilfrid's) Catholic School, Burgess Hill, Sussex, and briefly attended Brighton and Hove High School, then completed her secondary education at George Watson's Ladies College in Edinburgh. She also studied classics at St Anne's College, Oxford where she worked as a volunteer in hospital radio in her final year.
Martha Kearney Parents
Martha is the daughter of Catherine (Kate) Murphy and Hugh Francis Kearney. Her father was a British historian and Amundson Professor Emeritus of the University of Pittsburgh. Kearney read History at Peterhouse, Cambridge in the 1940s. He met his wife while teaching at University College Dublin where she was an undergraduate. He is the author of The British Isles: A History of Four Nations. He died on October 1, 2017.
Martha Kearney Siblings
Kearney was brought up alongside her two brothers Jamie Kearney and Peter Kearney.
Martha Kearney Husband
Kearney is married to Chris Shaw the editorial director of ITN. He previously served as a Senior Programme Controller for Channel Five and a Programme Editor of News at Ten, Home and Foreign News Editor of Channel 4 News, and Launch Editor of the Big Breakfast News. Chris is also a Fellow of the Royal Television Society, a Director of the Edinburgh TV Festival and a regular media commentator across leading press and broadcast outlets. The duo met at Oxford University and exchanged their marriage vows in 2001.
Martha Kearney Children
No information regarding her children is available.
The Wonder of Bees with Martha Kearney
Martha revealed that one of her great loves is keeping bees. "When we got married nine years ago some friends clubbed together and bought us a beehive, and I thought how on earth was I going to manage bees on top of everything else with my job, being so busy. The hive came in a kit so we put it together and I painted it – it's one of those lovely old fashioned ones." She revealed during an interview. She then met a local beekeeper, Jan Driver who became her mentor and she started beekeeping. She finds beekeeping addictive and you can find her on Twitter tweeting regularly about her hobby and also documented a Series that follows her bee-keeping year and explores the science, art and culture of the honeybee, the most ingenious insect known to humankind on BBC 4.
Martha Kearney BBC
Martha joined Channel Four in 1987 as a reporter on A Week in Politics. Her career in current affairs continued on the BBC's On The Record, Panorama and Newsnight. where she made films inside Holloway prison and with drug addicts in Glasgow as well as reporting from India, Pakistan and Nicaragua. In 2000 she became Newsnight's political editor. Martha has covered every election since 1987 and interviewed every British Prime Minister since then. She has also interviewed many American politicians including Hillary Clinton, Condoleezza Rice, John McCain, Nancy Pelosi and Bob Dole.
Martha covered the Troubles in Northern Ireland for many years and was given a BAFTA nomination as a result. She broke the news of secret talks between Martin McGuinness and the British government. She interviewed paramilitary prisoners in the Maze prison and later made a documentary about the history of the jail. She also made a documentary about the Good Friday Agreement which included interviews with the key players.
She became the lead presenter of The World at One in 2007 conducting many news-making interviews and seeing an increase in the audience. Martha has travelled to Afghanistan three times since 2002 most recently accompanying the head of the British Army. As presenter of Woman's Hour for nearly a decade, Martha's interviews ranged widely and included Amy Winehouse, Hilary Mantel, Courtney Love, Arundhati Roy and Jane Fonda. While presenting the arts programme Newsnight Review for many years, Martha interviewed the artists' Peter Doig, Anthony Gormley, Tracey Emin, Cornelia Parker and Ed Ruscha.
She has also written documentaries on Jane Austen, Lewis Carroll and the Bronte sisters, Great Irish Journeys, several series about the honey bee and one about the Painted Lady butterfly. Her first job in broadcasting was as a phone-in operator at LBC/IRN Radio in London before becoming a reporter, presenter and lobby correspondent there.
Martha Kearney Awards
Her awards include Political Commentator of the Year (House Magazine), Radio Presenter of the Year (TRIC) and Best Individual Contribution to Radio (Voice of Listener and Viewer).
Martha Kearney Salary
She earns an average annual salary of £255,000 – £255,999.
Martha Kearney Net Worth
Her estimated net worth is unknown.
Martha Kearney Twitter