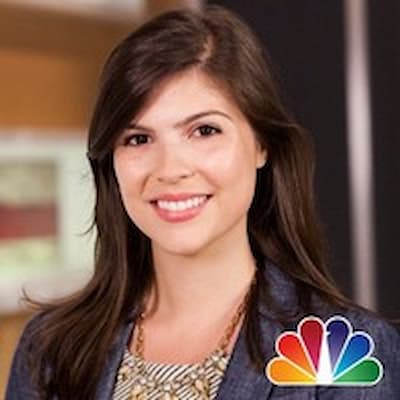 Monica Alba Biography
Monica Alba is an American media personality working as a political reporter for NBC News and based in Washington D.C. She also worked as a White House producer and as an Assistant and Associate Producer and previously interned at Telemundo Media and worked for Annenberg TV News as a producer, anchor, and reporter.
Monica Alba Age
Alba was born on August 25, 1987, in San Jose California.
Monica Alba Height
Alba stands at a height of 5 feet 6 inches tall.
Monica Alba Education
Monica graduated with honors from the USC Annenberg School in 2009, earning her degree in broadcast journalism with minors in international relations and cinematic arts. She then earned her master's degree from the Columbia Journalism School, where she specialized in documentary filmmaking.
Monica Alba Parents
Alba is the daughter of Mari Alba and Manuel Alba. She has not revealed any further information regarding them but they reside in San Jose. During an interview with Politico in August 2020, Monica mentioned that her entire family is a football fanatic and that they have attended the last five World Cups.
Monica Alba Sister
Monica was brought up alongside her sister Loreli Alba but not much is known about her.
Monica Alba Jessica Alba
Monica is not related to American actress and businesswoman Jessica although they share the same surname.
Monica Alba Husband
Alba is married to Dan Patrick Merica, a political reporter for CNN and initially covered religion for the station before switching to politics. He is the son of Diane Dickerson and graduated from Bentley University with a degree in Global Studies and later received his master's degree in Journalism and Public Affairs from American University. Alba and Dan first met in Manchester, N.H., in August 2015 while covering Hillary Clinton's presidential campaign, but did not start dating until the following spring. He later proposed to her on the steps of their home in Washington, D.C before the two exchanged their marriage vows on July 27, 2019, at West Shore Cafe and Inn in Homewood, California with J. P. Alanís, Monica's brother-in-law becoming a Universal Life minister for the occasion, officiated on the shores of Lake Tahoe. They then proceeded for their honeymoon in Rwanda and Tanzania.
Monica Alba Children
It's not known if she has any kids as of 2020.
Monica Alba NBC News
Monica serves as a political reporter for NBC News in Washington D.C. During the Trump presidency, Alba has been the NBC News White House producer traveling extensively with the president domestically and overseas. In 2019, she was back on the campaign trail as a political reporter covering Trump's reelection bid. Alba also followed Hillary Clinton on the campaign trail as an embedded reporter for 18 months.
Prior to joining NBC News, she previously worked forAnnenberg TV News as a reporter,anchor and producer and also interned at Telemundo Media, a division of NBC Univeral in 2006.She also interned at City Projects from 2007 to 2009 and here she worked with documentary producer Philip Rodriguez on the documentary Brown is the New Green: George Lopez and the American Dream. From September 2007 to May 2009, she worked as a production coordinator for Chain Camera Pictures in Los Angels, Califonia and worked alongside Kirby Dirk on a political documentary named Outrage.She worked at Annenberg Center on communication leadership and policy as a research associate and a junior fellow.In feb 2012, she became a NBC Latino intern in New York City.
From August 2012 to June 2013,she worked as a news associate for NBC News in both New York and Washington D.C . In july 2013,she was promoted to assistant producer of investigation at NBC in New York and in feb 2015 she she became associate producer of investigation. Monica also co-founded the Social Issues Documentary Film Contest, a film festival that requires high school students to produce short documentaries on social issues in the San Francisco Bay Area and also made the documentary Home Court in 2013, with Ben Teitelbaum.
Monica Alba Salary
She earns an average salary of $72,871 according to NBC News anchors and reporters salaries.
Monica Alba Net Worth
She has an estimated net worth of $ 1 million.
Monica Alba Instagram
 

View this post on Instagram

 
https://www.instagram.com/embed.js
Monica Alba Twitter