When it comes to talk shows, Oprah Winfrey is considered to be a royalty. In fact, some people even refer to her as the Queen of All Media. She hosted a daytime talk show entitled, The Oprah Winfrey Show or simply known as Oprah, which had 25 seasons that ran from 1986 to 2011. During one of her episodes in the season's finale, she had both former U.S. presidents Barack Obama, and his wife, former First Lady, Michelle Obama on the show. "You've got a big heart, and you share it with people. Nobody knows how to connect better than you do," Obama stated. "We are just blessed and grateful, to have you in our lives," the former POTUS added.

Oprah has indeed been a part of daytime television for so many years. She then managed to launch her own cable network, OWN: The Oprah Winfrey Network, after her show says goodbye. Up to this date, the Oprah Winfrey Show was considered to the longest-running and highest-rated television program of its kind in the history of the American television. Oprah not just known as a television host though, she is also a philanthropist, actress, and producer. This 2017, she actually introduced the world that she can also be more than that, she recently launched her own line of microwaveable comfort food line called, O, That's Good!
OPRAH'S COMFORT FOOD LINE
Oprah's O, That's Good! Is actually a line of health-conscious, heat-and-eat foods which she collaborated with Kraft Heinz.
According to an interview, she did for People Magazine, the comfort food collection that Oprah just released consist of four refrigerated side dishes, together with four refrigerated soups that all has its own nutritional "twists".
The debut kinds are Original Mashed Potatoes, Garlic Mashed Potatoes, that both have cauliflower in them. Three Cheese Pasta, that also contains butternut squash, Creamy Parmesan Pasta, that has white beans in it. They also have some Broccoli Cheddar soup, Creamy Tomato Basil Soup, with some celery and carrots added along with it, Baked Potato Soup, and some Creamy Butternut Squash Soup, that actually contains puréed sweet potatoes and carrots.
"I've been asked over the years to do anything you can imagine to attach my name to it to," the Queen of All Media explained. "I have always just wanted to stay in my lane and to do what was organic for me, authentic and natural. Food would be it."
Winfrey also mentioned that Kraft basically won her over with their desire to bring a variety and wellness to the refrigerated food aisle of every grocery. "They mentioned the idea of making nutritious food accessible to a lot of communities that do not have that option, and that is what intrigues me."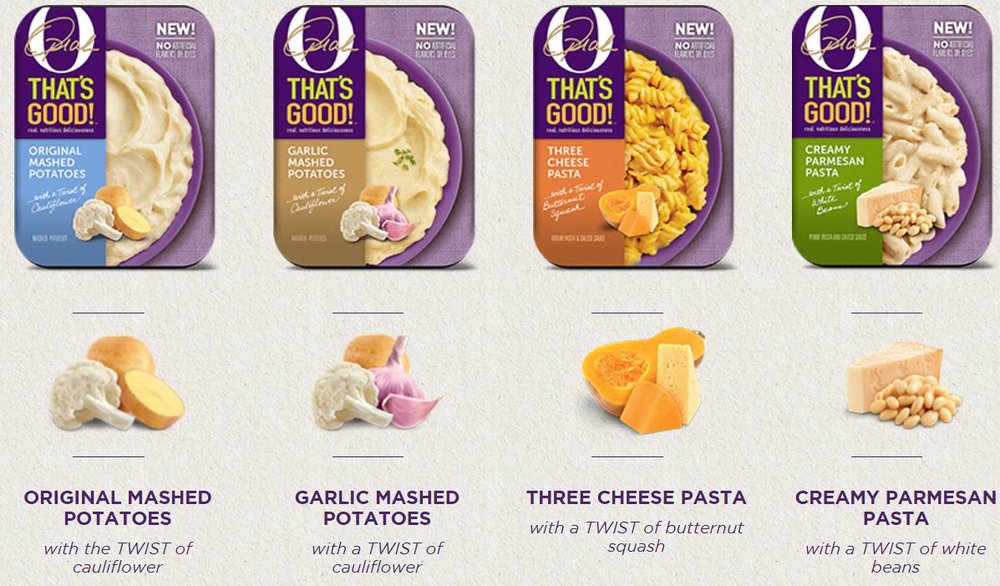 Oprah's O, That's Good! Products will be available in almost every supermarket at $4.99 each and $4.49 for sides.
OPRAH AND ELLEN WENT GROCERY SHOPPING
Oprah introduced her newest line of food at another daytime talk show, The Ellen Show, hosted by another phenomenal talk show host and comedienne, Ellen DeGeneres.
In a recent episode of The Ellen Show, they made a skit wherein Ellen takes Oprah to the local grocery store, which turned out to be such a fun-filled shopping trip since neither of them has been grocery shopping. Oprah admitted that the last time she went shopping for food was in 2016 during the Thanksgiving season. While at the store, they even gave out some samplers of Oprah's new comfort food line to the people shopping with them. However, one lucky shopper was chosen by Ellen and Oprah and pay for all of her groceries and come cook at her house. It was obviously one of the most trending videos of the week on Ellen's official YouTube channel.
HOW HEALTHY IS OPRAH'S FOOD LINE?
People are always skeptical about refrigerated foods that can be heated in the microwave. That is why a dietitian from the Bay-area decided to test it out herself.
What's the verdict?
Dr. Julie Upton went out and purchased some of the products and tasted them herself. In an interview with Organic Authority, she said, "The new line of O, That's Good! soups and pasta/potato dishes are tasty but most of the products would not be considered as 'healthy' in the eyes of the FDA or nutritionists."
She also mentioned that most of the products contain milk, cheese, and a lot of cream that has sodium, saturated fat, and added sugars.