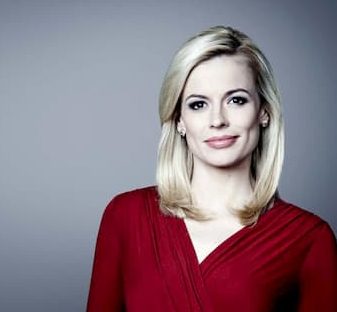 Pamela Brown Biography
Pamela Brown (Pamela Ashley Brown) is a media personality serving as a CNN's senior White House Correspondent and also a key fill-in anchor for CNN Newsroom. She previously served as the network's Justice and Supreme Court correspondent covering law enforcement, as well as issues related to the Department of Justice and the U.S. Supreme Court.
Pamela Brown Age
She was born on November 29, 1983 in Lexington, Kentucky, USA.
Pamela Brown Education
She holds a Bachelor of Arts degree in Broadcast Journalism from the University of North Carolina at Chapel Hill.
Pamela Brown Parents
She is the daughter of Phyllis George and John Y. Brown Jr.
Pamela Brown Mother
Her mother, Phyllis was a news reporter, sportscaster, and former Miss America who died in May 2020 at the age of 70 following a long battle with a blood disorder. She was a pioneer sportscaster who worked on the CBS pregame show The NFL Today from 1975 until 1984, becoming one of the first women to prominently report on sports in the U.S. She was also a TV host for the entertainment show People in 1978. She became a co-anchor of CBS Morning News in 1985.  She was the first woman ever on an NFL Broadcast.
Pamela Brown Father
Her father John Brown is a politician, entrepreneur, and businessman. He served as the 55th governor of Kentucky from 1979 to 1983, although he may be best known for building Kentucky Fried Chicken (KFC) into a multimillion-dollar restaurant chain.
Pamela Brown Brother
Pamela has an older brother known as Lincoln Brown who is an actor.
Pamela Brown Husband
Pamela got married to her husband Adam Wright on May 5, 2017. He is a Washington-based consultant at Gnosis who previously served in the Navy. The couple first met through a mutual friend.
During an interview Brown revealed; "A mutual friend was dating his roommate at the time, and [that person] played matchmaker. He and I exchanged emails for a month before he flew from California to New York to meet me for a cross-country blind date. We ended up spending the weekend together and the rest is history."
Pamela told Knot News, "We have the best time together no matter where we are. He has a great sense of humor and makes me laugh often. I can talk to him about anything and I always say he knows everything about everything. Most importantly, I admire his strong values and character. He is one of the most upstanding people I have ever met. Plus, he puts up with all my quirks and my unpredictable work schedule–added bonus."
Pamela Brown Children
She has two children a son known as Benny born in June 2018 and a daughter known as Viviene born in February 2020.
Pamela Brown ABC 7
Brown began her career in journalism at ABC7/WJLA-TV and NewsChannel8 in Washington D.C., where she became a Sunday evening anchor and an Emmy®-nominated special projects reporter covering several national and international stories.
She anchored breaking news and continuous coverage on several high profile events, including Hurricane Sandy, a Washington Metro train derailment, and the 2010 historic East Coast blizzard. In addition, Brown was one of the few local journalists to travel to earthquake-ravaged Haiti in January 2010 and later returned on her own to report on the rebuilding process in Port-au-Prince and the surrounding areas.
Pamela Brown CNN
Pamela Brown joined CNN in 2013 where she serves as a senior White House Correspondent and a fill-in anchor for CNN Newsroom. She covers President Donald Trump and his administration for all of the network's programs and platforms. She was a lead reporter on the Mueller investigation, looking at Russia's interference in the US election and whether the president's campaign played any role, as well as the possibility of obstruction of justice.
She previously served as CNN's Justice and Supreme Court correspondent covering law enforcement, as well as issues related to the Department of Justice and the U.S. Supreme Court. Before shifting to the justice beat, Brown was a national correspondent reporting on a variety of topics for the network and contributed to CNN's morning program, New Day.
She has reported on several breaking news stories including the Boston marathon bombings, the Cleveland kidnappings, the historic Supreme Court same-sex marriage ruling and the San Bernardino and Brussels terrorist attacks. In 2015, Brown reported from Paris on the investigation into the terrorist killing rampage that began at the headquarters for the French newspaper, Charlie Hebdo.
Pamela Brown Illness
As of 2020, Pamela has no known illness.
Pamela Brown Salary
Her annual salary is estimated to be $80,000.
Pamela Brown Net worth
She has an estimated net worth of $2.5 million.
Pamela Brown Instagram
 

View this post on Instagram

 
Pamela Brown Twitter