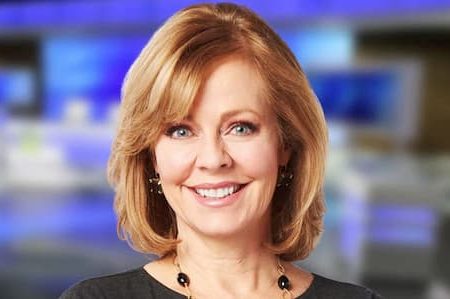 Peggy Finnegan Biography
Peggy Finnegan is a media personality serving as Channel 11 News anchor (WPXI) alongside David Johnson. The two have been co-anchoring since 1990. In November she announced she is retiring after 30 years on the station.
Peggy Finnegan Age
She was born on February 14, 1961 in Chicago, United States.
Peggy Finnegan Education
She holds a Bachelor of Arts degree in Broadcast Communication from Marquette University.
Peggy Finnegan Family
Peggy is the daughter of Phyllis Finnegan and Robert. She was brought up alongside seven siblings.
 

View this post on Instagram

 
Peggy Finnegan Husband
Peggy is married to Michael Donnelley since June 8, 1990. He serves as the senior vice president and portfolio manager, equities at CS McKee Investment Managers.
Peggy Finnegan Children
She is a mother of four, two sons and two daughters; Michael Sean, Maura, Shannon and Ryan Donnelley.
 

View this post on Instagram

 
Peggy Finnegan Breast Cancer
Peggy is a breast cancer survivor who revealed she has BRCA2 and as a young mother, she underwent a double mastectomy. She speaks to many organizations about the importance of early detection through self-examination and mammograms and informally counsels women about the disease.
Peggy Finnegan WPXI
Peggy joined WPXI-TV in 1989 as a news anchor and reporter. In 1990 she joined David Johnson where they have co-anchored together for 30 years becoming the longest-running local news-anchor team in Pittsburgh television history.
She has anchored some of the biggest moments in the city's history over the past three decades; from the darkest days of Flight 427, September 11th, and the Tree of Life shooting, to the floods, blizzards, Stanley Cups, Lombardi Trophies among others.
Peggy and David have also won prestigious awards together. In 2015, the Western Pennsylvania Press Club recognized them with the President's Award, for their lifetime achievements in the field of journalism. They were honored by the Pennsylvania Association of Broadcasters as the 2016 Pennsylvania Association of Broadcasters (PAB) Broadcasters of the Year.
She began her career at WTTB Radio at Vero Beach, Florida before moving to WREX-TV as a reporter and anchor and later joined WIXT-TV.
Peggy Finnegan Retiring
In November 2020 Peggy announced that she will be retiring from the WPXI News desk, following a distinguished 30-year career with the station. Her last day anchoring will be December 18th and anchor Lisa Sylvester will replace her.
During the announcement, she said WPXI has been like a second home to her.
"WPXI is like a second home and family for me. I want to thank Channel 11 and our viewers for trusting me all these years to deliver the news. It's a privilege I have never taken for granted. It is going to be very hard to say goodbye, but this pandemic is a reminder that life is unpredictable. Staying connected to loved ones, even if masked and socially distanced, is more important to me now than ever before. And that's at the core of my decision to retire. In the balance between work and life, the scale has shifted decidedly to life. I look forward to sharing more time with my family and dear friends."
She also thanked her co-anchor David Johnson who she has anchored alongside since 1990.
"To have worked beside the same co-anchor for 30 years is unprecedented and honestly, our longevity has surprised even the two of us so, it must be chemistry! On the other hand, I don't know anyone who doesn't like David Johnson. He is an extremely talented newsman, and a dear friend who has been making me laugh for three decades. In a newsroom, trust me, laughter is a gift!"
Peggy Finnegan Salary
Peggy's actual salary as a news anchor at Channel 11 is unknown.
Peggy Finnegan Net worth
Her actual net worth is unknown.
Peggy Finnegan Twitter