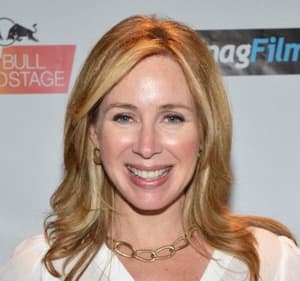 Rebecca Quick Biography
Rebecca "Becky" Quick is an American media personality serving as an anchor for CNBC where she co-anchors the channel's financial news shows Squawk Box. She previously covered retail and e-commerce industry topics for The Wall Street Journal and served as the editor-in-chief of The Daily Targum.
Rebecca Quick Age
Quick was born on July 18, 1972, in Gary, Indiana, United States.
Rebecca Quick Height
She stands at a height of 5 feet 4 inches tall.
Rebecca Quick Education
Quick graduated from Rutgers University in New Brunswick, N.J.with a BA in Political Science.
Rebecca Quick Parents
Rebecca spent her childhood years moving around quite a lot in places such as Texas, Indiana, and Oklahoma before her family ultimately settled down in Medford, New Jersey, Her father was a geologist, and her mother was a teacher. The family had moved to Texas after the oil boom in the 1970s and the 1980s. Her father eventually ventured into the oil industry and became successful. Their names are not revealed.
Rebecca Quick Siblings
Quick was brought up alongside her three brothers but she hasn't revealed any further information regarding them.
Rebecca Quick Husband
Rebecca is married to Matt Quayle, the Co-Creator and Executive Producer of Squawk Box & Squawk on the Street on CNBC-TV. He also serves as the Senior Advisor to CNBC's international morning program Worldwide Exchange and was previously the Senior Producer of Kudlow & Cramer while at the same time also acting as a Senior Producer of Bullseye with Dylan Ratigan. Matt holds a BA in Communications from Rutgers University and is currently working on his MA in Media and Professional Communications at Fairleigh Dickinson University. The duo exchanged their marriage vows in 2008.
Quick was previously married to Peter Shay, a computer programmer but the two later separated with reasons for their breakup still unknown. Matt, on the other hand, was previously married but the details of his ex-wife are unknown but the two had two daughters together.
Rebecca Quick Children
Quick and her husband are proud parents of two, a son named Kyle Nathaniel Quayle who was born on 26th August 2011, and a daughter named Kaylie Noelle Quayle born in October 2016. She is also a stepmother to Matt's two daughters from his previous marriage, named Natalie and Kimiko.
Rebecca Quick CNBC
Quick joined CNBC in February 2001 and currently serves as the co-anchor of "Squawk Box"  on CBNC, a show that airs Monday to Friday 6 AM-9 AM ET. She is known for her hard-hitting interviews and profiles of some of the world's richest and most influential investors, including Warren Buffett, Bill Gates, Alan Greenspan, T. Boone Pickens, Jamie Dimon, Charlie Munger and many others. She also has interviewed three U.S. presidents and has hosted panels at some of the most prestigious conferences in the world such as the Microsoft CEO Conference, Fortune's Most Powerful Women's Conference and the Allen & Co. Sun Valley Media Conference.
Rebecca previously anchored the nationally syndicated "On the Money," which was produced by CNBC, and also authored a regular column for Fortune magazine and also covered the Wall Street beat for CNBC as part of the network's partnership with Dow Jones. She was a co-moderator of the October 28, 2015, Republican presidential debate. Prior to joining CNBC, she covered retail and e-commerce industry topics for The Wall Street Journal and helped launch the paper's website in April 1996. She served as the site's International News Editor, overseeing foreign affairs coverage. She serves on the board of the Economic Club of New York and previously served on the board of The Robert Wood Johnson University Hospital where she was editor-in-chief of The Daily Targum.
Rebecca Quick Salary
She earns an annual salary of $700,000.
Rebecca Quick Net Worth
She has an estimated net worth of $4 million.
Rebecca Quick Twitter