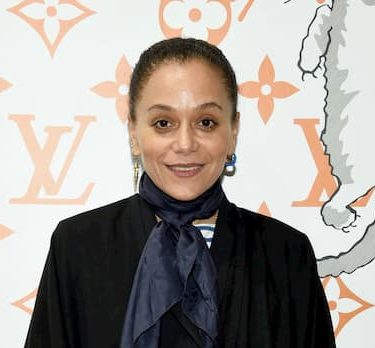 Samira Nasr Bio
Samira Nasr is an American fashion stylist serving as the Editor In Chief of Harper's Bazaar. She is a former fashion director of Vanity Fair and previously oversaw fashion at Elle, a Hearst publication, and InStyle.
Samira Nasr Age
Her age is unknown as she has not made it public. She hasn't posted about her birth date on her social media accounts either.
Samira Nasr Nationality
Nasr was born in Montreal, Canada but she later moved to New York.
Samira Nasr Ethnicity
She belongs to Trinidadian and Lebanese descent.
Samira Nasr Parents
Samir was born to a Lebanese father and Trinidadian mother. Her mother is known as Diane OYoung but it seems like her biological parents are divorced and her mother remarried to Kayo OYoung. She has a brother known as Riad Nasr, who is the executive chef for Balthasar and Minetta Tavern in New York.
 

View this post on Instagram

 
Samira Nasr Husband
Samir is not married.
Samira Nasr Son
She has a son known as Lex who she adopted in 2013 when he was born. During an interview with Chatelaine in 2014 she said; "Becoming a mom, and holding my son, Lex, for the first time [was my proudest moment]."
During an interview with The Cut, she revealed that she is a single mother and that Lex helps her make coffee.
"[Lex] helps me make coffee — he's really into helping because he knows it's mama's morning juice. Then it's shower time… I take Lex to school every single morning, no matter what. We have a little ritual where we just kind of sit on a bench in the classroom and are still together for two minutes before I go."
Samira Nasr Vanity Fair
In May 2018 Samir joined Vanity Fair as the magazine's executive fashion director. Her appointment came after Vanity fired their then fashion director Michael Carl and their creative director Jessica Diehl had stepped down. Samira filled the role of executive director, combining the aspects of the position held by Carl and Jessica.
Her appointment was announced by Vanity Fair editor in chief Radhika Jones who said; "Samira's discerning eye and creative spirit are an inspiration, and we are delighted to have her on board. Please join me in welcoming her to VF."
Prior to joining Vanity Fair she was the fashion director of Elle Magazine and prior to that she was style director for InStyle.
She began her career in fashion serving as an assistant to Grace Coddington at Vogue, this was after she came to New York from Montreal to study journalism.
She then became a fashion writer for Harpers Bazaar for a few years before quitting her job and going freelance as a fashion stylist.
Samira Nasr Harper's Bazaar
On June 9, 2020 Samira was appointed as the chief editor of the U.S. edition of Harper's Bazaar becoming the first black woman to hold the position. She will resume the position on July 6. She succeeds Glenda Bailey who stepped down in February 2020, after nearly two decades.
Samira Nasr Tracee Ellis Ross
Samira and Tracee have been best friends for 25 years. On December 27, 2019 Samira posted a video of her and Tracee on her Instagram with the caption; "So my bestie of 25 years made this beautiful video of us and our curls. You know that saying 'Show me your people…' Well, here I am blessed to stand with of one of mine."
Samira Nasr Instagram
Samira Nasr Twitter