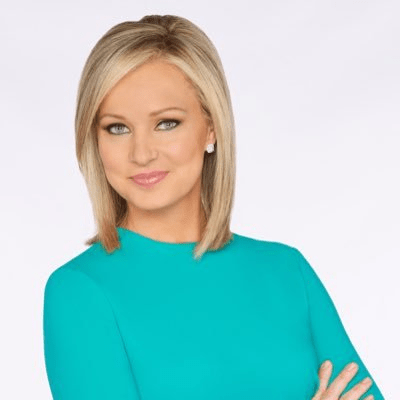 Sandra Smith Biography
Sandra Smith is a renowned journalist, host and reporter who works with Fox News Channel as a reporter. She is known for "Outnumbered", a show she co-hosted alongside two other television personalities, and "America's Newsroom" that she currently co-hosts with Bill Hemmer.
Sandra Smith Age
She was born on September 22, 1980 in Chicago, Illinois, U.S.
Sandra Smith Nationality
Her nationality is American.
Sandra Smith Height
Sandra stands a height of 1.73m tall.
Sandra Smith Education
Sandra graduated from Wheaton Warrenville South High School in 1998. She earned three letters in cross country and two letters in track at Wheaton Warrenville South. She was the cross country team captain as a senior. Smith was an Illinois High School Association state qualifier, earned All-DuPage Valley Conference honors, and was an Academic All-Conference selection.
She attended Illinois State University in Bloomington-Normal for a time before transferring to Louisiana State University (LSU) in Baton Rouge for the 2002 school year. She ran the 1,500 meters, mile, 3,000 meters and steeplechase at various LSU and LSU Alumni track-and-field events.
Smith graduated from Louisiana State University, having taken some business classes and minored in speech
Sandra Smith Parents
Her parents have 14 grandchildren including Sandra's own children.
Sandra's mother is from Oklahoma while her dad comes from Chicago, both from big families too, which might be why they also had six children. Her father worked on the Chicago Mercantile Exchange as a floor trader, and most of her relatives are employed in Chicago's financial district.
Sandra Smith Siblings
Smith grew up as the youngest child in a family of four sons and two daughters. She regularly posts photos of her family on Instagram, and has a close relationship with her sister, Caroline. On 10th April 2020, Sandra posted the following caption alongside a photo of her and Caroline:
"My sister Caroline and I are 14 years apart. She is the oldest and I am the youngest. 4 siblings in between. Big families are amazing. Despite the gap in years growing up… she's one of my best friends today."
 

View this post on Instagram

 
Sandra Smith Husband
Sandra and her husband, John Connelly, met after she moved to Chicago to work as a sales trader. She described John as a 'wavy-haired, nerdy, but handsome guy.' John told Chicago Tribune that he instantly knew that he would marry Sandra. Connelly was in charge of the firm's TV commentary, and before he left, he coached Sandra on the basics of the job.
Two weeks after Sandra joined, Connelly left to start his own business. The firm offered Sandra John's vacant position. She took the job, and after two weeks, moved into her new but largely empty apartment. Sandra thought of who she wanted to share the moment with and immediately settled on John.
The couple had their first date at the Chicago Symphony Orchestra, and their second at the Museum of Contemporary Art. 12 years separated Sandra and John, but Sandra told the Chicago Tribune that age didn't matter to the couple.
John and Sandra tied the knot on 1st May 2010. Several months later, John sold his business in Chicago and moved to New York.
Sandra Smith Kids
She has a daughter called, Cora Belle Connelly born in 2013, and a son, Connelly Junior born in 2015.
Sandra is so proud of their children that she often shares their photos on her social media accounts.
Sandra Smith Fox News
Sandra serves as co-anchor of FOX News Channel's (FNC) America's Newsroom (weekdays 9AM-12PM/ET). She joined the company in October 2007 as a reporter for FOX Business Network (FBN).
On America's Newsroom, Smith and a rotating co-anchor are joined by newsmakers and experts to discuss the latest headlines. According to Nielsen Media Research, the program averages 1.7 million total viewers, making it the number one newscast in its timeslot. Previously, Smith served as co-anchor of Outnumbered (weekdays 12-1PM/ET), where she discussed news of the day alongside co-anchor Harris Faulkner and rotating panelists.
Throughout her tenure, Smith has appeared across both FNC and FBN daytime and primetime programs, as well as frequently filled in as guest anchor on The Story with Martha MacCallum (weekdays 7PM/ET). Most recently, she co-anchored FNC's special coverage of the memorial service honoring civil rights icon Rep. John Lewis (D-GA) alongside Harris Faulkner and Trace Gallagher. In May 2018, Smith was on location from England to present live coverage of the royal wedding of Prince Harry and Meghan Markle.
In November 2015, Smith, alongside former FBN anchor Trish Regan, moderated the FOX Business Network's inaugural Republican presidential primary debate, making history as the first dual-female team to host a debate. The event, which featured candidates earning less than 2.5 percent, delivered 4.7 million total viewers and 866,000 in the key 25-54 demo, making it one of FBN's highest rated programs.
Prior to joining FBN, Smith was an on-air reporter for Bloomberg Television. In this role, she covered U.S. equities and derivative markets and contributed to breaking news and analysis. Before Bloomberg, Smith was the Director of Institutional Sales and Trading at Terra Nova Institutional where she handled investment management and hedge fund accounts. She also assisted in the development of program trading models for existing and prospective clients. Prior to this, she was a trader at Hermitage Capital, where she executed U.S. equities and options orders, conducted portfolio analysis, prepared commission reports and serviced clients.
She began her career as a research associate at Aegis Capital. There, she assisted in the research and analysis of retail stocks, prepared weekly stock newsletters to clients and identified investment opportunities.
Sandra Smith Salary
She has an annual salary of around $300,00
Sandra Smith Net Worth
Her net worth is estimated to be $2 million.
Sandra Smith Instagram
 

View this post on Instagram

 
Sandra Smith Twitter