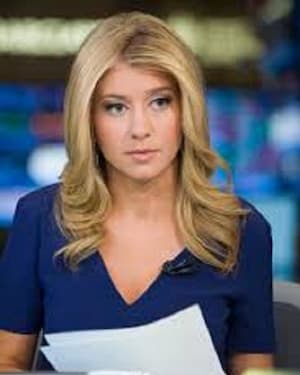 Sara Eisen Biography
Sara Aliza Eisen is an American media personality serving as a financial news anchor for CNBC. She co-anchors  CNBC's "Closing Bell" and initially co-anchored "Squawk on the Street", "Power Lunch" and  "Worldwide Exchange". She previously served as a  co-anchor of "Bloomberg Surveillance" as well as a correspondent for Bloomberg
Television.
Sara Eisen Age
Eisen was born on 7 August 1984 in Cincinnati, Ohio, United States.
Sara Eisen Height
She stands at a height of 5 feet 6 inches tall.
Sara Eisen Education
Sara attended the University of New York and graduated with a Bachelor of Arts degree in Television Reporting and Business Coverage before joining Northwestern University's Medill School of Journalism for her master's program in broadcast journalism.
Sara Eisen Parents
Eisen is the daughter of  Drore Eisen and  Jane Eisen. Her father is a dermatologist in Cincinnati and a founder and the medical director of CDx Diagnostics, a laboratory specializing in cancer detection and prevention, in Suffern, New York while her mother on the other hand is a retired pediatric dentist.
Sara Eisen Siblings
Sara has not revealed any information regarding her siblings.
Sara Eisen Husband
Eisen is married to Matthew Stone Levine a director at Brunswick Group, a strategic advisory firm and the former Head of US Programming at Bloomberg Television. Matthew graduated cum laude from the University of Pennsylvania and received a master's in international relations at the University of Sussex in England. He is the son of Laura E. Stone and Ezra C. Levine. His mother, a former lawyer in Washington, was until 2015 a board member of House of Ruth, which provides services to homeless women and families. His father retired as a senior counsel in the Washington office of Morrison & Foerster, a San Francisco law firm. Sara and Levine first met in 2011 while working at Bloomberg Television. The duo later exchanged their marriage vows on May 29 2016 at Weylin B. Seymour's, an event space in Brooklyn in an occasion attended by close family members and friends and officiated by Rabbi Gavriel Bellino.
Sara Eisen Children
Sara and her husband have two sons together, Samuel Levine and Harrison James Levine.
Sara Eisen CNBC
Sara joined CNBC in December 2013 as a correspondent, focusing on the global consumer. She currently serves as the co-anchor of the station's  "Closing Bell" which airs Monday to Friday 3 PM-5 PM ET. She is known for her deep expertise in financial markets and the global economy as well as regular news-making interviews with some of the most prominent names in the financial world, including Phil Knight, Leon Black, Janet Yellen, and Christine Lagarde, among others.
Previously, Eisen was co-anchor of the 10 AM ET hour on CNBC's "Squawk on the Street" airing Monday to Friday 9 AM-11 AM ET and broadcasted from Post 9 at the New York Stock Exchange. Before that, she was co-anchor of CNBC's "Power Lunch" (M-F, 2PM-3PM ET) and co-anchor of CNBC's "Worldwide Exchange" (M-F, 5AM-6AM ET), both of which broadcast from CNBC Global Headquarters in Englewood Cliffs, N.J.
Prior to joining CNBC, Eisen was co-anchor of "Bloomberg Surveillance" as well as a correspondent for Bloomberg Television, where she covered global macroeconomics, policy, and business. During that time, she covered the European debt crisis, the tsunami aftermath and Fukushima nuclear crisis in Japan. Eisen also hosted the Bloomberg Radio program, "On the Economy." She also worked with Forex TV which was a local cable news channel.
Sara Eisen Salary
Eisen earns an annual salary of between $50,000-$70,000.
Sara Eisen Net Worth
She has an estimated net worth of over $ 1 million.
Sara Eisen Instagram
 

View this post on Instagram

 
https://www.instagram.com/embed.js
Sara Eisen Twitter