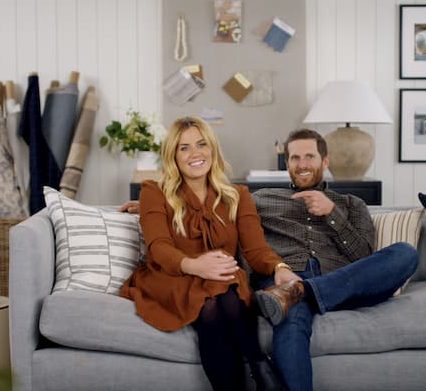 Shea McGee Biography
Shea McGee is an American interior designer and blogger. She is the founder and creative director Studio McGee, a design studio, and McGee & Co., a line of home products featured through Target. She is featured on the Netflix series, Dream Home Makeover, alongside her husband Syd McGee.
Shea McGee Age
Her age is unknown.
Shea McGee Education
She has a Bachelor of Arts degree in Communications with an emphasis on Public Relations from Brigham Young University (BYU).
Shea McGee Husband
She is married to Syd McGee who serves as the CEO at Studio McGee. He studied marketing and previously managed an affiliate marketing startup focused on email marketing.
Shea McGee Children
Shea is a mother of two daughters, Wren and Ivy.
https://www.instagram.com/embed.js
Shea McGee Interior Designer
Shea is a professional interior designer who began taking community college courses in interior design just for fun, at the time she was working in Public Relations but didn't like it.
"I just signed up for one class to begin with. I'm really glad I just did it because it helped me see that that was the highlight of my week."
She started a side design business and later decided to move to Utah as her parents lived there and could get family help.
"We were living in southern California at the time and just felt really strongly that we needed to move here. My parents live here and then we could have family help. We just decided to go for it."
Together with her husband, they joined forces and set up a studio space in downtown Salt Lake City. They have since launched an e-commerce site after getting hundreds of emails a day asking where products are from.
She revealed that they were approached by HGTV to do their own show in 2015 but were deemed "not dramatic enough" by producers. This led to the launch of a web series on their website.
Shea McGee Studio McGee
She together with her husband are the founders and owners of Studio Studio McGee and McGee & Co. Shea is the creative director. According to Studio McGee website, the company was born from the idea of making life beautiful. After graduating from the university Shea channeled her energy into remodeling their first home while documenting the results. As a result, she attracted a long client roaster and in 2014, together with her husband they decided to launch their interior design firm with one directive in mind, "Make Life Beautiful." As the firm's design grew they launched their e-commerce brand, McGee & Co. in 2016.
Shea McGee Target
Studio McGee signed a multi-year partnership with Target "Threshold – designed with Studio McGee".
[youtube https://www.youtube.com/watch?v=hSgj1ezbqxQ?feature=oembed&w=735&h=413]
Shea McGee Blog
McGee's blog is studio-mcgee.com.
Shea McGee Dream Home Makeover
Shea and her husband Syd have a new series, Dream Home Makeover, which premiered on Netflix on October 16, 2020. In the series, the couple tackles various home renovation projects — from fancy basement theaters to breathtaking kitchens — while also juggling life at home.
During an exclusive interview with US Weekly Shea said; "We really tried to incorporate the visuals that you see on our Instagram page into the show so it's all very naturally lit, bright and airy spaces. Plus, we mix in our family relationship dynamics with business."
She added that at the time they were filming they were also able to design their own home as at the time they were living in rentals as they had sold their first home.
"When we started filming, [creating our home] was a huge part of our lives. We were about to start our business, we sold our very first home and we had been living in rentals while we designed everyone else's homes. So this was a full circle moment for us to be able to design our own. It took a lot of attention, so it felt very natural to have that be part of the show."
[youtube https://www.youtube.com/watch?v=8X_m6E3XEaw?feature=oembed&w=735&h=413]
Shea McGee Net worth
Her net worth is unknown.
Shea McGee Instagram