Although he was chosen third overall in the 1984 NBA Draft and initially didn't make his varsity basketball team in high school, Michael Jordan would go on to have arguably the greatest basketball career of all time. Six NBA championships. Five NBA Most Valuable Player awards. Fourteen NBA All-Star appearances. Jordan was even so influential during his reign, that he's credited with starting the baggy shorts fad when he required bigger shorts so he could continue wearing his University of North Carolina shorts underneath his Chicago Bulls gear during every game.
In honor of the 30th anniversary of Michael Jordan's NBA debut on Oct. 26, here is a roundup of a few facts you didn't know about the eternal King of Chicago.
These are 11 things that will make your head spin about MJ.

1. "The Flu Game" might have been caused by someone poisoning Michael Jordan's pizza.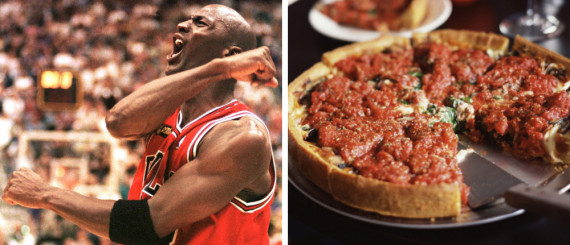 In the famous "Flu Game" in Game 5 of the 1997 NBA Finals between the Chicago Bulls and the Utah Jazz, despite almost passing out in Scottie Pippen's arms, Michael Jordan scored 38 points and led the Bulls to victory. The game is certainly one of Jordan's most memorable performances, but the flu might not have been to blame for Jordan's sickness.
Tim Grover, Michael Jordan's former personal trainer, recounted what happened the night before:
Yes, 100 percent poisoned for ('The Flu Game'). Everyone called it a 'Flu Game,' but we sat there and we were in the room, we were in Park City, Utah, up in a hotel. Room service stopped at like nine o'clock. And he got hungry, and we really couldn't find any other place to eat so we ordered … I said, 'Hey, the only thing I could find is a pizza place.' He said, 'All right, order pizza.' We had been there for a while, so everybody knows what hotel … Everybody kind of knew where we were staying. So we order a pizza, they come to deliver it, five guys come to deliver this pizza … I said, 'I got a bad feeling about this.' … Out of everybody in the room, he was the only one that ate. Nobody else … then two o'clock in the morning, I get a call to my room. I come to the room, he's curled up in the fetal position … Immediately I said, 'It's food poisoning.' Guaranteed. Not the flu.
Coach Phil Jackson has also said that the Bulls guard Ron Harper also claimed it was"bad pizza" to blame.
2. Michael Jordan played a cartoon superhero in a short-lived series with Wayne Gretzky and Bo Jackson.
"ProStars" lasted for two seasons in the early '90s and featured the three sports stars living together in a gym and saving the world from villains. Michael Jordan was the leader and brainy one of the group, often explaining long scientific reasonings for plans.
Jordan and the other stars would do real-life Q&As alongside the cartoon, but none of the actors provided their actual voices for their characters. A few of the episodes have survived on YouTube.
3. The inspiration for Michael Jordan sticking out his tongue came from watching his father do the same while he worked.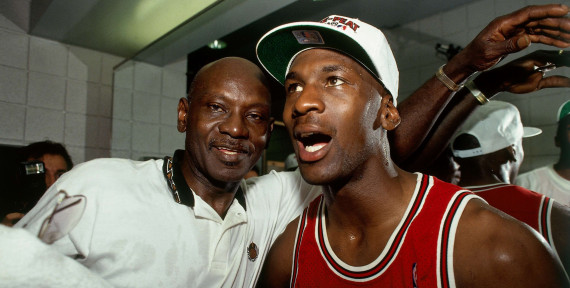 When Michael Jordan's father was fixing things around the house, he'd stick out histongue. His father actually clarified and said it stretched even farther back in the lineage, "As far as I can remember it originated from my granddad. My granddad stuck his tongue out and if I'm working on my car or something around the house I find myself going [sticks tongue out] really concentrating."
In 1989, the Chicago Tribune did an in-depth report on what Jordan's "tongue-wagging" actually means and decided the move fit in with anthropologist Desmond Morris' categorization of the "Concentration Tongue." Quoting Morris about this classification:
The gesture gradually revealed itself, not so much as a pure 'concentration' gesture, but as a 'please leave me in peace' gesture … Once the action was understood as a social rejection gesture, it began to fit in with the infantile breast rejection movement.
Well that's one theory!
4. Michael Jordan donated his first year salary with the Washington Wizards to the recovery effort and victims' families of 9/11.
For his first year out of retirement with the Washington Wizards, Michael Jordan was paid $1 million, a sum he gave away entirely. With the tragic events of 9/11 happening just a short time before the NBA season was set to start, Jordan decided to help therecovery effort. "It's my way of giving back and hopefully aiding those in need during a terrible time," he said.
Jordan went on to lead the Washington Wizards in points, assists and steals that season.
5. Michael Jordan's jersey was once stolen in Orlando, forcing him to wear the number 12 with no last name.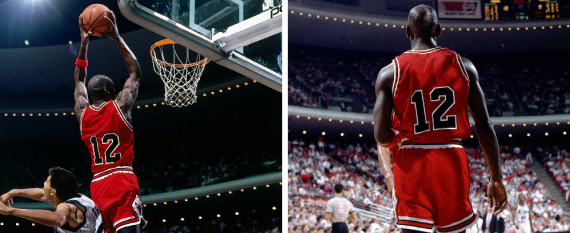 On Valentine's Day, 1990, a still unknown thief stole Michael Jordan's jersey right out of the locker room just a bit over an hour before tip-off. Unable to recover the jersey and unsure what to do, the Chicago Bulls had Jordan try on a fan's replica jersey, but unfortunately the fit was too small. The equipment manager then came up with an extra jersey kept for emergencies that simply had the number 12. It would have to do.
"That has never happened to me before. It's pretty irritating because you're accustomed to certain things and you don't like to have things misplaced," Jordan said to the Orlando Sentinel. He ended up scoring 49 points, although the Orlando Magic won this game in overtime.
6. Growing up, Michael Jordan's nickname was "Magic Jordan" — named after Magic Johnson.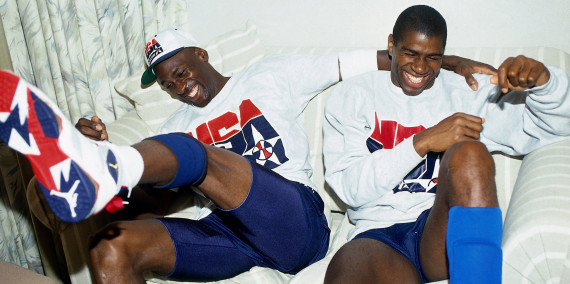 Talking to Playboy in 1992, Michael Jordan revealed that Magic Johnson was an idol of his despite having career strife when he first came into the league:
I liked him when I was in high school. They used to call me Magic Jordan. My first car had a license plate with Magic Jordan on it. It was a 1976 Grand Prix … There was a little bit of envy because of the way I came into the league. Magic came in with even more flair and even more success. And he should have been even bigger than I was in terms of endorsements and business opportunities. But he wasn't marketed that way. And I was fortunate to have good people. So there was some envy … During my third year, he invited me out to play in his summer charity game. We ironed out our differences in private in the locker room and we began a relationship.
7. Starting in November 1990, Michael Jordan and the Chicago Bulls never lost three games in a row.
Michael Jordan went eight years without a three game losing streak. Although this math has been called into question, Ben Blatt of the Harvard Sports Analysis Collective figured out the insane odds for accomplishing this feat and determined it was ".2114 percent, or about one out of 500." A more updated math led to Blatt determining the number might be closer to one out of 140, which is still ridiculously improbable.
This span included 500 regular season games and 126 playoff games for a total of 626.
8. Michael Jordan's best friend is the limo driver who picked him up when he arrived for the first time in Chicago.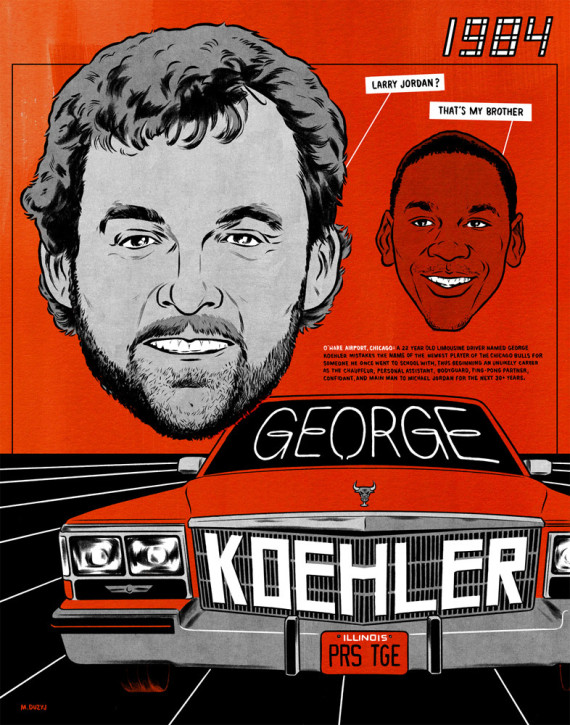 First landing at the Chicago O'Hare airport in 1984, the Chicago Bulls had neglected to send anybody to pick up Michael Jordan. A limo driver named George Koehler took pity on him and offered to help. Koehler was a young man as well and the two hit it off, despite an initial confusion. Koehler recounted, "I was excited because I knew who he was and I thought, 'Holy smokes, it's Larry Jordan.' I played four years in high school with a guy named Larry Jordan so that name was stuck in my memory bank … When I saw Michael, I said, 'Larry Jordan.'" Larry was Michael's brother and so they bonded over Koehler attending the same school as his sibling.
Koehler only charged Jordan 25 dollars and offered him to show him around the city to help him find a beer. A couple of weeks later, Jordan called him to hang out. Koehler explained the development of their friendship:
And 25 years later I don't drive the limo for him, but we're still really close friends. I've met just about everyone under the sun through Michael. If you picked up a book about Michael's life, it would be my life, just Michael's name on the cover. I don't know if you believe in fate, but I obviously do. My whole life could've been different if my customer had showed up that day. Michael likes to tell the story and say, "George was the first person I ever met in Chicago. He gave me a ride and has taken me for a ride ever since."
Image: Mickey Duzyj
9. The Miami Heat also retired his number 23 jersey out of respect.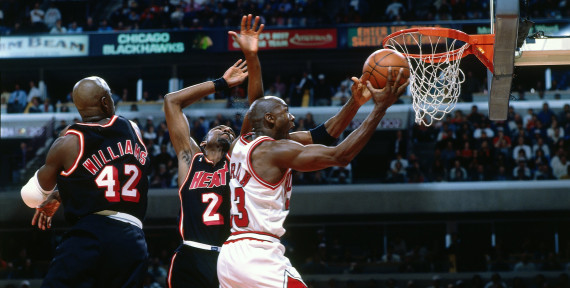 The first jersey that the Miami Heat ever retired was Michael Jordan's 23. The ceremony took place on April 11, 2003, before a game between the Washington Wizards and the Heat.
"No one will ever wear number 23 for the Miami Heat. You're the best," Heat President Pat Riley said to Jordan. Riley had coached against Jordan many times when he still played with the Chicago Bulls.
The Wizards won this game.
10. There's a legend that a UNC Geography professor told his students the average starting salary for their major was $250,000, but then admitted that's only because of Michael Jordan.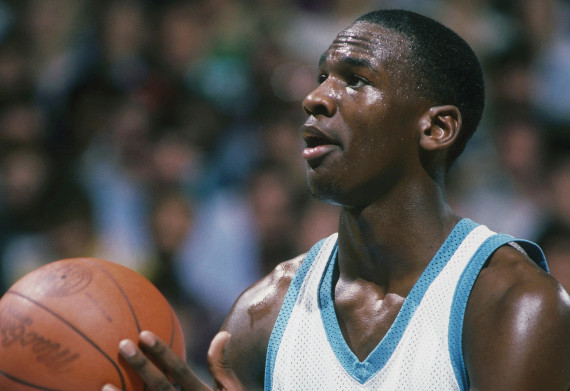 The story is now often used as a peril for always trusting the "mean average" instatistics. Michael Jordan's salary for his first year on the Chicago Bulls for the 1984-1985 season was $550,000. Presumably, Jordan's graduating class would have had to be very small for this salary to skew the average so much, but perhaps this is just a legend anyway.
The Huffington Post reached out to the current chair of the University of North Carolina's Geography department, but did not hear back.
11. Michael Jordan's favorite dunk ever was on Patrick Ewing.
[youtube width="602″ height="350″ video_id="5btsDbkBonA"]
In a promotional video for the NBA 2k14 video game, Michael Jordan revealed that his most memorable dunk of all time was against his longtime friend Patrick Ewing of the New York Knicks. The dunk happened in Game 3 of the 1991 NBA playoffs and happened in Ewing's home court of Madison Square Garden. Michael Jordan explained:
My most memorable dunk that I think about very, very often is the Patrick Ewing dunk. That's only because Patrick and I are such great friends. [Charles] Oakley was a part of that whole process because he thought he could defend. We got into a screen-and-roll and I spun back and Patrick, I told him Georgetown guys don't block shots they just take charges. And I dunked it so hard on him it was unbelievable.
Jordan claimed he won't let Ewing forget the moment and said, "Every time I see him that's the first thing I remind him of."
BONUS: This is the photo shoot that the Air Jordan logo comes from.
Michael Jordan initially wanted his brand to be Adidas, but as the company was going through succession problems, they wouldn't make Jordan an offer. Nike swooped in and sealed one of the most lucrative deals of all time. The NBA tried to ban the shoes, but Nike paid the $5,000 fine for each game.