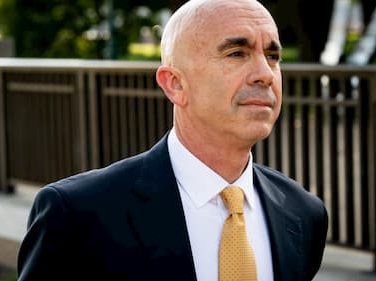 Steve Linick Biography
Steve Linick (Steven Alan Linick) is an American attorney and a former State Department official. He served as the Inspector General for the U.S. Department of State until he was fired bt President Donald Trump on May 15, 2020.
Steve Linick Age
Steve was born in 1963 in the U.S.
Steve Linick Education
Linick earned a Bachelor of Arts, Master of Arts in Philosophy and a Juris Doctor from Georgetown University in Washington, D.C.
Steve Linick Wife
Steve has kept details about his personal life private.
Steve Linick Political Party
Steve has not talked about his Political Affiliation. It is not clear whether he is a Democrat or Republican although he was first appointed to the position of Inspector General by former President Barrack Obama.
Steve Linick Attorney
Steve began his career as an assistant district attorney in the Philadelphia District Attorney's Office and as an associate at the Newman & Holtzinger law firm in Washington, D.C.
In 1994 he became an assistant United States Attorney in California until 1999 when he moved to Virginia serving until 2006. From 2006 to 2010 he served as Executive Director of the Department of Justice's National Procurement Fraud Task Force and Deputy Chief of its Fraud Section in the Criminal Division. During his tenure at the Department of Justice, he supervised and participated in white-collar criminal fraud cases involving corruption and contract fraud against the U.S. in Iraq and Afghanistan.
Inspector General Steve Linick
In 2010 Linick became the first Inspector General of the Federal Housing Finance Agency until 2013 when he joined the U.S. Department of State in the same capacity. In his capacity, he was responsible for identifying operational risks within the Department of State and the U.S. Agency for Global Media, assessing the sufficiency of internal controls, and conducting administrative and criminal investigations of waste, fraud, mismanagement, and misconduct. He also serves as the Associate Inspector General for designated overseas contingency operations.
Steve Linick Fired
On May 15, 2020 President Donald Trump sent notice of Linick's removal, effective in 30 days, to House Speaker Nancy Pelosi. In the letter, Trump said he no longer had his full confidence and that his removal would take effect in 30 days.
Nancy Pelosi, House Speaker, condemned Linick's firing saying he had been "punished for honorably performing his duty to protect the Constitution and our national security."
She added that the president must stop his pattern of reprisal and retaliation, "The president must cease his pattern of reprisal and retaliation against the public servants who are working to keep Americans safe, particularly during this time of global emergency."
Steve Linick Mike Pompeo
After Steve's firing Eliot Engel, the chairman of the House Foreign Affairs Committee, suggested that Linick was fired in part in retaliation for opening an unspecified investigation into Secretary of State Mike Pompeo.
"This firing is the outrageous act of a president trying to protect one of his most loyal supporters, the secretary of state, from accountability. I have learned that the Office of the Inspector General had opened an investigation into Secretary Pompeo. Mr. Linick's firing amid such a probe strongly suggests that this is an unlawful act of retaliation."
Engel did not offer more details of the alleged investigation to Pompeo. Two congressional aides however alleged that the probe involved allegations that Pompeo may have improperly treated staff.
Sen. Chris Murphy, D-Conn said; "If Inspector General Linick was fired because he was conducting an investigation of conduct by Secretary Pompeo, the Senate cannot let this stand. The Senate Foreign Relations Committee must get to bottom of what happened here."
Steve Linick Twitter
Steve has no Twitter account.