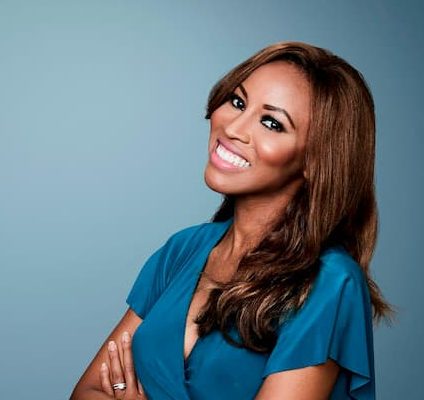 Zain Asher Biography
Zain Asher (full name; Zain Ejiofor Asher) is a British Nigerian media personality serving as CNN Newsroom news anchor at CNN International based in New York. She anchors the weekend edition of CNN Newsroom.
Zain Asher Age
She was born on 27 August 1983 in Balham, London.
Zain Asher Ethnicity
She is of Igbo descent.
Zain Asher Nationality
She has duo citizenship British and Nigerian.
Zain Asher Education
She graduated from Oxford University where she studied French and Spanish and graduated with a distinction in oral Spanish. In 2006, she earned an MS from Columbia University's Graduate School of Journalism, where she focused on business and financial news.
Zain Asher Parents
Zain is the daughter of Arinze Ejiofo and Obiajulu Ejiofor.  His father was a doctor while his mother is a pharmacist. Her father died in 1988 in a road accident while he was coming from a wedding. He Ejiofor was riding along with his father which left him with scars that are still visible on his forehead.
Zain Asher Siblings
She has a sister known as Kandibe and a brother, Chiwetel Umeadi Ejiofor.
Zain Asher Brother
Her brother Chiwetel Umeadi Ejiofor is an actor and filmmaker who earned an Oscar nomination for Best Actor at the 2014 Academy Awards for his role in 12 years A Slave. He was cast by Steven Spielberg to play a supporting role in the film Amistad (1997) as James Covey at the age of 19 while he was studying at the National Youth Theatre
Zain Asher husband
Zain is married to Steve Peoples since September 2017. He is a national political reporter for the Associated Press. He previously served as a political reporter for CQ Roll Call Group and prior to that, he was a staff writer for The Providence Journal.
Zain Asher Children
She is a mother of one kid.
Zain Asher CNN
Asher joined CNN in 2013 where she served as a CNN business correspondent covering the stock market from the New York Stock Exchange, U.S. Federal Reserve monetary policy and high-profile IPOs.
She currently anchors the weekend edition of CNN Newsroom for CNN International and is based in New York. She is also a regular fill-in on the network's premier business programs, Quest Means Business, The Express and First Move with Julia Chatterley.
She also hosts Marketplace Africa, CNNI's weekly business show about the continent and its place within global markets, and often interviews CEOs and world leaders for the program.
She has anchored CNN's special coverage around #MyFreedomDay, a global call to action that raised awareness of modern-day slavery all over the world, as well as the deaths of Fidel Castro, boxing legend Muhammad Ali and singer George Michael.
Prior to joining CNN, she worked for MONEY magazine where she covered careers and investing prior to that she was a general assignment reporter for News 12 in the greater New York area. Before joining News 12, Asher served as a contributing reporter for Forbes.com, where she covered business trend and consumer stories.
She was previously based in Mexico, where she reported for the Guadalajara Colony Reporter and freelanced as an associate producer at Red Radio Universidad de Guadalajara, a local radio station covering national and international news. During her time in Europe, Asher worked in Lille, France as a researcher for France 3 and started her journalism career in England as a reporter for SIX TV (The Oxford Channel). She has written articles for The Guardian, The Oxford Student, CNNMoney,com and ASmallWorld.net.
Zain Asher Salary
Zain earns an average salary of  around $20,000-$120,000 annually.
Zain Asher Net Worth
She has an estimated net worth of $2 million.
Zain Asher Instagram
 

View this post on Instagram

 
Zain Asher Twitter