You can put the Apple Watch on your wrist April 10.
That's according to Apple CEO Tim Cook, who stepped on stage Monday at the Yerba Buena Center for the Arts Theater in San Francisco to unveil the final details about the wearable device, which was first announced back in September. April 10 is the preorder date and the first day you'll be able to try the Watch on in an Apple Store. The product will be available to own April 24.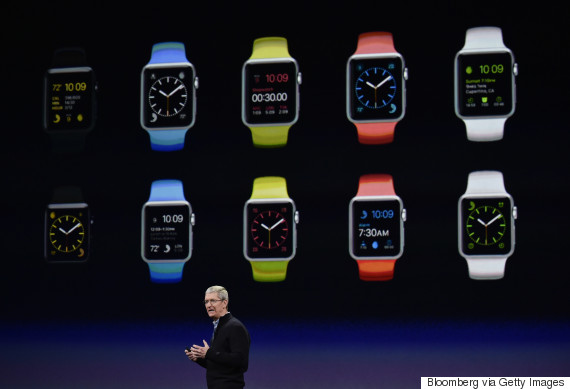 The most basic version of the watch, Apple Watch Sport, will start at $349 for the 38mm watch face. The 42mm face is priced at $399. Upgrading to the stainless steel version takes the starting price to $549. Finally, the 18-karat gold Apple Watch Edition starts at $10,000.
"It's not just with you, it's on you," Cook said of the new gadget.
The Apple Watch's basic features haven't changed since it was first announced in September, but Kevin Lynch, Apple's vice president of technology, went through highlights Monday. We've got the details here.
Keep in mind that for many of the features to work, the Apple Watch needs to be paired with an iPhone 5 (or later) running the latest version of iOS 8.
Here's a recap of the Apple Watch's features:
Fitness
A big draw for the Apple Watch is its suite of health and activity trackers. The built-in Activity app shows you how many calories you've burned in a day, how much exercise you've gotten, and how much you've stood up. It offers goal-tracking for each.
Credit: Apple
The device will also show you a weekly summary of your activity every Monday, and it will offer suggestions to improve your fitness in those reports. Its built-in heart sensor helps keep track of your exercise during workouts. It's water-resistant (not waterproof), so you don't have to worry about destroying it with all of your technology-enabled sweating.
Finally, outside of the basic information in the Activity app, there's a Workout app that will keep tabs on the nitty-gritty: total distance when running, average pace and so on. When you achieve personal milestones, the Fitness app will display anachievement badge on the screen, perhaps in a bid to make rigorous physical activity feel more like an Xbox game.
Glances
Important information is just a glance away on the Apple Watch. Use your finger to swipe up from the bottom of the watch face and you can check the weather, look at your calendar, control your music or check your heart rate.
Apps
It's always been clear that Apple Watch would support apps made by third-party developers. On Monday, Apple showcased a few examples and announced that they can be downloaded via a connected iPhone. Apple Watch supports WeChat, a popular Chinese messaging app, and Uber, which now lets you summon a ride straight from your wrist. An app from the W hotel will allow users to unlock their hotel room using the Apple Watch by holding it up to a "lock pad near the door handle."
Siri
Everyone's favorite digital assistant is on the watch, because of course it is. Apple Watch owners will be able to say, "Hey, Siri" into their devices and then ask for turn-by-turn directions or information about upcoming events. Siri will also allow you to dictate text messages to contacts simply by speaking into your Apple Watch.
The "Taptic Engine"
Apple Watch will tap you on the wrist when you receive a notification. Cook said Monday that any notification you get on your iPhone will be viewable on the Apple Watch.
If you want walking directions, for example, it will tap you when it's time to turn. Apple says it will provide a different "tactile sensation" depending on the alert.
It will also allow you to tap other Apple Watch wearers or share your heartbeat with them, which Apple characterizes as "simple and intimate," rather than a sobering example of mankind's inexorable march toward technological singularity.

Credit: Apple
A Screen You Can Draw On
Texting is great and all, but Apple Watch owners will be able to communicate with one another by drawing on the device's screen. The doodles will be animated, illustrating how they were drawn, and then they'll vanish from the display.
That may seem a bit inconsequential, but you might have said the same thing about Snapchat's short, self-destructing messages — and that company is valued at $19 billion now.

Credit: Apple
Instant Messages
When you get a text message on your iPhone, the Apple Watch will be able to display it on your wrist and offer you quick ways to respond based on "the context of your message," like if someone is asking you to meet for coffee at 2 p.m. Those responses can be along the lines of, "Leaving now," or they could simply be an animated emoji.
The Apple Watch also lets you see new email messages, of course.
Phone Calls On Your Wrist
Unlike certain competitors — like the Moto 360 smartwatch for Android — Apple Watch allows you to answer incoming calls and have a conversation straight from your wrist, using the device's speaker and microphone. (The Moto 360 allows you to answer calls with the watch, but you have to speak into your actual phone.)
Different Watch Faces
Mickey Mouse watches are classic, and now you can have a modern version on your wrist, thanks to Apple's different watch faces.
The wide array of face options includes an astronomy-themed faceh showing the planets, a minimalistic analog display and many more.
Battery
The Apple Watch powers up via a magnetic charger on its back, and Cook said it will last for 18 hours.
***
Cook's announcement capped off weeks of speculation that turned the invitation to the event into a news item itself. Anticipation for the gadget, and its success or failure, reached a fever pitch following a new 12-page advertisement in Vogue, a cover image for Self magazine and rumors about how it could shift the company's strategy for its Apple Stores.
The Apple Watch is the company's first foray into a new product category under Tim Cook, who became Apple's CEO when Steve Jobs stepped down in 2011. It follows arecord-setting, $18 billion quarter for the Cupertino tech giant.
Apple now faces the challenge of getting people to buy the wearable, which could be perceived as little more than a luxury item complementing the technology one already owns. The $10,000 gold variation of the Apple Watch, also announced Monday, does little to dispel that notion. Industry experts seem split on whether anyone will want it, though some have reminded readers that the iPhone was met with similar skepticism upon its announcement.
The Consumer Electronics Association has estimated that 10.8 million smartwatches will be sold in 2015 — about 14 percent of the number of iPhones Apple sold in the last three months of 2014 alone.